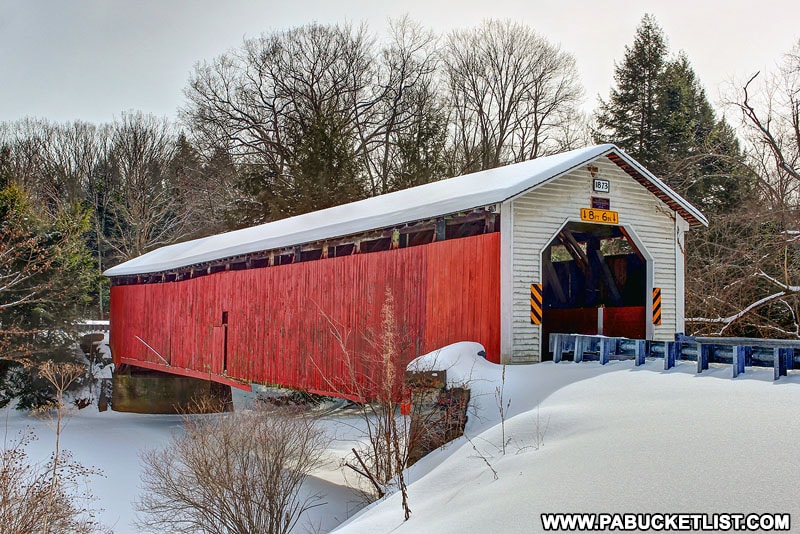 McGees Mills Covered Bridge is the last remaining historic covered bridge in Clearfield County, Pennsylvania.
---
McGees Mills Covered Bridge FAQ
When was McGees Mill Covered Bridge built?
It was built in 1873 by Thomas McGee.

Can I navigate to McGees Mills Coved Bridge by GPS?
Yes – use coordinates 40.88001, -78.76530

How long is McGees Mills Covered Bridge?
116 feet long.

What type of trusses were used to construct McGees Mills Covered Bridge?
Burr Arch trusses.

When was McGees Mills Covered Bridge placed on the National Register of Historic Places?
1980.

What body of water does McGees Mills Covered Bridge span?
West Branch of the Susquehanna River.

Do any historical photos exist of how McGees Mills Covered Bridge looked before restoration?
Yes – here is how it looked in 1972, nearly 100 years after initial construction.


What are the inventory numbers for McGees Mills Covered Bridge?
WGCB 38-17-01 (World Guide to Covered Bridges number)
NRHP 80003475 (National Register of Historic Places reference number)

Can you still drive through McGees Mills Covered Bridge?
Yes – Covered Bridge Road passes through the bridge and is open to vehicular traffic.

---
Nearby Attractions
The Saint Severin Old Log Church in Clearfield County is one of the best-preserved mid-19th century churches in Pennsylvania.
---
Bilger's Rocks in central Clearfield County is a 300 million year-old attraction often described as "Pennsylvania's Best Rock Outcropping".
---
Parker Dam State Park is a 968-acre expanse in Clearfield County featuring a tranquil lake, a beach area, scenic vistas, and miles of hiking trails.
---
At the Grice Museum in Clearfield you'll find nearly 70 classic cars on display, along with hundreds of taxidermy mounts of wild game animals from around the globe.
---
Doolittle Station in DuBois is an eclectic mix of restaurants, museums, a brewery, and a bed and breakfast, all housed in historic train cars!
---
The Ultimate Clearfield County Road Trip maps out a 109 mile adventure to see the best natural and man-made attractions in Clearfield County!
---
Looking for more Pennsylvania Covered Bridges?
Then be sure to check out the Covered Bridges page here on PABucketlist.com!
---
Did you enjoy this article?
If so, be sure to like and follow PA Bucket List on Facebook, Instagram, and/or Pinterest to stay up-to-date on my latest write-ups about the best things to see and do in Pennsylvania.
Click on any of the icons below to get connected to PA Bucket List on social media!
---
Pennsylvania's Best Travel Blog!