The Presidential Train Car Bed and Breakfast in just one of the many attractions at Doolittle Station in DuBois.
This train-themed roadside attraction, just minutes off of Interstate 80 in Clearfield County, features everything from a brewery and gourmet pizza shop (housed in old train cars) to animatronic dinosaurs and mini-golf!
But perhaps the most unique adventure you can have at Doolittle Station is spending the night aboard the Presidential Train Car Bed and Breakfast!
Recently my family and I spent a night there, so I can tell you first-hand what you'll see and experience when you stay in this one-of-a-kind "mansion on rails", built originally for railroad presidents and once used by a United States President!
---
Spending the Night at the Presidential Train Car Bed and Breakfast
My family and I checked in to the Presidential Train Car Bed and Breakfast on a Tuesday evening.
With an interest in all things historic and quirky, this bed and breakfast sounded almost too good to be true, but my expectations were surpassed by just how cool the experience was!
The Presidential Train Car Bed and Breakfast Annex
The main entrance and exit is through an attached, modern annex that resembles an early 1900s train depot.
A sign on an outer wall of the annex gives a brief historic rundown on this Pullman Presidential railcar and how it came be located in DuBois.
Inside the annex, you'll find a spacious sitting area decorated to look like you've stepped back in time a hundred years.
OK – so maybe the fridge, coffee maker, and air conditioner aren't period-correct, but they certainly make your stay more comfortable!
There is also a spacious, modern shower/bathroom in the annex, with beautiful tilework and high ceilings throughout.
The Pullman Presidential Train Car at Doolittle Station
While the annex is beautiful and functional, the historic train car is what makes this bed and breakfast truly unique!
Entry to the Presidential train car is from the annex and through the opulent dining room.
One can only imagine the number of VIPs that sat around this table (and this IS the original table, not a reproduction) while enjoying the finer things life had to offer in the early 1900s.
Perhaps the most famous of those VIPs was none other than President Theodore Roosevelt, who was a guest on this very train car in 1903.
While "Teddy" might have only been a guest on this train car for a single day, his legacy lives on in the form of a variety of Theodore Roosevelt memorabilia decorating the walls.
Speaking of decorations, you'll also notice many detailed paintings of trains throughout the train car and annex.
These were all painted by famed railroad artist Russ Porter, who purchased this very Pullman Presidential railcar after it was decommissioned in 1963 and used it as an art studio for many years.
Passing through the dining room, you encounter a long hallway with various rooms along the right-hand side of the hall.
Meals would have been prepared in this kitchen area.
And stunning details like the original silver serviceware are on display for your enjoyment.
---
Sleeping on the Presidential Train Car at Doolittle Station
So what are the sleeping arrangements on an early 1900s luxury train car?
The Presidential bedroom is the largest bedroom, naturally.
There are three more sleeping areas on the Presidential car, including one at the back of the train car in the lounge area.
If I hadn't slept in the Presidential room (and honestly who WOULDN'T make that their first choice?), the bed in the lounge would have been my second choice as the room is big, bright, and opens up onto the elevated "back porch".
It's not hard to imagine President Roosevelt taking in the scenery from this same vantage point on the Presidential railcar nearly 120 years ago.
Overall the experience of staying in the Presidential Train Car at Doolittle Station was everything I had hoped it would be, and more.
The fact that you can literally spend the night on a perfectly-preserved train car once built for the upper crust of early 1900s American society seems almost too good to be true, but if you can bring yourself to spend the $300 per night (yes that what it costs), you too can sleep like a railroad tycoon!
The Pullman Company was synonymous with luxury travel in the era before airplanes, and if you'd like to experience what it was like to sleep on one of their most extravagant train cars, visit the Doolittle Station official website for all the details on how to book YOUR stay at the Presidential Train Car Bed and Breakfast.
The Presidential Train Car Bed and Breakfast is located at 1290 Rich Hwy, DuBois, PA 15801.
---
Nearby Attractions
As mentioned previously, Doolittle Station may be the most eclectic roadside attraction in western PA.
There are numerous places to grab food and drinks, most of them housed in old train cars, less than a one-minute walk from the Presidential Train Car Bed and Breakfast.
The 18 hole mini-golf course at Doolittle Station features a weirdly wonderful collection of dinosaurs.
And who doesn't love real live goats…
or model trains…
or ice cream?!
---
Parker Dam State Park is a 968-acre expanse in Clearfield County featuring a tranquil lake, a beach area, scenic vistas, and miles of hiking trails.
---
Speaking of eclectic roadside attractions, the Grice Museum in Clearfield may be the quirkiest "cars and critters" museum you ever visit!
---
Bilger's Rocks in Clearfield County is billed as "Pennsylvania's Best Rock Outcropping", and exploring a 300 million year-old "rock city" is a fun way to spend the day.
---
The Saint Severin Old Log Church in Clearfield County is a well-preserved example of mid-19th century "frontier" architecture.
---
McGees Mills Covered Bridge is the last remaining historic covered bridge in Clearfield County, and still open to vehicular traffic.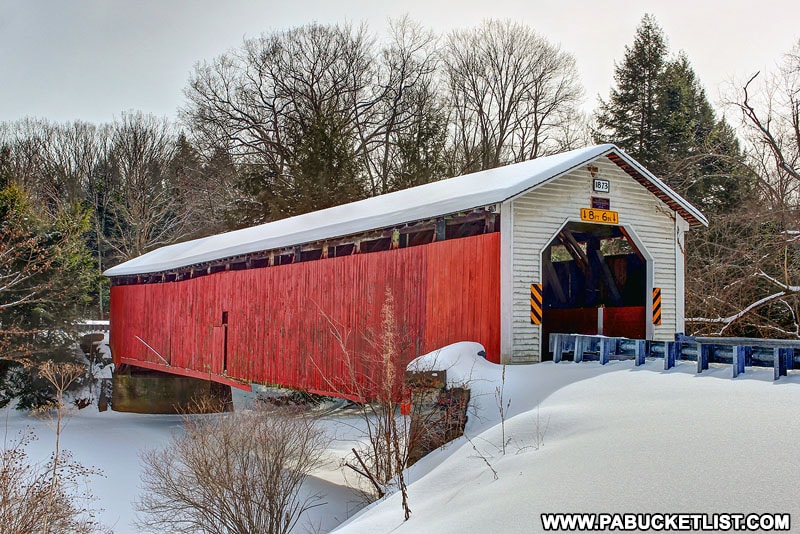 ---
The Ultimate Clearfield County Road Trip maps out a 109 mile adventure to see the best natural and man-made attractions in Clearfield County!
---
Beartown Rocks in neighboring Jefferson County features an exceptional scenic overlook perched high atop a "rock city" dating back to the last Ice Age!
---
If you've never thought of Interstate 80 as a scenic highway, 13 Must-See Roadside Attractions along Interstate 80 might just change your mind!
---
Did you enjoy this article?
If so, be sure to like and follow PA Bucket List on Facebook, Instagram, and/or Pinterest to stay up-to-date on my latest write-ups about the best things to see and do in Pennsylvania.
Click on any of the icons below to get connected to PA Bucket List on social media!
---
Pennsylvania's Best Travel Blog!