If you're looking for an "only in central Pennsylvania" destination to visit with the family this summer, the Grice Museum in Clearfield should be high on your list!
Here you'll find nearly 70 classic cars on display, along with hundreds of taxidermy mounts of wild game animals from around the globe.
Whether you're a serious automotive history buff or just looking for some kitschy fun, here's what you can expect to see when visiting this iconic Clearfield County museum.
---
How to Find the Grice Museum
The Grice Museum is located at 119 North 4th Street in downtown Clearfield.
Parking is free in the large lot directly in front of the museum.
In the age of COVID, I'd encourage you to visit the museum's official website for the most up-to-date hours and admission prices/policies.
The Grice Museum is closed November 1 through the Friday before Memorial Day, making this a summer destination.
---
Touring the Grice Museum
As with any great museum, you enter and exit through the gift shop!
The entrance to the actual display area is a replica of the small gas station operated by Scoot and Janet Grice, who through hard work and determination ultimately transformed that small-time operation into a successful gun store that is now one of the largest in Pennsylvania.
In 1994 Scoot and Janet Grice constructed the Grice Museum and then donated it to the citizens of Clearfield.
Vintage muscle cars are well represented in the Grice Museum collection.
There are also examples of some more modern muscle cars as well.
The Grice Museum is home to a rare collection of Crosley cars, a small, independent vehicle manufacturer based in Cincinnati from 1939 to 1952.
If you enjoy collecting diecast vehicles, the Grice Museum has an extensive collection of those as well.
And of course you can't miss the hundreds of mounted game animals and fish, harvested by many hunters and fishermen from around the world, displayed on the walls and floor of the Grice Museum.
In short, if you love automotive history and the American "car culture", you'll find something to love at the Grice Museum in Clearfield.
And if, like me, you enjoy photo-ops that will mortify your children in years to come, then you'll love the Grice Museum even more!
---
Related Attractions
The Swigart Auto Museum in Huntingdon County is the oldest automobile museum in the United States!
---
The AACA Museum in Hershey, PA is consistently ranked as one of the top automotive and transportation museums in the United States!
---
The Simeone Automotive Museum in Philadelphia is home to one of the world's greatest collections of racing sports cars!
---
Nearby Attractions
Bilger's Rocks, a 300 million year-old natural "rock city" in Clearfield County, is a must-see for fans of geology and all things megalithic!
Billed by the Bilger's Rocks Association (the group that owns and maintains the park) as "Pennsylvania's Best Rock Outcropping", Bilger's Rocks is open year round from dawn until dusk.
---
Doolittle Station in DuBois is an eclectic mix of restaurants, museums, a brewery, and a bed and breakfast, all housed in historic train cars!
---
The Presidential Train Car Bed and Breakfast at Doolittle Station in DuBois is your chance to spend the night on a perfectly-preserved tain car built for early 1900s railroad tycoons!
---
The Saint Severin Old Log Church in Clearfield County is a well-preserved example of mid-19th century "frontier" architecture.
Projecting an image that is both holy yet austere, Saint Severin is an interesting trip back in time and well worth a visit.
---
McGees Mills Covered Bridge is the last remaining historic covered bridge in Clearfield County.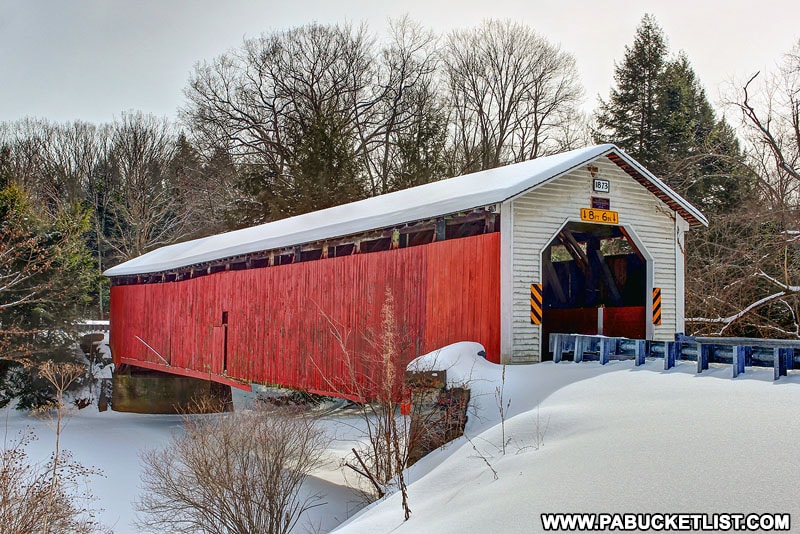 Covered Bridge Road passes through the bridge and it is still open to vehicular traffic nearly 150 years after it was constructed in 1873.
---
The Kunes Camp Trail is located in the Clearfield County portion of the Quehanna Wild Area.
This 1 mile hike (one-way) leads to the ruins of an abandoned hunting camp that was built in between two gigantic boulders.
---
The Ultimate Clearfield County Road Trip maps out a 109 mile adventure to see the best natural and man-made attractions in Clearfield County!
---
Did you enjoy this article?
If so, be sure to like and follow PA Bucket List on Facebook, Instagram, and/or Pinterest to stay up-to-date on my latest write-ups about the best things to see and do in Pennsylvania.
Click on any of the icons below to get connected to PA Bucket List on social media!
---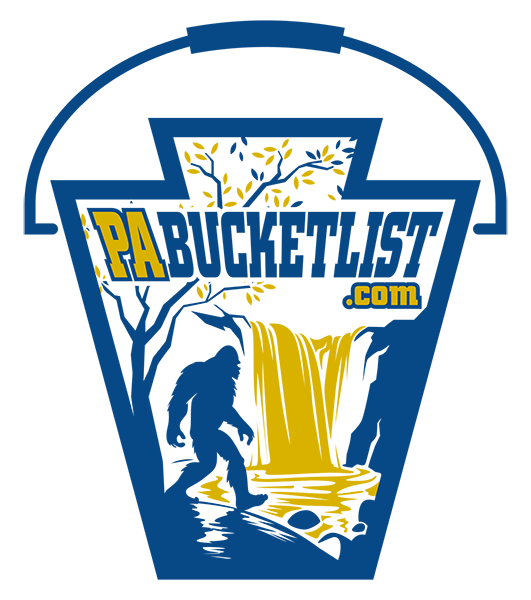 Pennsylvania's Best Travel Blog!