Doolittle Station in DuBois is an eclectic mix of restaurants, museums, a brewery, and a bed and breakfast, all housed in historic train cars!
And if that's not enough, there's also ice cream, mini golf, and dinosaurs!
How to Find Doolittle Station in DuBois
This Clearfield County destination is located less than 5 minutes from the Route 219 exit of Interstate 80, making it a great pitstop if you're passing through the area and looking for a unique place to eat or relax.
Doolittle Station is located at 1290 Rich Hwy, DuBois, PA 15801 – just look for the sign below.
---
Top 12 Things to Do at Doolittle Station
There's SO much to see and do at Doolittle Station that it can be a bit overwhelming, so I'm going to give you my top 12 things to do at Doolittle Station as a starting point.
---
1. The Roadside Cafe and Creamery
As the name implies, this restaurant and ice cream parlor is literally roadside, and the first thing you see as you pull into Doolittle Station.
If you've never had it, the Penn State Berkey Creamery ice cream they serve here is delicious, as evidenced by the fact that even Bigfoot can be spotted grabbing a cone here!
---
2. The Depot at Doolittle Station
The Depot at Doolittle Station is built based on the blueprint of an 1880 B&O Rail Station.
The Depot serves as both a museum of Pennsylvania railroad history, as well as the entrance to two of the restaurants at Doolittle Station.
Railroad memorabilia can be found in glass cases around the Doolittle Station Depot, as well as adorning the walls.
For train lovers, you could easily spend an hour in the Depot examining all the historic railroading artifacts housed here.
---
3. The Diner Car at Doolittle Station
The Diner Car at Doolittle Station is located inside a 1949 Pullman standard car.
Offering casual dining in an authentic 50's environment, the Diner Car at Doolittle Station is a feast for both the eyes and the taste buds.
---
4. The Parlor Car at Doolittle Station
The Parlor Car at Doolittle Station offers fine dining (by reservation only) in a 1913 Parlor Car, one of only four ever made.
---
5. Boxcar Brew Works
Boxcar Brew Works at Doolittle Station offers exceptional craft beers that are both brewed and served inside repurposed train cars!
With a rotating menu of 20 beers on tap, any beer lover can find something they'll enjoy at Boxcar Brew Works.
Being partial to IPAs myself, I can't recommend their BrainFreeze milkshake-style IPA highly enough!
Boxcar Brew Works offers comfortable indoor seating, if that's your preference.
There is also attached outdoor seating, overlooking the mini golf course (more on that in a bit).
---
6. Railcar Pizza
Railcar Pizza at Doolittle Station makes and serves fantastic 9-inch personal pizzas in a converted train car.
In an age where seemingly everything is called "artisanal", the pizza at Railcar Pizza truly lives up to that claim.
With an extensive menu of crusts, sauces, cheeses, and toppings to choose from, each pizza at Railcar Pizza is truly one-of-a-kind.
---
7. The Presidential Car Bed and Breakfast
There are lots of bed and breakfasts, but only one Presidential Train Car Bed and Breakfast!
My family and I thoroughly enjoyed our stay in this opulent "mansion on rails", originally built for railroad presidents and once used by U.S. President Theodore Roosevelt!
Originally built in 1901, and still retaining most of its original furnishings and character, staying in the Presidential Car Bed and Breakfast is a truly unique experience.
The President's bedroom was extremely comfortable, even by 2021 standards.
And the historic vibe of the entire train car is unsurpassed.
A modern (but retro-looking) attached annex houses a spacious bathroom and kitchenette.
Even your jaded pre-teen kid will think the Presidential Car Bed and Breakfast is pretty cool!
---
8.The Model Railroad Museum at Doolittle Station
The Model Railroad Museum at Doolittle Station is itself housed inside a train car.
A three-tiered, 66 foot-long, HO-scale model train layout runs the entire length of the train car.
Kids of all ages will enjoy exploring the nine different layouts within the Model Train Museum at Doolittle Station.
---
9. Mini Golf at Doolittle Station
The mini golf course at Doolittle Station lies at the very heart of the complex, surrounded by train cars.
This 18 hole, dinosaur-themed course is actually quite challenging as far as mini golf courses go.
If you've ever wanted to work on your short game in the presence of a stegosaurus, then the mini golf course at Doolittle Station is the perfect place to do it!
---
10. Doolittle's Dinosaurs
Doolittle's Dinosaurs is an animatronic dinosaur museum, open on the weekends for a $5.00 admission fee.
And if robotic dinosaurs aren't your thing (or if they freak your kids out), you can walk around the outside of the museum and see plenty of stationary dinosaurs and dragons for free.
11. The Caring Caboose at Doolittle Station
The Caring Caboose at Doolittle Station is currently undergoing renovations, but when it reopens it features a private dining experience for families with children or adults with special needs.
12. The Goats at Doolittle Station
Residing at the back of the property, the goats at Doolittle Station are fun to watch as they do what goats do – run around, eat, and climb on stuff.
The goats even get in on the train-themed fun, with these rail car wheels being just one of the many items they have to climb on.
---
Final Thoughts about Doolittle Station in DuBois
With so much to see and do (and eat and drink), it's hard to experience everything at Doolittle Station in just one visit.
Great food and drinks, plenty of historic railroad memorabilia, and a healthy does of kitsch – all of these factors add up to make Doolittle Station in DuBois one of Pennsylvania's most unique roadside attractions!
---
Doolittle Station Hours of Operation
In the Age of COVID, I'd encourage you to check the Doolittle Station official website before visiting, to confirm the most current hours of operation at the various restaurants and attractions.
During my most recent visit and stay there in August of 2021, almost everything was open and operating normally, but that can change quickly, as we've all learned by now.
So do yourself a favor and just check ahead, so as to avoid this look from your family if you show up on a day when things are closed!
---
Nearby Attractions
Speaking of eclectic roadside attractions, the Grice Museum in Clearfield may be the quirkiest "cars and critters" museum you ever visit!
---
Parker Dam State Park is a 968-acre expanse in Clearfield County featuring a tranquil lake, a beach area, scenic vistas, and miles of hiking trails.
---
Bilger's Rocks in Clearfield County is billed as "Pennsylvania's Best Rock Outcropping", and is a fun way to spend the day exploring a 300 million year-old "rock city".
---
The Saint Severin Old Log Church in Clearfield County is a well-preserved example of mid-19th century "frontier" architecture.
---
McGees Mills Covered Bridge is the last remaining historic covered bridge in Clearfield County, and still open to vehicular traffic.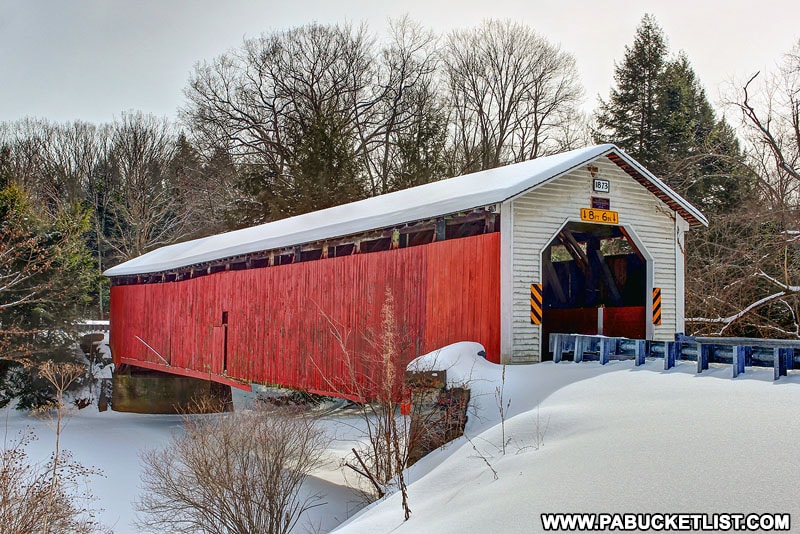 ---
Beartown Rocks in neighboring Jefferson County features an exceptional scenic overlook perched high atop a "rock city" dating back to the last Ice Age!
---
If you've never thought of Interstate 80 as a scenic highway, 13 Must-See Roadside Attractions along Interstate 80 might just change your mind!
---
Did you enjoy this article?
If so, be sure to like and follow PA Bucket List on Facebook, Instagram, and/or Pinterest to stay up-to-date on my latest write-ups about the best things to see and do in Pennsylvania.
Click on any of the icons below to get connected to PA Bucket List on social media!
---
Pennsylvania's Best Travel Blog!