If you're looking for the best things to see and do at Trough Creek State Park, you're in the right place!
Trough Creek State Park is a spectacular 541-acre gorge formed by Great Trough Creek as it slices through Terrace Mountain on its way towards Raystown Lake.
Constructed between 1933 and 1936 by the Civilian Conservation Corps, the land that makes up Trough Creek State Park was once home to a grist mill, iron furnaces, a railroad, and timbering operations.
Now it is home to miles of hiking trails, several waterfalls, scenic overlooks, and numerous other natural and man-made curiosities that make visiting Trough Creek State Park a MUST if traveling through Huntingdon County!
---
The Best Things to See and Do at Trough Creek State Park
The first three attractions I'll mention are all conveniently located near one another, and you can consult the official park map for more detailed directions.
---
The Suspension Bridge over Great Trough Creek
Looking like something out of an Indiana Jones movie, the suspension bridge over Great Trough Creek carries hikers from a parking area along Trough Creek Drive towards Rainbow Falls and Balanced Rock.
Although it is only 10-15 feet above the creek, there is a good bit of bounce and sway to the bridge as you cross it, so be forewarned if this kind of movement makes you squeamish!
---
Rainbow Falls
One of the most iconic symbols of Trough Creek State Park is Rainbow Falls.
A popular spot year-round, this waterfall does require a good hard rain to really get it going, but if you happen to visit after just such an even, you're in for quite a show!
Rainbow Falls is located midway between the suspension bridge and the next attraction I'll mention, Balanced Rock.
---
Balanced Rock
A fascinating geologic anomaly caused by thousands of years of erosion, Balanced Rock seems to defy gravity as it hangs above the Trough Creek Gorge.
Once part of a cliff, Balanced Rock is the last remnant of that layer of bedrock, while the rest of that cliff slid into the gorge created by Great Trough Creek.
When viewed from the Trough Creek Drive, Balanced Rock seems to levitate above the trees below!
While there is certainly a bit of hiking/stair climbing involved to reach Balanced Rock, it's well worth the effort.
---
Rainbow Falls Overlook
Located high on the cliff above Rainbow Falls, Rainbow Falls Overlook features a northeasterly view of Horse Knob, and is located at GPS coordinates 40.32162, -78.13125.
Both Rainbow Falls Overlook and the next overlook I'll mention are located along the Ledges Trail (see map below).
---
Ledges Trail Overlook
The Ledges Trail Overlook offers an unobstructed southern view of Round Mountain in the distance.
The Ledges Trail Overlook is located at GPS cooordinates 40.31953, -78.13003.
---
Copperas Rocks
Another creation of erosion, Copperas Rocks juts out over Great Trough Creek live a massive stone awning.
The power of water to carve away seemingly impenetrable stone is described in an informational plaque located near Copperas Rocks.
Every winter, fabulous icicles dangle from Copperas Rocks, high above Great Trough Creek.
Copperas Rocks is named for the crystallized ferrous sulfate that forms on the rocks, crystals that were used to dye cloth by early settlers in the area.
A nearby picnic area and the large pool below it make Copperas Rocks a popular summertime spot at Trough Creek State Park.
---
The Ice Mine at Trough Creek State Park
The Ice Mine is yet another geologic anomaly at Trough Creek State Park.
While there isn't a whole lot to see other than a small cave/hole at the bottom of a stairwell (too small to enter but large enough to stick you hand/arm in), feeling the 50 degree air inside the "mine" on a 90 degree day in the summer is certainly an interesting experience!
A rectangular structure along Trough Creek Drive protects the Ice Mine from the elements.
---
Great Trough Creek
Great Trough Creek itself is an impressive attraction as it winds serpent-like through the entire park, with many places to pull-off for a picnic on its banks, or just to take in the scenery.
Other Attractions at Trough Creek State Park
As I mentioned at the outset, there are literally MILES of trails at Trough Creek State Park, many connecting to others in the surrounding Rothrock State Forest.
There are also numerous small waterfalls along Abbot Run.
The fall foliage viewing is fantastic at Trough Creek State Park!
In short – there is something for any nature lover to enjoy at Trough Creek State Park, and there are some sights unlike any you may have ever encountered anywhere else!
---
Nearby Attractions
The 13 Best Scenic Overlooks in Huntingdon County will introduce you to some of the finest scenic overlooks in the surrounding area.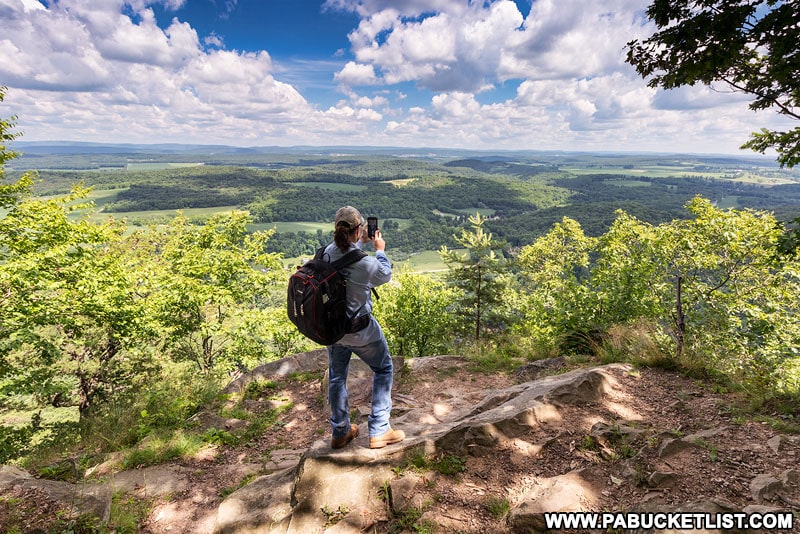 ---
Hiking the 1000 Steps in Huntingdon County will introduce you to perhaps the most famous hike in all of Huntingdon County.
---
The East Broad Top Railroad offers scenic train rides, shop tours, and visits to the "roundhouse" where their fleet of six historic steam engines live.
---
Exploring Saint Mary's Covered Bridge in Huntingdon County will introduce youto the lone remaining covered bridge in Huntingdon County.
---
Whipple Dam State Park is a 256 acre recreational area in Huntingdon County, 12 miles south of State College.
---
Greenwood Furnace State Park is a 423 acre recreational paradise in the mountains of Huntingdon County.
---
20 Must-See Attractions in Huntingdon County will introduce you to even more recreational opportunities in the area!
---
Did you enjoy this article?
If so, be sure to like and follow PA Bucket List on Facebook, Instagram, and/or Pinterest to stay up-to-date on my latest write-ups about the best things to see and do in Pennsylvania!
Click on any of the icons below to get connected to PA Bucket List on social media.
---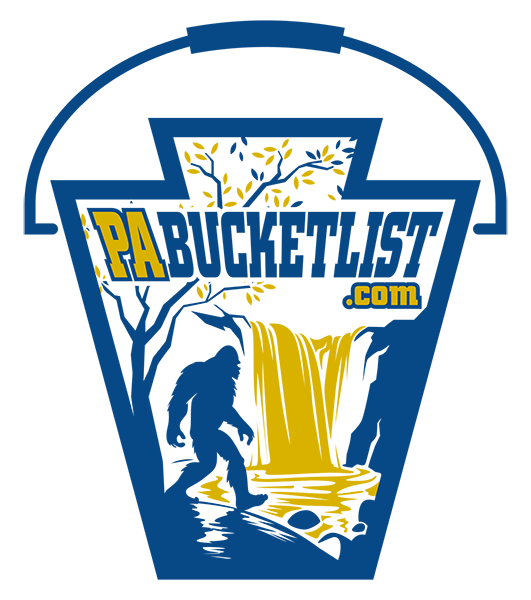 Pennsylvania's Best Travel Blog!