Cook Forest State Park covers an 8,500-acre expanse across portions of Clarion, Jefferson, and Forest counties in northwestern PA.
The park is named in honor of John Cook, the first permanent settler of European descent in the region.
Once called the "Black Forest" (because light had difficulty penetrating the dense canopy of trees), this region of Pennsylvania was and is revered for its remaining stands of virgin timber, composed primarily of towering white pines and hemlocks.
Cook Forest was purchased from John Cook's descendants in 1927, becoming the first Pennsylvania state park acquired to preserve a natural area.
Today, the Forest Cathedral Natural Area is designated a National Natural Landmark, and contains more white pine over 150 feet tall than any other site in the northeastern United States.
So with that backdrop in mind, here are 10 of the best things to see and do at Cook Forest State Park!
---
10 of the Best Things to See and Do at Cook Forest State Park
1. Visit Seneca Point
Seneca Point is a rock outcropping that serves as a scenic overlook high above the Clarion River valley.
Named in honor of the Native Americans who hunted here prior to the arrival of European settlers, this is a particularly beautiful vantage point for viewing fall foliage.
Seneca Point is located just a few hundred yards from a parking area along Fire Tower Road.
---
2. Climb Fire Tower #9
Built in 1929, Fire Tower #9 rises 87.5 feet above Seneca Point, and once gave firefighters a 15- to 20-mile view of the surrounding forest and valley below.
Retired from firefighting service in 1966, Fire Tower #9 now serves as a scenic overlook.
Unfortunately, visitors are not allowed in the actual observation cabin at the top of the tower, so the view (at least when the leaves are on the trees) is somewhat compromised.
But if you want to test your nerves and impress your less-brave friends, you can get some great shots of the ground far below!
---
3. Visit the Forest Cathedral Natural Area
The 448-acre Forest Cathedral Natural Area is considered Pennsylvania's finest and largest old-growth forest.
The Forest Cathedral is accessible by 6.5 miles of trails, and if you want to see some of the tallest, oldest trees east of the Mississippi River, make sure to check this portion of Cook Forest State Park out!
---
4. Explore the Clarion River
A 13-mile stretch of the Clarion River flows through the southern portion of Cook Forest State Park.
The Clarion River is especially popular in the summer months for canoeing, kayaking, tubing, fishing, and swimming.
---
5. Spend the Night in a Historic Cabin
The Indian Cabin Historic District is composed of 11 single room log cabins, located on Tom's Run behind the park office.
Constructed between 1933-35 by the Civilian Conservation Corps (CCC), these cabins were built from salvaged American chestnut trees killed by blight; they were subsequently added to the National Register of Historic Places in 1987.
---
6. Cross the Swinging Bridge
Located just a short hike from the park office along Route 36, the Swinging Bridge at Cook Forest State Park is one of the most popular attractions at the park.
Simply follow the Birch Trail as it leads north away from the park office parking lot, and you'll arrive at the Cook Forest swinging bridge in less than 5 minutes.
This suspension bridge serves as a connector between the Birch Trail and Tom's Run Trail.
The bridge really does swing and bounce a bit when you cross it, so if you've ever wanted to live out those scenes from Indiana Jones without too much risk, here's your chance!
---
7. Take a Kid Fishing
The Children's Fishing Pond behind the park office (and next to the Indian Cabin Historic District) is available for use by children 12 and younger, as well as by people with a disability.
The pond is stocked with trout (including some palominos), and is a beautiful spot to see, even if you don't fish.
---
8. Take a Hike
Cook Forest State Park features 27 blazed trails, totaling some 47 miles for hiking.
From paved, ADA-accessible trails to steep, rugged single-tracks, there's a trail for nearly everyone at Cook Forest State Park.
---
9. Take a Bike Ride
Bikes are permitted on all one-way forest roads within Cook Forest State Park, including Fire Tower Road pictured here.
---
10. Visit a Movie Set
That's right – some scenes from the 1947 movie "Unconquered", directed by Cecil B. DeMille, were filmed at Cook Forest State Park, including some of the rocky grottos around Seneca Point and along the Deer Park Trail.
---
So there you have it – 10 of the best things to see and do at Cook Forest State Park!
So much to do, in fact, that you'll bear-ly be able to contain yourself!
Nearby Attractions
Beartown Rocks in the Clear Creek State Forest features an exceptional scenic overlook perched high atop a "rock city" dating back to the last Ice Age!
Beartown Rocks is essentially a roadside attraction, meaning you can park right next to it and take a leisurely stroll through this "rock city" in Jefferson County.
---
Clear Creek State Park encompasses 1,901 acres near the Clarion River in Jefferson County.
---
Rapp Run Falls is a nearly-roadside waterfall on State Game Lands 72 in Clarion County.
---
Brady's Bend Overlook is a gorgeous roadside overlook perched some 520 feet above the Allegheny River in Clarion County.
---
Did you enjoy this article?
If so, be sure to like and follow PA Bucket List on Facebook, Instagram, and/or Pinterest to learn more about the best things to see and do in Pennsylvania!
Click on any of the icons below to get connected to PA Bucket List on social media.
---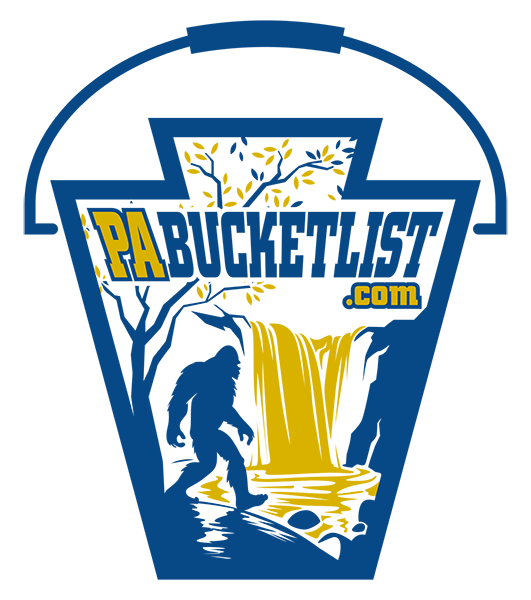 Pennsylvania's Best Travel Blog!