Where is Rusty Run Falls?
Rusty Run Falls is located in the Loyalsock State Forest. Near (but not in) Worlds End State Park, Sullivan County.
Despite its close proximity to such a popular state park, Rusty Run Falls is not a frequently visited waterfall.
But if you enjoy a pleasant and fairly easy hike along a well-maintained trail/bridle path (open to horse riding), I would highly recommend putting Rusty Run Falls on your itinerary when hiking/camping in the vicinity.
---
Getting There
How to Find Rusty Run Falls
From Route 154 near Worlds End State Park, turn onto Shanerburg Road and travel 1.9 miles.

Park on either side of this gate along Shanerburg Road, located at GPS coordinates 41.433749, -76.546954.

Be sure not to block the gate!

Hike the gated forest road for 0.46 miles to a Y intersection.

This is a well-maintained forest road / bridle path.
Don't be surprised if you see some horses or at least horseshoe tracks along the road.

At the Y intersection, stay to the lower / left road and proceed another 0.55 miles.

At approximately 1 mile into the hike you'll reach Rusty Run. Depart the road and hike upstream 0.2 miles.

Hiking upstream I find it easiest to stay on the right side of the stream until I reach the falls, but some bushwhacking and/or stream crossings may be necessary depending on season/water levels.

Arrive at Rusty Run Falls at 1.2 miles into the hike.
---
Photographing Rusty Run Falls
Rusty Run Falls is an intricate, 7-8 foot beauty.
The stream immediately below it is shallow enough to easily cross back and forth to get a variety of angles.
It's a great spot for fall foliage shots, and as you can see in the photo above there is a second, smaller waterfall just upstream.
The upper, unnamed waterfall stands maybe 4 feet tall and twice as wide.
This one, like Rusty Run Falls, photographs well even when the stream is relatively low.
Still it's the main falls where you'll want to spend the majority of your time.
If you're lucky, you might even be treated to a light show like I was on this day.
When you've had your fill of Rusty Run Falls, simply retrace your steps 1.2 miles back to your vehicle.
---
Final Thoughts
Rusty Run Falls isn't the tallest waterfall in the Loyalsock State Forest, but it may be one of the best if you're looking for a relatively easy hike to an off the beaten path gem.
They say good things come in small packages, and for that reason I'm suggesting you add Rusty Run Falls to your PA Bucket List!
---
Nearby Attractions
Looking for more outstanding waterfall hikes nearby?
The check out 10 Must-See Waterfalls Near Worlds End State Park.
In this guide you'll find maps and detailed directions to 10 great waterfall spots in and around Worlds End State Park and the Loyalsock State Forest.
---
If seeing ALL the finest waterfalls in the Loyalsock State Forest is on your "bucket list", then be sure to check out "The 20 Best Waterfalls in the Loyalsock State Forest".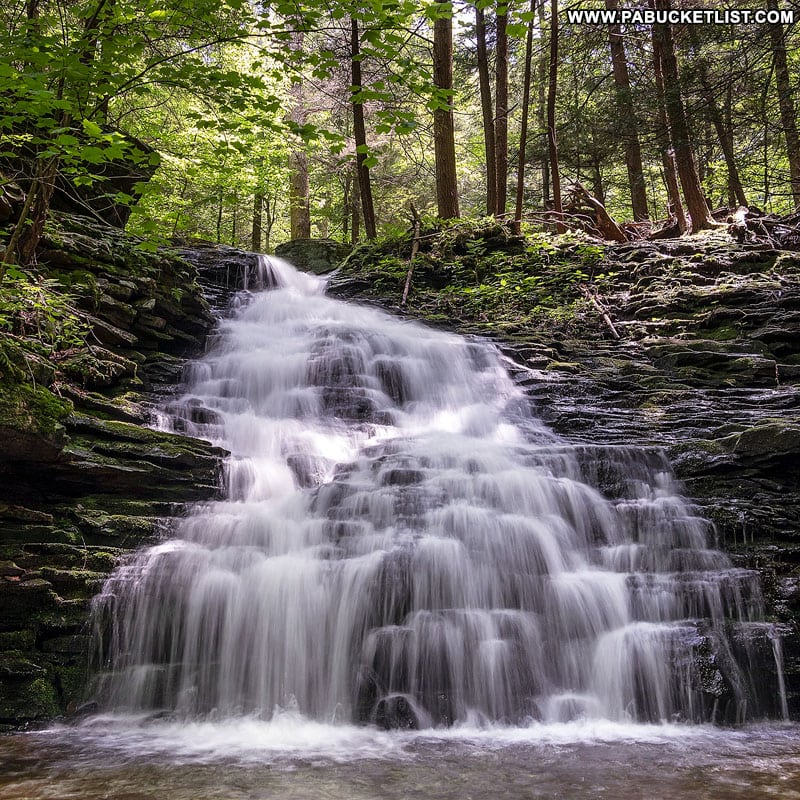 If scenic vistas are your thing, be sure to check out High Knob Overlook, just minutes from Rusty Run and easily one of the most popular roadside attractions in Sullivan County!
---
Still not convinced you need to see Rusty Run Falls?
Then check out this video!
---
Did you enjoy this article?
If so, be sure to like and follow PA Bucket List on Facebook, Instagram, and/or Pinterest to stay up-to-date on my latest write-ups.
Click on any of the icons below to get connected to PA Bucket List on social media!
---
Pennsylvania's Best Travel Blog!