RB Winter State Park is a 695 acre recreational area located in western Union County, near the Centre County line.
The park lies in a shallow basin, completely surrounded by the rocky ridges of the Bald Eagle State Forest.
The focal point of the park is Halfway Lake, a seven acre lake which is filled by spring-fed mountain streams.
Halfway Lake is contained by a hand-laid, native sandstone dam that was constructed by the Civilian Conservation Corps in the mid-1930s, the first cement and stone dam ever built by the CCC in the United States.
The park is named in honor of state forester Raymond Burrows Winter, who was instrumental in establishing the park, having worked there and in the surrounding state forest for 45 years.
---
The Best Things to See and Do at RB Winter State Park
The park is open every day of the year, sunrise to sunset, with day use areas closing at dusk.
---
Fishing at RB Winter State Park
Halfway Lake is a coldwater fishery, stocked with brown, rainbow, and brook trout.
The Pennsylvania Fish and Boat Commission stocks Halfway Lake and Rapid Run (one of the lake's tributaries) regularly during the season.
---
Swimming at RB Winter State Park
RB Winter State Park features 300 feet of white sand beach on the northern shore of Halfway Lake.
The beach is open to swimming from late-May to mid-September, 8:00 A.M. until sunset.
A seasonal food and refreshment concession is located at the beach house, near the changing rooms.
---
Hiking at RB Winter State Park
6.3 miles of hiking trails are located within RB Winter State Park.
Many of the park's trails connect with longer trails in the surrounding Bald Eagle State Forest, making RB Winter an ideal starting point for backpacking trips.
The park is a middle trailhead for central Pennsylvania's Mid State Trail, which stretches 327 miles from Bedford County in the south to Tioga County in the north.
There are trails of varying degrees of difficulty at RB Winter State Park, including many perfect for beginners or young children.
---
Picnicking at RB Winter State Park
About 150 picnic tables are dispersed throughout the park, many with available charcoal grills.
---
Halfway Run Environmental Learning Center
The environmental learning center features taxidermy displays of native wildlife, a hands-on science area, and numerous field guides.
---
Fall Foliage at RB Winter State Park
RB Winter State Park is an excellent fall foliage destination in central PA.
The scenic overlook above the park, along McCall Dam Road, is one of my favorite fall foliage destinations here.
From here you have an excellent southern view of Halfway Lake below and the Bald Eagle State Forest beyond.
---
RB Winter State Park in the Winter
Winter is another fantastic time to visit the park.
The beach area is a great place to build a snowman.
Halfway Lake freezes over.
And Halfway Dam becomes an ice-cold waterfall.
Registered snowmobiles are permitted on designated park roads, which lead to more than 300 miles of roads and trails in the Bald Eagle State Forest.
---
Directions to RB Winter State Park
The park office is located at 17215 Buffalo Road, Mifflinburg, PA 17844.
If navigating by GPS, use coordinates 40.990860, -77.193889 for the park office.
No matter the time of year, RB Winter State Park is a fantastic place to relax and take in the natural surroundings of central PA!
---
Nearby Attractions
Hassenplug Covered Bridge is one of five existing historical covered bridges in Union County, and the oldest covered bridge in Pennsylvania!
---
The Millmont Covered Bridge has the distinction of being the longest covered bridge in Union County.
---
The Abandoned Alvira Munitions Bunkers are located on State Game Lands 252 in Union County, the former site of a munitions factory and explosives depot during WWII.
---
Logan Mills Covered Bridge is the last remaining historic covered bridge in neighboring Clinton County.
---
The 8 Best Scenic Overlooks in the Bald Eagle State Forest is your guide to 8 fantastic ROADSIDE scenic overlooks in the Bald Eagle State Forest that require no hiking whatsoever!
---
Did you enjoy this article?
If so, be sure to like and follow PA Bucket List on Facebook, Instagram, and/or Pinterest to stay up-to-date on my latest write-ups about the best things to see and do in Pennsylvania!
Click on any of the icons below to get connected to PA Bucket List on social media.
---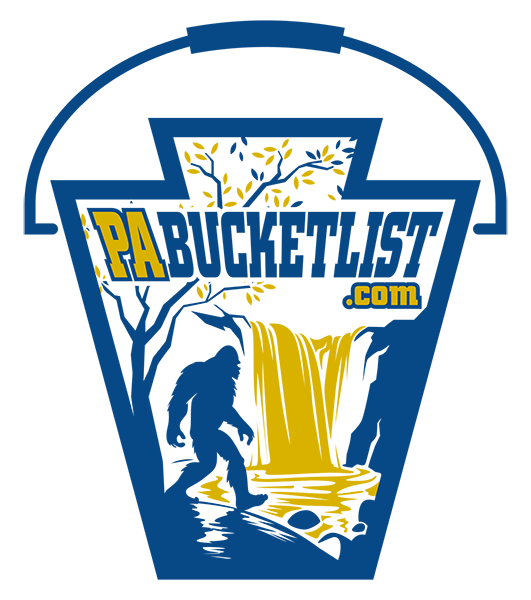 Pennsylvania's Best Travel Blog!