The abandoned Alvira bunkers are remnants of the American WWII war effort, as well as reminders of what lengths the federal government will go to to seize private property for "the greater good".
Brief History of Alvira
In the case of Alvira (originally founded as Wisetown in 1825), the federal government used the courts and eminent domain to force residents to accept buyouts of their homes, so that their entire town could be leveled and turned into a TNT manufacturing plant and storage facility known as the Pennsylvania Ordnance Works.
But just 11 months after the Pennsylvania Ordnance Works started manufacturing TNT, it was closed down due to a lack of need for the TNT being made and stored there.
And while the residents had been promised that they could buy back their land after the war, that promise was broken.
The federal government instead kept the land and gradually divvied it up, giving 4,000 acres to the Federal Bureau of Prisons to construct Allenwood Prison, and giving 3,000 acres to the state of Pennsylvania (including the land where the bunkers sit) which became State Game Lands 252.
---
The Alvira Bunkers Today
Today, the 149 dome-shaped concrete bunkers that once housed explosives for the US military are gradually being reclaimed by nature.
Designed to explode upwards in case of accidental detonation, and spaced far enough apart to prevent a chain-reaction spreading to other bunkers, these concrete igloos, nearly 80 years old now, have fared remarkably well on the inside.
The official PA Game Commission map of SGL 252 shows the location of all the bunkers – all that is required of modern explorers is to do the bushwhacking!
Follow along as I show you exactly how to get to the abandoned Alvira bunkers, as well as answer some FAQs and show you a few of the sights you'll encounter there.
---
Legal Disclaimer
This property is not maintained or monitored for safety conditions, and therefore this is strictly a VISIT AT YOUR OWN RISK DESTINATION!
By voluntarily exploring this location, YOU assume the risk of any personal injury or damage to personal property, and shall not hold the author liable for any injuries, loss, or damages that may occur while visiting this location.
---
Abandoned Alvira Bunkers FAQs
Where exactly are the abandoned Alvira bunkers located?
They Alvira bunkers are located in the Union County portion of State Game Lands 252, approximately 7 miles south of Williamsport.

Can I navigate to the Alvira bunkers by GPS?
Yes – use GPS coordinates 41.13618, -76.95924 to navigate to the first of several parking lots along Alvira Road.

Are any of the Alvira bunkers roadside and easy to reach?
Yes – in fact you can literally park right next to several of the bunkers along Alvira Road.


Are there any trails leading to the bunkers further back from Alvira Road?
Yes – the remnants of the access roads (now gated and covered with vegetation) serve as trails between the bunkers.

How many of the bunkers are you able to enter?
On a recent visit (Summer 2020) I was able to find and enter several dozen within a 2 hour time period.
Please note – I have never tried to find all the bunkers, or get an exact count of how many are still accessible.

Are any of the bunkers still locked?
Yes, but again I have not attempted to determine an exact count of how many are locked/unlocked.

Are you able to see inside the bunkers without a flashlight?
The interiors of most of the unlocked bunkers are dimly lit by a small hole in the center of the roofs, but I would strongly recommend taking a flashlight along.

Are most of the bunkers full of trash and graffiti?
No – although none of the bunkers I've personally entered are in pristine condition, the further away you get from Alvira Road, the less vandalized the bunkers generally become.


What else is there to see at Alvira?
Several cemeteries still stand on Game Lands 252 (see map above), including many Civil War-era graves.

---
Tips for Exploring the Alvira Bunkers
The Alvira bunkers are a fascinating and relatively easy ruins to explore, but keep in mind this is State Game Lands.
So my first recommendation is to wear a blaze orange hat/vest when hiking here, regardless of the time of year, even if you don't "think" it's hunting season.
Be smart and be seen!
---
Second – wear long pants and sturdy boots if you want to do more than the very basic roadside explorations.
Some of the vegetation around the bunkers is quite thick (and prickly), and there are plenty of sharp objects strewn about in and around some of the bunkers.
---
Third – take some type of compass or GPS device to keep track of your location, if you plan on exploring the bunkers away from Alvira Road.
Many of the old roads / trails look nearly identical, and none are marked, so it would be quite easy to get turned around out amongst the bunkers.
---
Fourth – be respectful of the cemeteries and gravesites you encounter.
This is the final resting place for generations of Americans, some who fought and died for the freedoms you now enjoy, and all of whom were loved by someone in their time.
---
Final Thoughts on the Alvira Bunkers
The abandoned Alvira munitions bunkers are an interesting architectural relic of WWII-era America.
They are also a cautionary tale for what can happen to private individuals when the government decides it wants your property.
Or in the case of Alvira, wants your ENTIRE TOWN.
And what was once a thriving little hamlet in Union County, followed by a TNT factory and munitions depot, is now slowly being reabsorbed by nature and the elements.
The abandoned Alvira bunkers – go see them while you can!
---
Nearby Attractions
Clyde Peeling's Reptiland in Union County is a zoo that specializes in exotic reptiles and amphibians from around the world!
---
The Millmont Covered Bridge is the longest covered bridge in Union County.
---
The Hassenplug Covered Bridge in Union County is the oldest existing covered bridge in Pennsylvania, and believed to be the second oldest covered bridge in the United States!
---
Factory Covered Bridge is located along Gray Hill Road in Union County, just 2 miles west of the Interstate 80 / Route 15 interchange.
---
Hayes Covered Bridge spans Buffalo Creek in Union County, and is still open to vehicular traffic.
---
RB Winter State Park is a nearby 695 acre recreational area located in western Union County.
---
Related Attractions
Exploring an Abandoned POW Camp in Cumberland County introduces you to a secret POW camp set up during World War Two to house German and Japanese prisoners in a remote section of the Michaux State Forest.
---
The Abandoned Pennsylvania Turnpike is the largest abandoned site in Pennsylvania that you can legally visit.
At 13 miles long and home to 2 lengthy tunnels, the Abandoned Pennsylvania Turnpike is one of the most unique hiking / biking trails in PA!
---
Concrete City in Luzerne County is an abandoned early-1900s industrial housing complex.
Now owned by the city of Nanticoke, the 20 duplexes that make up Concrete City are equally fascinating and forlorn.
---
Exploring the Ghost Town of Scotia Near State College takes you inside the remains of a iron-mining boomtown gone bust.
---
The abandoned nuclear jet engine bunkers in the Quehanna Wild Area are yet another set of ruins with a link to America's military-industrial complex.
This secretive base was developed in the 1950's Cold War-era to test the possibility of creating nuclear-powered jet engines that in turn could be used to construct fighter jets and bombers that would never need to land for refueling.
Abandoned by 1960, the testing bunkers are situated on a remote piece of land that is once again public property, in the form of the Quehanna Wild Area.
---
The Windber Trolley Graveyard in Somerset County is perhaps the most famous privately-owned collection of rusted vehicles in Pennsylvania!
With admission by invitation-only, the Windber Trolley Graveyard is a fascinating trip back in time for those lucky enough to secure legal access to this site.
---
Did you enjoy this article?
If so, be sure to like and follow PA Bucket List on Facebook, Instagram, and/or Pinterest to stay up-to-date on my latest write-ups about the best things to see and do in Pennsylvania!
Click on any of the icons below to get connected to PA Bucket List on social media!
---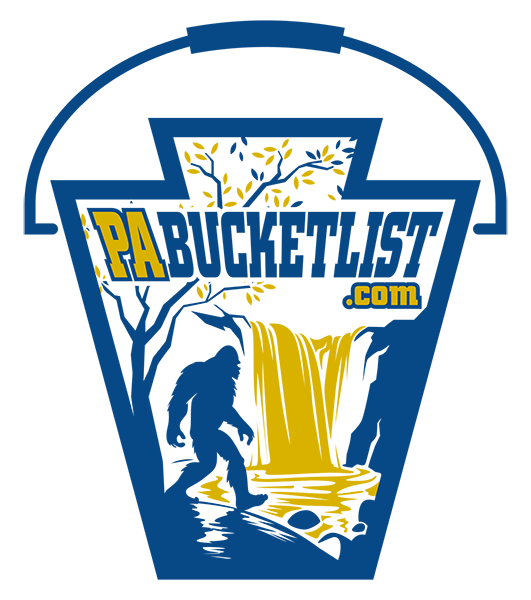 Pennsylvania's Best Travel Blog!