Clyde Peeling's Reptiland in Union County is a zoo that specializes in exotic reptiles and amphibians from around the world!
This AZA (Association of Zoos & Aquariums) accredited zoo houses more than 40 species in naturalized habitats, with a mission to educate people about reptiles while entertaining them at the same time.
I've visited this zoo at least a half-dozen times with my daughter, so I'm going to share with you some of the best things to see and do at Clyde Peeling's Reptiland, based on my experiences there.
---
The Best Exhibits at Clyde Peeling's Reptiland
There are quite a few areas and exhibits to check out when visiting Clyde Peeling's Reptiland.
The Alligator Building
The Alligator Building is where you'll meet Rocky and Adrian, two "typical" American alligators.
You'll also meet Sirphis, the albino alligator, one of the highlights of a visit to this zoo.
Sirphis was born in captivity and could not survive in the wild due to her rare genetic make-up.
Legend has it that gazing into the eyes of an albino alligator will bring you good luck, as long as you're gazing from a safe distance!
---
The Reptile and Amphibian Gallery
The Reptile and Amphibian Gallery is 6,500 square foot building housing turtles, lizards, snakes, frogs, and crocodilians from around the world, all in one place.
Interpretive graphics next to the habitats reveal each animal's natural history and where they are typically found.
My personal favorite creature in this exhibit is the red spitting cobra – I think it's a beautiful snake, as far as snakes go.
In addition to exotic cobras, you'll also see plenty of reptiles native to PA, like this rattlesnake.
The Reptile and Amphibian Gallery is where we typically spend the most time when visiting Reptiland, just because there's so much to see!
---
The Island Giants Exhibit
The Island Giants exhibit is home to another "star attraction" at Clyde Peeling's Reptiland – the Komodo dragons!
Komodo dragons are the world's largest lizards, but in the wild they live on only a few small islands in Indonesia.
These endangered predators are capable of killing large prey, and their enclosure at the zoo is maintained at tropical temperatures with basking spots of 110 degrees!
The Island Giants exhibit is also home to Al and Henry, a pair of Aldabra tortoises, who have lived at the zoo since 1967!
---
Parakeet Landing
Parakeet Landing allows you to walk through an aviary surrounded by hundreds of parakeets (AKA "budgies"); you can optionally purchase a "seed stick" for $3.00 and feed them yourself.
---
Dinosaurs Come to Life
Dinosaurs Come to Life is an outdoor walking trail featuring life-size animatronic dinosaurs!
The dinosaurs are "triggered" by motion detectors, causing them to roar, spit, and bellow when you get close to them.
There's even a static dinosaur model set aside for picture-taking.
Of course T-rex makes for a great photo-op as well!
---
The Program Center
The Program Center hosts educational shows at certain times during the day, featuring live reptiles/amphibians and question/answer sessions with a zookeeper.
---
The Gift Shop
I don't even want to know how much money I've spent in the gift shop over the years, but considering the zoo is privately owned and receives no outside funding, I feel better knowing that money has gone to help a good cause.
---
Directions and Hours
Clyde Peeling's Reptiland is located at 18628 US-15, Allenwood, PA 17810.
The zoo is open year-round, although hours do vary by season – check Reptiland's OFFICIAL WEBSITE for the most up-to-date hours.
Admission rates are: ages 12 and up – $20, ages 3 through 11 – $16, and ages 2 and under – free.
---
Nearby Attractions
Montgomery Pike Scenic Overlook is a gorgeous roadside overlook and picnic spot 7 miles north of Clyde Peeling's Reptiland, along Route 15.
---
The Hiawatha Paddlewheel Riverboat cruise in Williamsport is a relaxing, hour-long sightseeing excursion up and down the West Branch of the Susquehanna River.
---
The Taber Museum in Williamsport tells the story of how people have lived and worked in the Lycoming County area from prehistoric times to the present day!
---
Exploring the Abandoned Alvira Bunkers in Union County shares the backstory behind 149 dome-shaped concrete bunkers that once housed explosives for the US military, now gradually being reclaimed by nature on State Game Lands 252.
---
The Hassenplug Covered Bridge in Union County is the oldest existing covered bridge in Pennsylvania, and believed to be the second oldest covered bridge in the United States!
---
RB Winter State Park is a 695 acre recreational area located in western Union County.
---
The Piper Aviation Museum in Lock Haven honors the legacy of the Piper Aircraft Corporation, which designed and manufactured aircraft in Clinton County, PA between 1937 and 1984.
---
Did you enjoy this article?
If so, be sure to like and follow PA Bucket List on Facebook, Instagram, and/or Pinterest to learn more about the best things to see and do in Pennsylvania!
Click on any of the icons below to get connected to PA Bucket List on social media.
---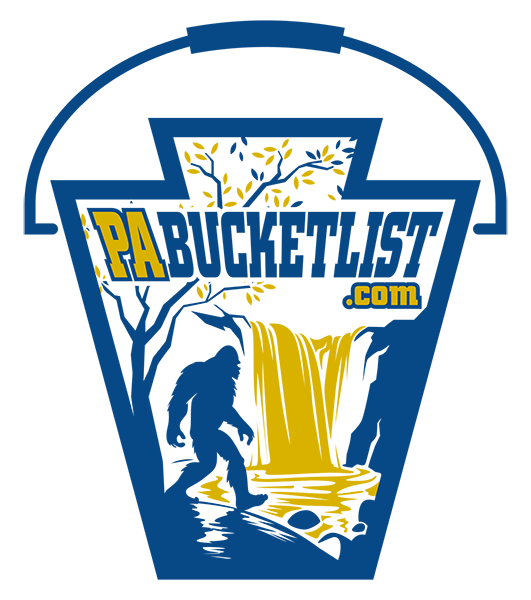 Pennsylvania's Best Travel Blog!