If you're looking for information about the Pennsylvania Farm Show, you're in the right place!
The Pennsylvania Farm Show in Harrisburg is PA's State Fair, and billed as the largest indoor agricultural expo in the United States.
Having been an exhibitor at the Farm Show complex myself (more decades ago than I care to admit!), I thought I'd put together a list of some of the best things to see and do at this annual celebration of Pennsylvania's agricultural industries, collectively valued at $132.5 billion dollars annually.
Like most county fairs across PA, the Farm Show features livestock and crop exhibits, delicious "fair food", and even some carnival rides.
There are also some exhibits you'll ONLY find at the Farm Show, like a sculpture made out of 1000 pounds of butter!
So let's dive right in – here are some of the best things to see and do at the Pennsylvania Farm Show!
---
Livestock Exhibits at the Pennsylvania Farm Show
Throughout the weeklong event, visitors to the Farm Show can check out a myriad of animal exhibits.
There are big animals like horses.
And small animals like rabbits.
There are animals most people are familiar with, like pigs.
And less-common animals, like alpacas.
There are exhibits where you (or your kids) are encouraged to get up close and personal with the animals, like the one pictured below where you can pet a horse.
What about "goat snuggling"?
Yes it's a "thing", and you can try it (for a small fee) at the Farm Show!
---
Crop Exhibits at the Pennsylvania Farm Show
You'll find a variety of cash crops on display at the Farm Show, all grown in the soil of Pennsylvania.
Among other things, you'll learn that Pennsylvania ranks first nationally in production of mushrooms.
And that Pennsylvania harvests more than 1 million Christmas trees each holiday season.
---
Other Pennsylvania Products at the Farm Show
A variety of other homegrown PA products are on display and available to sample at the Farm Show.
You'll find a number of Pennsylvania wineries set up in the Main Hall.
And what pairs better with PA wine than some gourmet PA cheese?!
If you don't like cheese, how about bees?
You can even see live honeybees in action (safely behind glass).
You can sample (or purchase to take home) PA-brewed beers.
You can sit it on a cooking demonstration, using PA-raised meats and vegetables.
Or you can cut right to the chase and hit up the famous Farm Show food court to try a variety of PA-produced products.
---
The Farm Show Milkshake
The Farm Show Milkshake may be THE most popular item available in the food court, and it's celebrating its 70th birthday in 2023.
Available in chocolate, vanilla, half-and-half, and orange cream, they're all equally delicious.
Because of their popularity, the lines for milkshakes are usually pretty long, but they move quickly.
I wouldn't normally drink two milkshakes in one morning, but on this day I had to try the new orange cream (spoiler alert – it's fantastic!) in addition to my usual half-and-half shake.
The Farm Show Butter Sculpture
If there is one "must-see" attraction at the Farm Show, it's the butter sculpture, created out of 1000 pounds of real Pennsylvania butter!
Housed in an octagonal enclosure in the Main Hall, the butter sculpture really is an impressive piece of temporary art, and you can watch a video about how it's made on screens above the enclosure.
As for the fate of the butter sculpture after the Farm Show ends – it's fed into a "methane digester" and used for energy.
---
Pennsylvania Farm Show Hours, Admission, and Parking
In 2023, the Farm Show runs from Saturday, January 7 through Saturday January 14.
Hours are:
Saturday, January 7, 8 a.m. to 9 p.m.
Sunday, January 8, 8 a.m. to 8 p.m.
Monday, January 9 through Friday, January 13, 8 a.m. to 9 p.m.
Saturday, January 14, 8 a.m. to 5 p.m.
Admission to the Farm Show is FREE; parking costs $15.00 (and is payable ONLY with a credit card – no cash accepted).
You can check out a detailed schedule of events, parking maps, and other FAQs on the Farm Show's OFFICIAL WEBSITE.
Even if you have only a passing interest in PA's agricultural industries, the Farm Show is one of those events you should check out at least once in your lifetime.
And if you want to go full-on rock star, be sure to check out the butter sculpture while enjoying a Farm Show milkshake!
---
Related Attractions
The 2023 Pennsylvania Fairs Guide is a directory of all the best county and regional fairs across the state!
---
Did you enjoy this article?
If so, be sure to like and follow PA Bucket List on Facebook, Instagram, and/or Pinterest to stay up-to-date on my latest write-ups about the best things to see and do in Pennsylvania!
Click on any of the icons below to get connected to PA Bucket List on social media.
---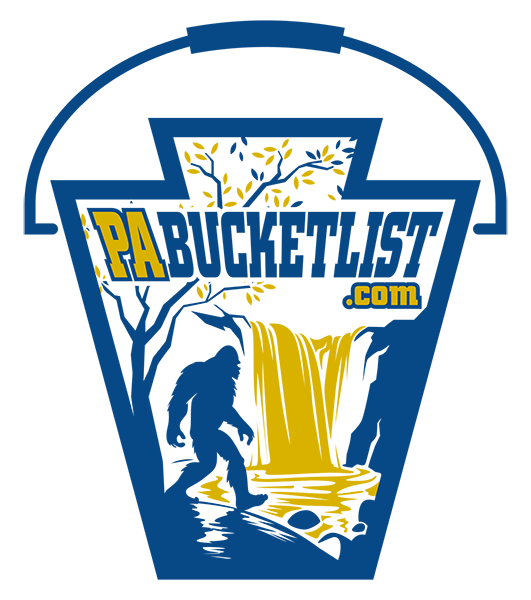 Pennsylvania's Best Travel Blog!