The Jimmy Stewart Museum in Indiana County preserves the legacy of Indiana, Pennsylvania's favorite son – actor Jimmy Stewart.
Perhaps best known for his role as George Bailey in "It's A Wonderful Life", Jimmy Stewart was also a distinguished soldier, family man, and all-around upstanding citizen.
The Jimmy Stewart Museum addresses all phases of his life and career, and does so in a very relaxed, informative, and enjoyable atmosphere.
---
Visiting the Museum
The Jimmy Stewart Museum opened on May 20, 1995, in honor of Jimmy's birthday (which was May 20, 1908).
The museum is located on the third floor of the Indiana Public Library, located at 835 Philadelphia St, Indiana, PA 15701.
The Jimmy Stewart Museum is open Monday-Saturday from 10am-4pm, and on Sundays from Noon-4pm.
There is metered street parking all around the museum, and a parking garage a few blocks away.
---
What You'll See at the Jimmy Stewart Museum
The Jimmy Stewart Museum displays an extensive collection of memorabilia related to all phases of his life – from early childhood, through his military career, and of course his extensive acting career.
---
Early Childhood Exhibits
In addition to a replica of Jimmy's childhood bedroom, there is also a collection of photos and memorabilia related to his father Alex's hardware store, which was located across the street from the present day Jimmy Stewart Museum.
Jimmy's father was a Princeton University alumnus and successful business man.
Jimmy followed his father's footsteps to Princeton, where he majored in architecture, but also got involved in theatre.
You'll find a variety of memorabilia related to Jimmy's high school and college days on display at the museum.
---
Military Career Exhibits
At the outbreak of WWII, Jimmy Stewart was already an accomplished private pilot, and he enlisted in the Army Air Corps in March, 1941.
You'll find a wealth of information and memorabilia related to his distinguished career as a pilot and his love of aviation on display at the Jimmy Stewart Museum.
---
Acting Career Exhibits
Jimmy Stewart appeared in 80 feature films, as well as numerous stints on Broadway, radio, and television, over the course of his acting career.
So it should be no surprise that you'll find a wealth of movie posters and movie props on display at the Jimmy Stewart Museum.
Of course the movie that he is most famous for, "It's A Wonderful Life", is extensively represented in the form of posters, memorabilia, and trivia displays.
Ironically, "It's A Wonderful Life" was a box office dud when it was released in 1946, and you can read Jimmy's thoughts on that at the museum.
Now of course it's widely considered one of the most classic Christmas movies of all time.
---
The Jimmy Stewart Statue
In honor of Jimmy Stewart's 75th birthday, a bronze statue of him was erected in front of the Indiana County Courthouse, right next to the library and Jimmy Stewart Museum.
The statue depicts Jimmy in his "Mr. Smith Goes to Washington" suit, a role than won him a nomination for "Best Actor" at the 1940 Academy Awards.
---
Stewart Family Hardware Store
Across the street from the Jimmy Stewart Museum is the site of the former Stewart family hardware store.
Now a bank, you can read about the hardware store in the lobby of the Indiana Public Library, downstairs from the Jimmy Stewart Museum.
A sundial that once stood on the site of the hardware store is also on display in the library lobby.
---
Jimmy Stewart's Childhood Home
Located just a few blocks from the museum you'll find Jimmy Stewart's childhood home, located at 104 N 7th St, Indiana, PA 15701.
The home is a private residence at the end of a cul-de-sac, situated on an area called Vinegar Hill.
So while you cannot tour the inside of the home, you can either drive or walk up to the cul-de-sac in front of the house and snap a few photos of the exterior.
Vinegar Hill also offers a commanding view of downtown Indiana.
A historical marker near the top of the steps tells you a little more about Vinegar Hill and its connection to Jimmy Stewart.
---
Final Thoughts
Jimmy Stewart loved Indiana, and Indiana loves Jimmy Stewart!
And while you can visit the Jimmy Stewart Museum any time of year, Christmas in Indiana is an especially good time of year to do so, as "It's A Wonderful Life" seems to permeate the entire town!
Jimmy Stewart lead an extraordinary life, and you can learn all about it at the Jimmy Stewart Museum in Indiana County!
In the age of COVID, I would be remiss if I didn't encourage you to check the museum's OFFICIAL WEBSITE for any closings or restrictions related to COVID or the weather BEFORE you make the trip to Indiana, PA!
---
Nearby Attractions
Mister Rogers is another celebrity that spent part of his childhood in Indiana County, and you can retrace his steps when you visit Buttermilk Falls in Indiana County.
This beautiful waterfall is situated in an Indiana County park on land formerly owned by Fred Rogers' grandfather.
Buttermilk Falls is one of the few waterfalls in Pennsylvania that you can stand behind, courtesy a set of stairs and a steel viewing platform.
---
Exploring the Covered Bridges of Indiana County introduces you to the four remaining covered bridges in the county.
---
The Jonnet Flea Market along Route 22 in neighboring Westmoreland County is one of PA's largest indoor flea markets.
---
Did you enjoy this article?
If so, be sure to like and follow PA Bucket List on Facebook, Instagram, and/or Pinterest to learn more about the best things to see and do in Pennsylvania!
Click on any of the icons below to get connected to PA Bucket List on social media.
---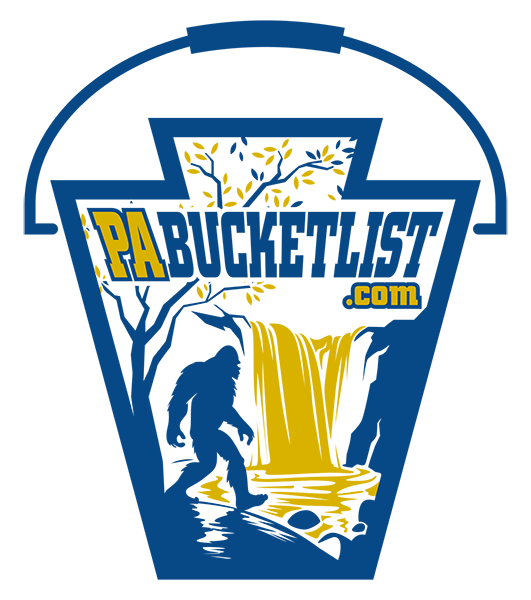 Pennsylvania's Best Travel Blog!