Raystown Lake in Huntingdon County is the largest lake entirely situated with the state of Pennsylvania.
Created by damming the Raystown Branch of the Juniata River, this 8,300 acre Army Corps of Engineers project provides flood control, recreational opportunities, and power generation via a hydroelectric generating station located at the Raystown Dam.
Dedicated in 1974, Raystown Lake is a popular spot for boating, swimming, fishing, and scuba diving.
The area around the lake also provides for some spectacular views, four of which are the subject of this write-up.
---
Ridenour Overlook at Raystown Lake
Ridenour Overlook at Raystown Lake offers sweeping views of the Raystown Dam and the Juniata River Valley downstream.
It is located at GPS coordinates 40.43144, -78.01685 and is basically a roadside vista off of a paved road and circular parking area.
Steps leading to the vista from the parking area take you past a historical monument.
At the top of the stairs is a large wall and observation area, along with several benches.
Informational signs let you know what you are looking out over from the vista.
And then of course there is the view from Ridenour Overlook itself!
A view that is equally magical no matter what time of year you visit.
---
Hawn's Overlook at Raystown Lake
Perhaps the most well-known and beloved overlook at Raystown Lake, Hawn's Overlook offers 180 degree views from a perch high above Hawn's Peninsula.
Hawn's Overlook is accessed from the same parking area as Ridenour Overlook.
The GPS coordinates for Hawn's Overlook are 40.42973, -78.01895.
A 300 yard crushed-stone trail leads from the parking lot to Hawn's Overlook.
Once you reach Hawn's Overlook, you'll be amazed by the views!
As with Ridenour Overlook, an informational sign lets you know what you're looking at.
Boaters on the lake seem almost microscopic from this elevated vantage point.
The enormity of the lake becomes apparent from Hawn's Overlook, maybe more so than from any other vantage point.
Winter is a beautiful time to visit Hawn's Overlook.
On a cold, clear day the views from Hawn's Overlook seem to go on forever.
---
Raystown Dam Overlook
While this view is from below rather than above, the scene is no less remarkable from the Raystown Dam Overlook.
The Raystown Dam Overlook is located along River Road at GPS coordinates 40.43285, -77.99930.
As with the first two overlooks mentioned, an informational sign lets you know what you are viewing at from the overlook, as well as a bit of history of Raystown Lake.
A large paved area near the Raystown Dam Overlook is a popular fishing spot.
An informational sign near the overlook tells you a bit about the power-generating capacity the dam provides.
---
Raystown Pagoda Overlook
The Raystown Pagoa Overlook is accessed via Raystown Dam Road, which passes directly below the breast of the dam.
The overlook is located at GPS coordinates 40.43073, -78.00735, and there are restrooms located next to the pagoda and parking area.
This is one of the more unique pavilions you'll find in Pennsylvania, and it is dedicated to James Weaver , the resident engineer on the Raystown Dam project from 1968-1973.
The Raystown Pagoda offers shade from the sun or shelter from the rain, while providing an outstanding view of Raystown Lake.
Raystown Lake is nearly 200 feet deep in this area directly above the dam, and is rumored to be the home of Raystown Ray, a cousin (perhaps) of the famed Loch Ness Monster!
---
Nearby Attractions
Trough Creek State Park in Huntingdon County is home to a variety of attractions, including the spectacular Rainbow Falls.
---
The East Broad Top Railroad offers scenic train rides, shop tours, and visits to the "roundhouse" where their fleet of six historic steam engines live.
---
Saint Mary's Covered Bridge is the lone remaining covered bridge in Huntingdon County.
---
Indian Lookout in Huntingdon County is one of the most outstanding scenic overlooks in all the Rothrock State Forest.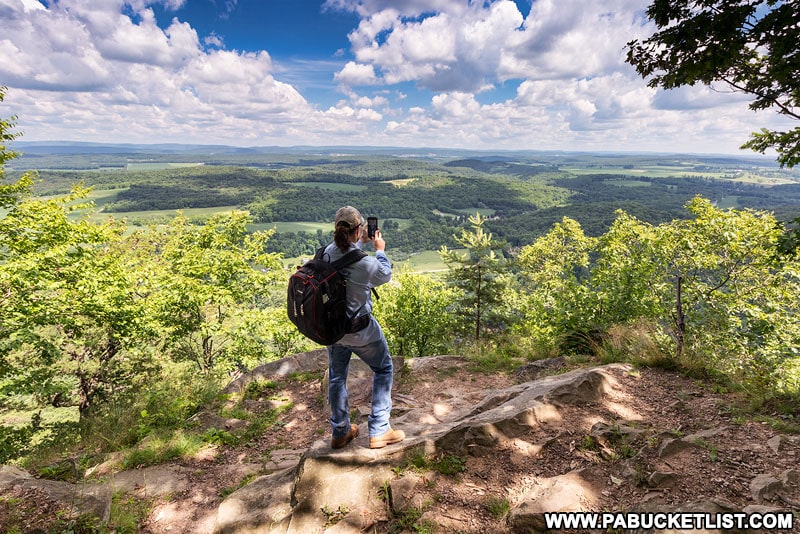 ---
The 16 Best Things to Do In Huntingdon County PA will introduce you to even more recreational opportunities near Raystown Lake!
---
Did you enjoy this article?
If so, be sure to like and follow PA Bucket List on Facebook, Instagram, and/or Pinterest to stay up-to-date on my latest write-ups about the best things to see and do in Pennsylvania!
Click on any of the icons below to get connected to PA Bucket List on social media.
---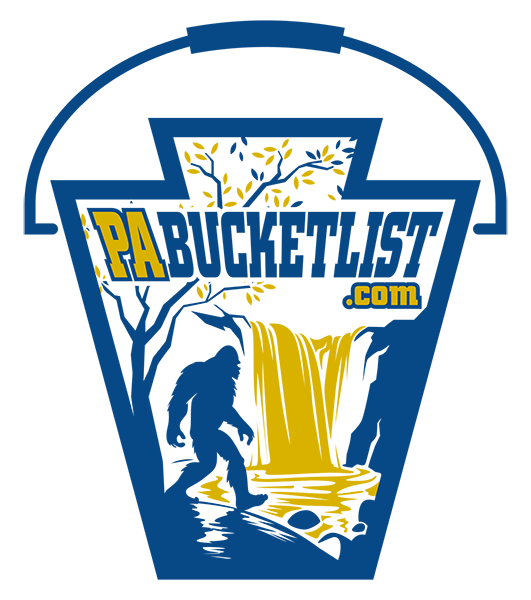 Pennsylvania's Best Travel Blog!