If you're looking for the best scenic overlooks near State College, you're in the right place!
The mountains surrounding State College and Penn State University are home to some incredible scenic views, if you know where to look for them.
When most people think of sightseeing around State College, their thoughts turn immediately to the Penn State University campus.
And while it IS a beautiful campus (and this author's alma mater), if you're looking for something a little more natural, the 5 scenic overlooks mentioned below all make for memorable visits.
---
1. Mike Lynch Overlook on Mount Nittany
We'll start with the most famous scenic overlook near State College, the Mike Lynch Overlook on Mount Nittany.
Hiking Mount Nittany is a rite of passage for any Penn Stater or visitor to Happy Valley, and I did a complete write-up on this hike which you can view HERE.
Where to park, which trails to take, and what you can expect to see – it's all right here!
---
2. Jo Hays Vista
The easiest scenic overlook to get to near State College is Jo Hays Vista.
Jo Hays Vista is literally roadside along Route 26 near Pine Grove Mills.
There is a large parking area at the vista, and several benches to sit and take in the view.
The vista is named after a former State Senator and is part of the Rothrock State Forest.
With a long lens or a pair of binoculars, you can clearly see many of the landmark buildings on the Penn State campus from here.
The view to the west from Jo Hays Vista is of the pastoral farmland of Ferguson Township.
The GPS coordinates for Jo Hays Vista are 40.71683, -77.89399.
---
3. David's Vista
Also utilizing the Jo Hays Vista parking lot, the next scenic overlook I'd recommend visiting is David's Vista, along the Jackson Trail.
This 0.75 mile hike along the flat but rocky (they don't call it Rocksylvania for nothing!) Jackson Trail brings you to this magnificent spot overlooking Huntingdon County and the Rothrock State Forest.
As you cross Route 26 from Jo Hays Vista and start down the Jackson Trail, you'll soon pass a series of cell phone towers and satellite dishes.
Just beyond the last cell phone tower the trail transitions from gravel road to a rocky singletrack.
3/4 of a mile after starting down the trail, you'll arrive at David's Vista.
The 180 degree views here are outstanding.
The GPS coordinates for David's Vista are 40.72172, -77.88182.
---
4. Hubler Gap Vista
The most challenging vista to reach of the 5 mentioned in this write-up is Hubler Gap Vista.
Reaching Hubler Gap Vista requires a 1.5 mile hike with 900 feet of elevation gain over the course of the hike along the Musser Gap Trail.
Trailhead parking can be found just off of Route 45 at GPS coordinates 40.75476, -77.85309.
The first 1/3 of the hike is a gentle uphill grade along a gravel path.
The last 2/3 of the hike is more steep and rocky along a singletrack trail.
The payoff at the top of the mountain is a panoramic view of the Rothrock State Forest and Huntingdon County.
---
5. Lion's Valley Vista
A terrific side destination on the return hike from Hubler Gap Vista is Lion's Valley Vista, just off the Musser Gap Trail at GPS coordinates 40.74142, -77.84998.
A map near the trailhead parking will show you exactly which trails to take to reach Lion's Valley Vista (take a cell phone picture of the map before starting up the mountain), but basically you'll veer off of Musser Gap Trail onto Mountain Mist Trail, then Huckleberry Loop, and finally Lion's Valley Vista Trail.
Sounds complicated, but the side trails are well-worn and well-blazed, and you're only on each of them for a few minutes.
The view from Lion's Valley Vista is of the farmland of Ferguson Township in the foreground, and the ever-expanding State College and Penn State in the background.
---
Nearby Attractions
The 6 Best State Parks Near State College is your guide to more awesome outdoor adventures in Happy Valley.
---
The 13 Best Scenic Overlooks in Centre County is your guide to more scenic views near Happy Valley.
---
The Arboretum at Penn State is a fantastic collection of botanic gardens, fountains, ponds, walking trails, and pollinator habitats all located on the north end of the Penn State main campus in State College.
---
Shaver's Creek Environmental Center is a Penn State owned and operated wildlife center and aviary, located just 12 miles outside of State College in rural Huntingdon County.
---
Hobie's Trail at Colyer Lake shows you what to expect from this beautiful 2.6 mile lakeside-loop trail just minutes from downtown State College and Penn State.
---
Exploring the Ghost Town of Scotia Near State College takes you inside the remains of a iron-mining boomtown gone bust.
---
The 13 Best Scenic Overlooks in Huntingdon County will introduce you to some of the finest views in Centre County's southern neighbor.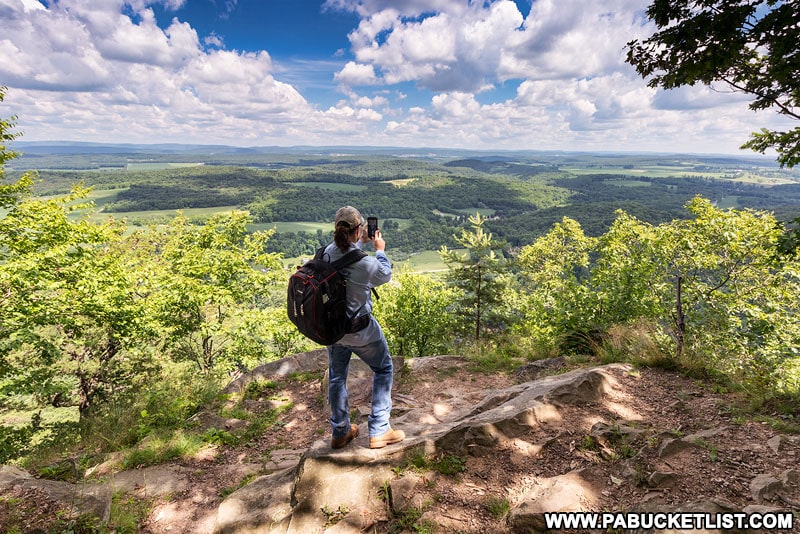 ---
Did you know there are several remarkable waterfalls within an hour of State College?
You'll find the best ones in my write-up 9 Must-See Central Pennsylvania Waterfalls.
---
Did you enjoy this article?
If so, be sure to like and follow PA Bucket List on Facebook, Instagram, and/or Pinterest to stay up-to-date on my latest write-ups about the best things to see and do in Pennsylvania!
Click on any of the icons below to get connected to PA Bucket List on social media!
---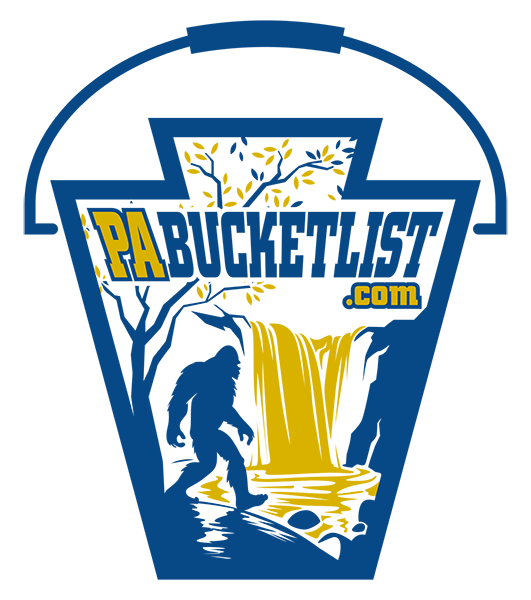 Pennsylvania's Best Travel Blog!