Driving along Scotia Range Road through State Game Lands 176 near State College now, you'd never guess that you are passing right by the location of a once-thriving iron mining boomtown.
But in the late 1800s, the company town of Scotia, built by one of the richest men in the world at the time, served as home to employees of Andrew Carnegie's Scotia Mines and Iron Works.
Now, Scotia is but a ghost town (and some say still inhabited by ghosts!), and the few remaining structures are being slowly swallowed up by the Earth.
---
Early History of Scotia
The presence of iron ore in this part of Pennsylvania had been known of since the late 1780s, and iron was being mined and transported to furnaces near present-day Bellefonte and State College throughout much of the early to mid 1800s.
But it was Andrew Carnegie, starting in 1881, that used his industrial might to mine, refine, and ship Scotia iron ore on a large scale to his steel mills in Pittsburgh.
---
The Boomtown Years of Scotia
Named "Scotia" by Carnegie as a tribute to his native Scotland (Scotia meaning "little Scotland"), the company town that grew up around the iron ore mining operation at one time was home to nearly 250 workers and 400 total residents.
In addition to homes for the workers and their families, there was a blacksmith's shop, a barber shop, a shoemaker's shop, a general store, a church, and a grammar school named the Rabbit Hill School.
There was also a train station and a rail line that extended to Scotia to haul materials and people into Scotia, as well as hauling iron ore out of Scotia and west to Carnegie's steel mills in Pittsburgh.
In the early days of the operation at Scotia, iron ore was mined with pick and shovel, but that soon gave way to steam shovels.
The iron ore that was mined needed to be washed to remove dirt, clay, and sand before it could be shipped to its final destination in Pittsburgh.
This meant that the iron ore had to be transported by small steam engines known as "dinkey trains" to a structure known as the "ore washer", where it would be cleaned and then loaded onto freight cars again for the trip to the steel mills.
The process of washing the iron ore required vast amounts of water, and initially much of that water was pumped from what is now known as 10 Acre Pond, where to this day you can find concrete remnants of the water-pumping operation.
The iron mining operation and the town of Scotia prospered under Carnegie's ownership until 1899, when he decided to sell it to the local Bellefonte Furnace Company.
---
The Decline of Scotia
Once vast quantities of high-grade iron ore had been discovered in Minnesota, it was more economical for Carnegie to obtain what he needed for his steel mills there.
The Bellefonte Furnace Company operated the Scotia mines for another decade, but as the quality and quantity of iron ore produced there decreased, it became economically impossible to continue.
The mines closed, the equipment was sold off and disassembled, and homes were dismantled for their lumber.
By the early 1920s all that remained of Scotia was a few vacant buildings and foundations of what had once-been a thriving community.
---
Exploring the Ghost Town of Scotia Today
Today the remains of the ghost town of Scotia can be found on adjacent parcels of land owned by Patton Township and the Pennsylvania Game Commission.
The most prominent man-made features still visible are the remnants of the ore washer operations.
---
The Abandoned Ore Washer at Scotia
Like a concrete skeleton, the remains of the abandoned ore washer at Scotia are a silent reminder that a once-bustling industrial operation existed in this modern-day forest.
Large earthen ramps on either side of the ore washer foundation allow you a birds-eye view.
The closest parking spot to the ore washer ruins is right along Scotia Range Road at GPS coordinates 40.80039, -77.94644.
From an obvious footpath just beyond the gate at the back of the parking lot, follow the trail to the left (west) for approximately 200 yards to the base of the ruins.
State Game Lands 176 in general, and the Scotia ruins in particular, are a popular destination for area hikers, mountain bikers, and trail runners.
The ruins have also been a popular party spot for many decades, at least since the 80s when I moved to State College.
So don't be surprised to see a constantly-changing array of graffiti and party paraphernalia scattered about.
---
The Ore Pond at Scotia
Approximately 200 yards to the north of the Scotia ruins parking area lies a large ore pond, a pit where iron ore was once excavated, now filled in with water.
Because of the high iron content in the water, the pond takes on some seemingly-unnatural colors, almost fluorescent at times.
Despite its unnatural, man-made origines, the ore pond is a fairly photogenic spot and worth a quick look while visiting the ruins of Scotia.
---
10 Acre Pond at Scotia
In the boomtown days of Scotia, 10 Acre Pond was an important source of water (along with wells dug later) for both the ore washing operation, as well as replenishing the steam engines that rolled into Scotia twice daily.
Now it is important to both migrating waterfowl as well as indigenous amphibians.
10 Acre Pond is located on land owned by Patton Township (and preserved for public use) and sits approximately 150 yards east of the Scotia ruins parking area.
---
The Black Ghost of Scotia
As with many industrial operations of the time, accidental deaths were not uncommon, and rumors of hauntings by the recently-deceased accompanied those sudden deaths.
But the most persistent ghost story related to Scotia involved no accident, but rather revolves around a murder that took place in 1910.
On a chilly October night, an African-American man named Bert Delige attacked and murdered Mrs. Hulda Burdis, the widow of Bert's former boss John Baudis.
Bert quickly became the prime suspect, and faced with overwhelming evidence turned up during the investigation (including the bloody razor used to cut Mrs. Burdis' throat), he confessed to the crime.
Bert Delige was publicly hanged at the Bellefonte jail courtyard on April 25, 1911, the last public hanging in Centre County.
His body was returned to the Scotia Barrens (as the land around Scotia was and still is called) and he was buried in unconsecrated ground near his family homestead.
To this day, rumors of a large, black, human-shaped figure wandering the Scotia Barrens persist, and sightings seem to peak around the date of his execution on April 25th.
---
Nearby Attractions
The Arboretum at Penn State is a fantastic collection of botanic gardens, fountains, ponds, walking trails, and pollinator habitats all located on the north end of the Penn State main campus in State College.
---
The Penn State All-Sports Museum at Beaver Stadium honors the history, heritage, and accomplishments of Penn State athletes and Penn State Intercollegiate Athletics.
---
Exploring Black Moshannon State Park in Centre County will introduce you to this popular Centre County park built, coincidentally, on top of another ghost town named Antes.
---
The 5 Best Scenic Overlooks Near State College will show you how to find some of the best mountain vistas surrounding Penn State and State College.
---
Hiking the Colyer Lake Trail Near State College shows you what to expect from this beautiful 2.6 mile lakeside-loop trail just minutes from downtown State College and Penn State.
---
Exploring Greenwood Furnace State Park in Huntingdon County introduces you to yet another state park built on the site of a ghost town, this one the former boomtown of Greenwood.
---
The abandoned lime kilns at Canoe Creek State Park are remnants of a thriving limestone-processing facility that once operated around the clock in this now-tranquil corner of neighboring Blair County.
---
Related Attractions
Exploring Concrete City in Luzerne County takes you inside this former coal company housing complex abandoned just a decade after it opened.
---
Exploring the Abandoned PA Turnpike takes you inside what is arguably the largest abandoned site in Pennsylvania, a 13 mile-long stretch of former superhighway-turned bike path.
---
Exploring the Abandoned Alvira Bunkers in Union County takes you inside the ruins of a former explosives depot turned State Game Lands.
---
Did you enjoy this article?
If so, be sure to like and follow PA Bucket List on Facebook, Instagram, and/or Pinterest to stay up-to-date on my latest write-ups about the best things to see and do in Pennsylvania!
Click on any of the icons below to get connected to PA Bucket List on social media.
---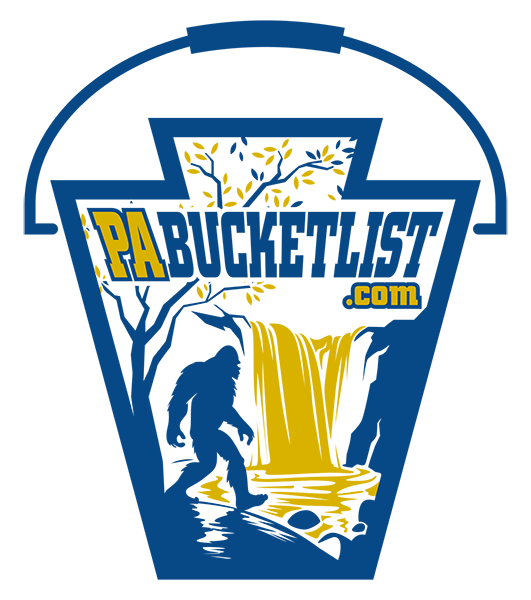 Pennsylvania's Best Travel Blog!