Punxsutawney Phil is the most famous groundhog in Pennsylvania, and quite possibly in the entire world!
And while we think of Phil every February 2nd, when he makes his famous weather prediction of either an early spring or six more weeks of winter, you can visit him any time of year in his hometown in Jefferson County.
---
Visiting Punxsutawney Phil's Burrow
Phil lives in a deluxe man-made burrow attached to the Punxsutawney Library.
His burrow may also be one of the safest places in all of Punxsutawney, as the local police department is headquartered in the same complex!
Phil spends a lot of time sleeping, which is to be expected from a groundhog that has been predicting the weather since 1886!
Phil consumes a magic elixir that accounts for his longevity, as you'll learn when you visit his burrow.
Scattered around Punxsutawney you'll find "Phantastic Phils", statues of Phil in various costumes.
There's a picturesque park adjacent to Phil's Burrow.
And of course a sculpture of the town's most famous resident.
---
Visiting Gobbler's Knob
Gobbler's Knob is located approximately 2 miles from Phil's burrow in downtown Punxsutawney.
It is from this hilltop that Phil issues his weather prognostication every February 2nd.
On a recent visit on a summer afternoon, I had Gobbler's Knob all to myself.
That of course allows you to explore all the famous sights there at your leisure.
About that name – you'll learn all about it on various interpretive exhibits at Gobbler's Knob.
You'll also learn about Phil's amazing record of 100% accuracy predicting the weather correctly for more than 120 years!
Final Thoughts
It's hard to underestimate the impact this legendary groundhog has had on his hometown – literally EVERYTHING in Punxsutawney seems to reference Phil in one way, shape, or form.
What started out as a tradition amongst German immigrants in this small western PA town has morphed into a holiday that is now known and celebrated across the United States.
In the process, Punxsutawney has become the unofficial "Weather Capital of the World".
And a simple groundhog with a gift for predicting the weather has become the "Rockstar of Rodents", and a beloved symbol of Pennsylvania!
---
Nearby Attractions
Beartown Rocks in the Clear Creek State Forest features an exceptional scenic overlook perched high atop a "rock city" dating back to the last Ice Age!
Beartown Rocks is essentially a roadside attraction, meaning you can park right next to it and take a leisurely stroll through this "rock city" in Jefferson County.
---
Brady's Bend Overlook in neighboring Clarion County is one of the finest roadside vistas in Pennsylvania!
---
McGees Mills Covered Bridge is located 12 miles from Punxsutawney, and is the last remaining historic covered bridge in Clearfield County, Pennsylvania.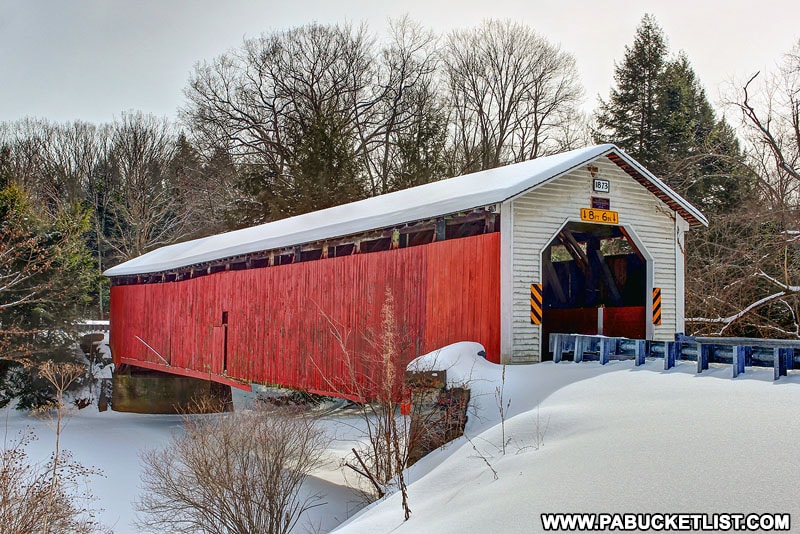 ---
The 15 Best Elk Viewing Destinations in PA will take you north of Punxsutawney, to visit another species of wildlife that have become celebrities and a tourist draw in their own right.
---
Did you enjoy this article?
If so, be sure to like and follow PA Bucket List on Facebook, Instagram, and/or Pinterest to stay up-to-date on my latest write-ups about the best things to see and do in Pennsylvania!
Click on any of the icons below to get connected to PA Bucket List on social media.
---
Pennsylvania's Best Travel Blog!