The Big Mac Museum in Irwin celebrates the Pennsylvania origins of the world's most famous hamburger – the Big Mac!
Developed by Jim Delligatti, owner of several Pittsburgh-area McDonald's franchises, the super-sized burger was first marketed as a "Big Mac" at his McDonald's in Uniontown (40 miles south of Irwin) in 1967.
On the 40th anniversary of the creation of the Big Mac, Delligatti's family (who now own 18 area McDonald's restaurants) opened the Big Mac Museum at their Irwin location, due to the increased traffic and visibility of this location (it's a half-mile from the Irwin exit of the PA Turnpike) compared to the Uniontown location.
This is no stand-alone museum; the exhibits are located around the perimeter of a fully-operational (and busy) McDonald's restaurant.
---
What You'll See at the Big Mac Museum
When I visited the Big Mac Museum in the summer of 2022, the restaurant and museum had just gone through a remodeling process.
The "new-look" Big Mac Museum consists of a timeline of Big Mac highlights, with cases featuring Big Mac memorabilia displayed above the timeline.
Since the Big Mac and I are roughly the same age, looking back through the old advertisements, promotional items, and packaging was like looking back through a scrapbook of my childhood and college years.
Who can forget the classic Styrofoam clamshell Big Mac container of the 80s, perfect for putting your fries on one side, burger on the other?!
Or the Big Mac promotional glasses of the same time period?
I was a little too young at the time to remember this 1971 ad campaign for the "Big Meal".
But I definitely remember the "Get Back with Big Mac" campaign of 1998, the 30th anniversary of the Big Mac.
How I missed out on this Big Mac-themed hat I'll never know, but now that it's on my radar, I'll be keeping an eye out for it at yard sales and flea markets!
Whether you love the Big Mac or hate the Big Mac (like Altoona-style pizza– there's no in-between!), I'd be willing to bet if you're over 40 you can still recite the seven ingredients ("two all-beef patties, special sauce, lettuce, cheese, pickles, onions, on a sesame seed bun) – a testament to effective marketing.
The Venus de Milo of the entire Big Mac Museum is a 14 foot tall statue of a Big Mac, proudly displayed atop a faux silver pedestal in the indoor playground section of the restaurant.
Honestly, I can think of no better setting to house a tribute to fast food royalty than a busy McDonald's near a Turnpike exit – it's a quick and easy visit for a "supper in a sack" kind of world!
---
Directions to the Big Mac Museum
The Big Mac Museum is located inside the McDonald's at 9061 Lincoln Hwy, North Huntingdon, PA 15642, a half-mile west of Pennsylvania Turnpike's Irwin exit, on the north side of US 30.
---
Related Attractions
As I alluded to earlier, Altoona-style pizza is another Pennsylvania culinary creation that seems to stir the emotions of both its fans and its detractors!
Altoona-style pizza is a variation on Sicilian pizza, featuring a thick, spongy crust and rectangular shape, similar to focaccia bread.
On top of the dough goes a layer of tomato sauce, then a slice of deli-style salami, then a sliced green bell pepper ring, and finally the topper (and most controversial ingredient) – a slice of processed yellow American cheese!
---
A sweeter culinary creation and a western PA tradition is Gene and Boots Candies!
Gene and Boots specializes in homemade chocolates, and also offers 20 different varieties of their own homemade hard ice-cream.
---
Of course we can't talk about PA candy stores and not mention Mister Ed's Elephant Museum and Candy Emporium near Gettysburg, possibly the best (and only) elephant-themed candy store in Pennsylvania!
---
Did you enjoy this article?
If so, be sure to like and follow PA Bucket List on Facebook, Instagram, and/or Pinterest to stay up-to-date on my latest write-ups about the best things to see and do in Pennsylvania!
Click on any of the icons below to get connected to PA Bucket List on social media.
---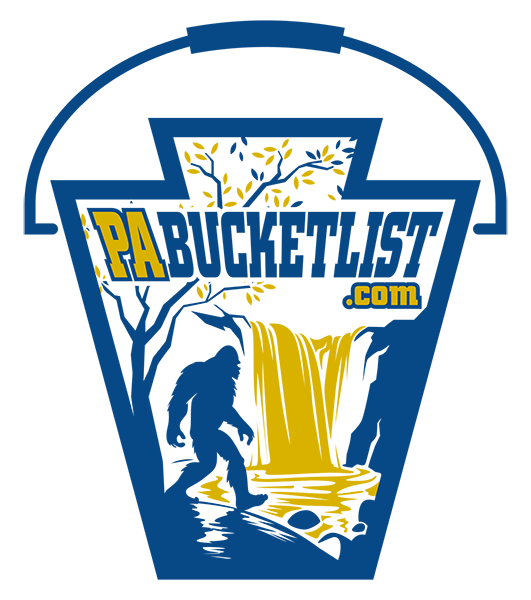 Pennsylvania's Best Travel Blog!