Standing in front of a waterfall is great.
Standing BEHIND a waterfall is even better!
In a state blessed with thousands of waterfalls great and small, here are 6 Pennsylvania waterfalls you can stand behind and experience the thrill of a lifetime!
Simply click on the blue text / link in each waterfall description to view maps, directions and additional photos of that waterfall.
---
Cucumber Falls
Cucumber Falls at Ohiopyle State Park is not only one of the prettiest waterfalls in the Laurel Highlands, but one of the easiest waterfalls to stand behind in all of Pennsylvania.
The large, cavernous area behind Cucumber Falls is most easily accessed from the left side.
Of course the view from the front is pretty outstanding as well!
---
Adams Falls
Adams Falls at Linn Run State Park is yet another Laurel Highlands waterfall you can stand behind.
The cavernous area behind Adams Falls is plenty tall for an adult to stand in with no issues.
It takes plenty of rain to make a trip to Adams Falls worthwhile, but if you do catch it under these conditions, you're in for a treat!
---
Buttermilk Falls
Buttermilk Falls in Indiana County has had massive infrastructure built around it for the sole purpose of allowing you to stand behind it.
A steel staircase and walkway extends behind the veil of Buttermilk Falls, allowing for just about anyone who can make it up and down stairs to safely stand here.
The stairs and walkway are a relatively new feature (2017) – prior to that visitors wanting to go behind the veil needed a bit more skill.
---
B. Reynolds Falls
B. Reynolds Falls is one that countless people hike by every year as one of the 21 named waterfalls along the Falls Trail at Ricketts Glen State Park.
There is not a lot of headroom behind B. Reynolds Falls, so this one may be better categorized as a waterfall you can crouch behind.
---
Round Island Run Falls
Round Island Run Falls is my personal favorite of the Pennsylvania waterfalls you can stand behind.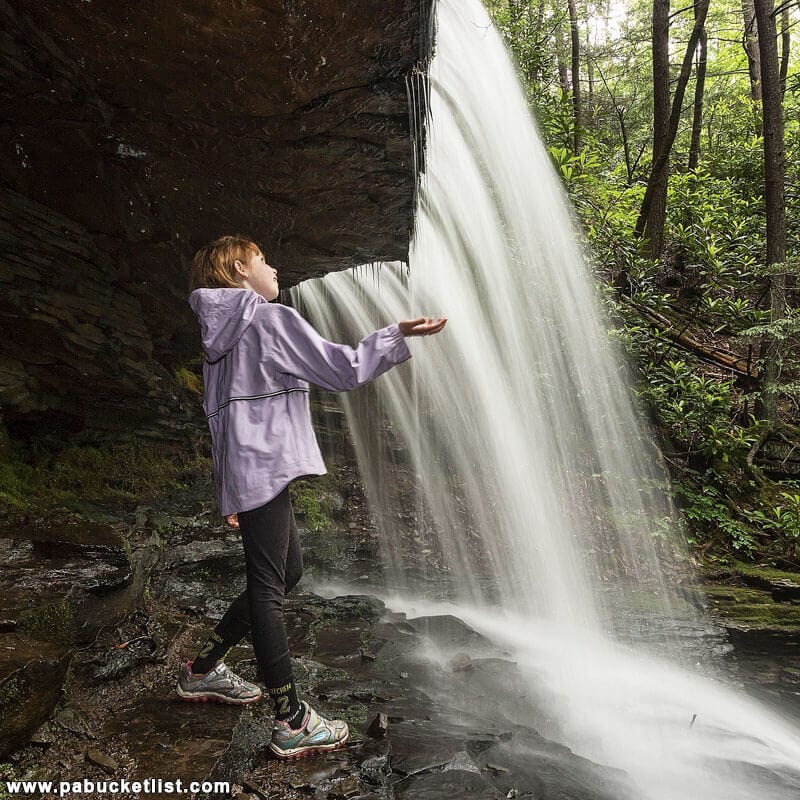 The remoteness of the location in the Sproul State Forest, and the overall beauty of the waterfall itself make every trip to Round Island Run Falls special.
And while it's the upper tier you can stand behind, the totality of all three tiers makes Round Island Run a magnificent specimen of Central Pennsylvania waterfalls.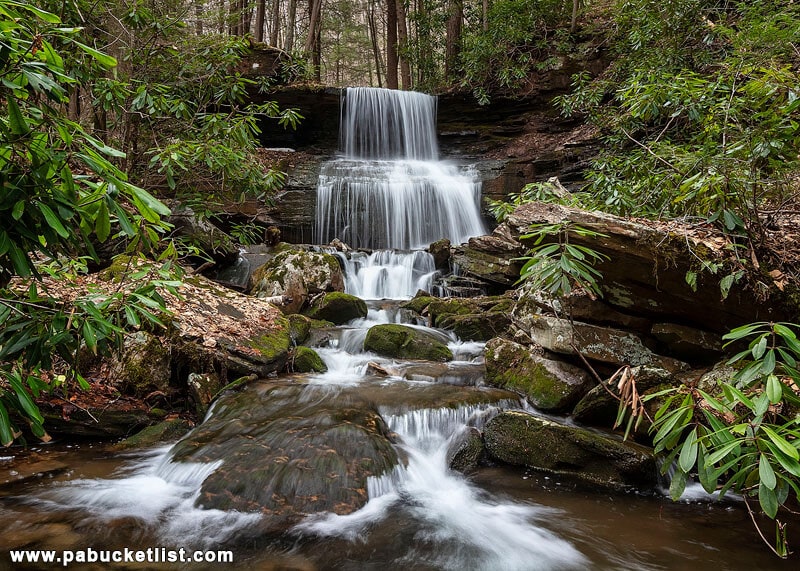 ---
Hippie Shower Falls
Hippie Shower Falls is located along the Great Allegheny Passage in Fayette County.
Visitors are able to stand behind Hippie Shower Falls in a 7 foot tall cavern hollowed out behind the falls.
---
So there you have it!
6 Pennsylvania waterfalls you can stand behind and experience the thrill of a lifetime!
And if you love waterfalls, you MUST check out The Ultimate Pennsylvania Waterfalls Guide, with detailed directions to HUNDREDS of PA waterfalls.
The guide is constantly being updated and expanded, and is totally FREE to use!
---
Did you enjoy this article?
If so, be sure to like and follow PA Bucket List on Facebook, Instagram, and/or Pinterest to stay up-to-date on my latest write-ups.
Click on any of the icons below to get connected to PA Bucket List on social media!
---
Pennsylvania's Best AD-FREE Adventure Guide!