If you're looking for information on touring the long off-limits Black-Coffey Caverns, you're in the right place!
Black-Coffey Caverns is the only cavern system in Pennsylvania accessed through the basement of a private home!
But where most basement steps lead to a laundry room or some unused exercise equipment, the basement steps in this home lead to an amazing underground world!
And one of the things that separates Black-Coffey Caverns from other caves you may have visited in PA is that the entire tour is conducted using only flashlights!
---
History of Black-Coffey Caverns
Black-Coffey Caverns operated as a "show cave" known as Baker Caverns from 1932 until 1954, then closed, went through a series of owners, and was off limits until recently.
The current owners have generously reopened the caverns to visitors on a donation-based basis, and have renamed the caverns Black (last name of current owner) Coffey (last name of farmer who discover the caverns) Caverns.
The original Baker Caverns visitor center, built over the caverns entrance in 1932, was incorporated into the larger house that stands there today.
So when you stand in the visitor center today, you're literally standing in the same room cavern visitors stood in 90 years ago!
The visitor center showcases many mementos and souvenirs from the Baker Caverns era (1932-1954).
There are also souvenirs from the modern era, so you can make your visit to Black-Coffey Caverns "t-shirt official".
---
Touring Black-Coffey Caverns
I'll admit I wasn't sure what to expect when I first heard about "the caverns you access from someone's basement"!
Having explored every show cave in Pennsylvania, as well as many others across the country, I looked forward to seeing how Black-Coffey Caverns stacked up against those more more well-known tourist attractions.
What I found were very friendly hosts, knowledgeable guides, and a beautiful series of caverns full of amazing speleothems (cave formations).
Despite the fact that the stairs/concrete floors inside the caverns were constructed 90 years ago, they are in remarkably good shape.
And not only did the lack of any lights (other than the flashlights carried by our guide and fellow tourists) NOT make it feel "less safe", I think it actually enhanced the experience and made it fell more like "exploring" and less like "touring".
It was enjoyable to walk into a chamber, pan your flashlight up and down the walls, and have no idea what you were going to see next.
The tour lasted approximately 45 minutes, and was limited to a group of 10 to allow plenty of space for everyone to move and explore.
At a few spots along the tour, the guide gave those of us who wanted to a chance to explore some smaller, unimproved passageways, with the caveat that we would probably get a little muddy in the process.
Several small pools of water exist along the path of the tour, casting beautiful reflections when illuminated with a flashlight.
Stalactites, stalagmites, flowstone – there was no shortage of formations to look at as we made our way through the caverns.
My impression of the Black-Coffey Caverns tour was that it was absolutely on par with many of PA's "show caves", in terms of of both professionalism and the overall beauty of the caverns.
---
Scheduling a Tour of Black-Coffey Caverns
Black-Coffey Caverns is open by prior booking only – DO NOT simply show up there expecting to tour the caverns!
You can access Black-Coffey Caverns online booking site HERE to schedule a visit.
There is no set fee to tour Black-Coffey Caverns, but donations are accepted (and recommended by this author, given the level of hospitality being extended to visitors by the cavern's owner).
---
Directions to Black-Coffey Caverns
Black-Coffey Caverns is located approximately 8 miles southwest of Chambersburg in Franklin County.
IF navigating by GPS, use coordinates 6242 Warm Spring Rd, Greencastle, PA 17225 to find Black-Coffey Caverns.
---
Related Articles
Exploring Every Show Cave in Pennsylvania is my guide to all 8 "official" show caves in Pennsylvania, based upon my own personal visits and experiences at each of them.
---
Nearby Attractions
Buchanan's Birthplace State Park in Franklin County is home to a large pyramid that marks the birthplace of the James Buchanan, 15th President of the United States.
---
Big Mountain Overlook in Fulton County is an expansive roadside vista in southcentral Pennsylvania.
---
Cowans Gap State Park is a fantastic 1,085 acre park located in Fulton County (with a small portion extending into neighboring Franklin County as well).
---
The Michaux State Forest in Cumberland County is home to an abandoned WWII POW camp, where German and Japanese prisoners of war were housed and interrogated.
---
Did you enjoy this article?
If so, be sure to like and follow PA Bucket List on Facebook, Instagram, and/or Pinterest to stay up-to-date on my latest write-ups about the best things to see and do in Pennsylvania!
Click on any of the icons below to get connected to PA Bucket List on social media.
---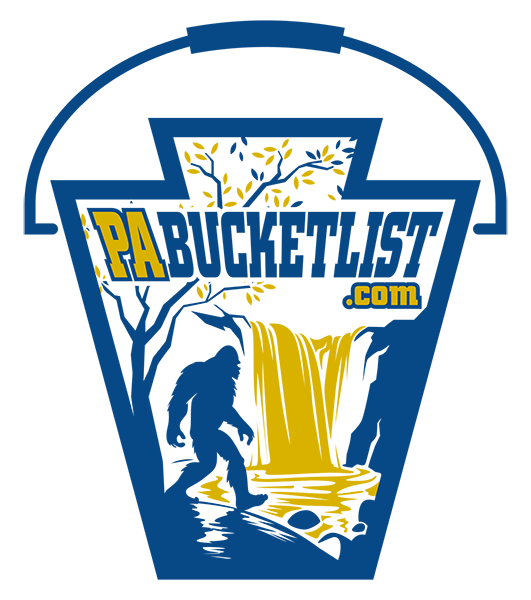 Pennsylvania's Best Travel Blog!