In the summer of 2022 I had a chance to visit (or revisit) every show cave in Pennsylvania!
Currently Pennsylvania is home to eight show caves, a show cave defined as one being operated as a business and offering tours in exchange for an entrance fee.
Show caves feature regular operating hours/seasons, offer guided tours, feature constructed trails and stairs to aid in accessibility, and are illuminated by artificial (and often colorful) lighting.
Since I had a chance to visit all 8 Pennsylvania show caves in the span of just a few months, I'd like to give you a brief description of each one, and also share with you some of the similarities I observed between them all.
Simply click on the blue text link in each cave description to view a more in-depth article with directions to that particular show cave.
---
Pennsylvania's Eight Show Caves
I'm going to list the eight show caves in Pennsylvania as they occur geographically, moving from west to east across the state.
It just so happens that's the order in which I visited them in the summer of 2022; you of course can visit them in any order you choose!
1. Laurel Caverns
Laurel Caverns is billed as "Pennsylvania's Largest Cave", and touring it is a great way to spend an hour or two beneath Fayette County.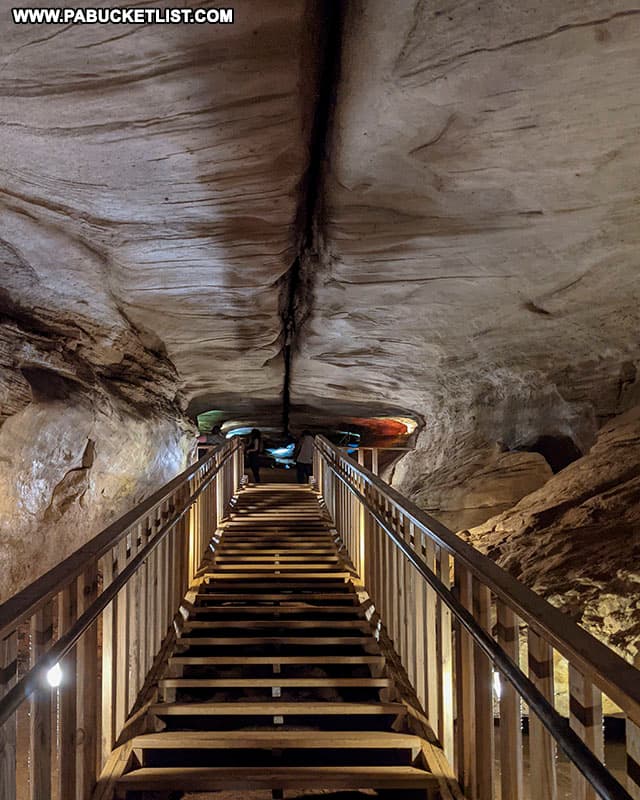 First discovered by Native Americans thousands of years ago, Laurel Caverns has been a popular show cave for many decades now.
Laurel Caverns is closed to the public from November to April because it is the largest natural bat hibernaculum in the state.
---
2. Coral Caverns
Coral Caverns is home to the remains of a 420 million year old coral reef that formed off the coast of modern-day Virginia and migrated (via plate tectonics and continental drift) to Bedford County over the eons.
As a show cave, you'll see lots of stalactites and stalagmites illuminated with colorful lights at Coral Caverns.
The Visitor Center at Coral Caverns is filled with an assortment of fossils, dioramas, and caving-related artifacts and memorabilia.
---
3. Lincoln Caverns
Lincoln Caverns is located in Huntingdon County, close to Raystown Lake.
Formerly known as William Penn Caverns in the 1930s, Lincoln Caverns is a family-owned and operated show cave that has welcomed tourists for more than 90 years.
Inside Lincoln Caverns you'll find a dizzying array of stalactites, stalagmites, flowstones, "cave popcorn" and even "cave bacon"!
---
4. Penn's Cave
Penn's Cave in Centre County offers the only cavern tour in the United States that is conducted completely by boat!
Discovered centuries ago by Native Americans, Penn's Cave first opened to the public as a show cave in 1885.
In addition to the cavern tour, Penn's Cave offers a wildlife tour that visits various large animal enclosures on their 1,600 acre property and working farm.
---
5. Woodward Cave
Woodward Cave in Centre County contains 5 large rooms, hundreds of yards of tunnels and passageways, and the largest stalagmite in Pennsylvania!
You'll begin your tour by passing through a bat-friendly gate – Woodward Cave is the third largest natural bat hibernaculum in Pennsylvania.
Because of the hibernating bats, Woodward Cave is closed for tours between early October and early April.
---
6. Indian Echo Caverns
Indian Echo Caverns is a beautiful show cave located 3 miles west of Hershey in Dauphin County.
The caverns are named in honor of the Susquehannock Indians, who are believed to have been the first humans to explore the caverns.
Indian Echo Caverns first opened to the public in 1929, closed during the Great Depression, then reopened in 1942 under new ownership.
---
7. Crystal Cave
Crystal Cave in Berks County was the first show cave to open in Pennsylvania, with official tours beginning in 1871, shortly after it was discovered.
At the deepest point on the tour, you'll be approximately 125 feet beneath the surface of the Earth!
Crystal Cave is open every day for tours between March 1 and November 30 (closed Dec-Feb).
---
8. Lost River Caverns
Lost River Caverns near Allentown gets its name from an entirely underground river system that passes through the cave.
Tours of Lost River Caverns take approximately 45 minutes and cover about a quarter-mile of underground passageways.
The crystalline rock formations within Lost River Caverns are still growing even today, although VERY slowly (less than 10 cm every 1,000 years!).
---
What About Indian Caverns?
Indian Caverns in Huntingdon County was the second-largest show cave in Pennsylvania, and it first opened to paying customers in 1929.
Artifacts found inside the cave indicate that it was inhabited as long ago as 8000 BC.
In 2017, the Western Pennsylvania Conservancy purchased the property and converted it into a bat sanctuary, meaning the cave is no longer open to the public.
So if you remember visiting Indian Caverns years ago and were wondering why it wasn't on my list of Pennsylvania show caves, that's why!
---
Similarities Between Pennsylvania Show Caves
The average year-round temperature inside every Pennsylvania show cave is approximately 50 degrees Fahrenheit, so if you're someone who gets a chill easily, take a sweatshirt or light jacket with you, no matter which cave/caves you plan on touring.
Six of the eight Pennsylvania show caves I visited in 2022 had "gem mines", so if you have kids with you, plan on spending a few bucks to pan for "treasure".
Speaking of spending money, seven of the eight show caves I visited had gift shops; only Coral Caverns had no souvenirs for sale.
Every tour guide at every show cave I visited in PA had at least a few whimsical names for the various stalactites, stalagmites, and flowstone formations found inside their respective caves.
And every tour guide I had at every single show cave I visited was friendly and knowledgeable, meaning either I lucked out or the caves are doing a great job hiring and training staff!
So whether you plan on visiting a single cave or all eight, I hope this guide to exploring every show cave in Pennsylvania helps you in your quest!
---
Related Attractions
Tytoona Cave in Blair County is owned by the National Speleological Society and is maintained as a "natural cave", with no lights or staircases.
---
Black-Coffey Caverns is the only cavern system in Pennsylvania accessed through the basement of a private home!
While not open as an official "show cave", tours of Black-Coffey Caverns are given monthly, by appointment only, by the homeowner.
---
Did you enjoy this article?
If so, be sure to like and follow PA Bucket List on Facebook, Instagram, and/or Pinterest to stay up-to-date on my latest write-ups about the best things to see and do in Pennsylvania!
Click on any of the icons below to get connected to PA Bucket List on social media.
---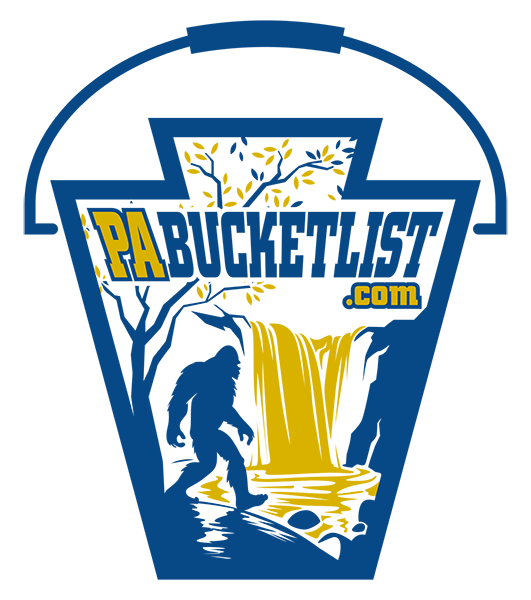 Pennsylvania's Best Travel Blog!