Penn's Cave in Centre County offers the only cavern tour in the United States that is conducted completely by boat!
Discovered centuries ago by Native Americans, Penn's Cave first opened to the public as a "show cave" in 1885.
In addition to the cavern tour, Penn's Cave offers a wildlife tour that visits various large animal enclosures on their 1,600 acre property and working farm.
So follow along as I give you all the details about the best things to see and do at Penn's Cave and Wildlife Park in Centre County!
---
Touring Penn's Cave by Boat
If you've spent even a single day driving the back roads of central PA, you've no doubt seen one of the countless Penn's Cave billboards promoting it as "The Water Cavern" and encouraging you to "See It By Boat".
And indeed, the fact that "a river runs through it" is what sets Penn's Cave apart from any other show cave in Pennsylvania.
Tours of the cave are conducted using flat-bottom boats, with a tour guide sitting at the front and using a spotlight to point out various features and formations of Penn's Cave as your tour progresses through the cavern.
In true "show cave" fashion, colored lights are used to highlight and enhance various stalactites, stalagmites, and flowstone features you encounter along the way.
Near the midpoint of the tour, you'll exit the back of Penn's Cave onto man-made Lake Nitanee.
Lake Nitanee is named in honor of the legendary Native American maiden Nita-nee, whom you can read all about on a display near the Penn's Cave entrance.
The tour turns around on Lake Nitanee and reenters Penn's Cave, backtracking towards the entrance where the tour started.
Along the way the guides points out more of the beautiful cave formations, which have formed over the course of many MILLIONS of years.
The tour takes approximately 50 minutes, the ride is very smooth, and the whole experience is just fantastic!
---
Taking the Wildlife Park Tour
The Wildlife Park Tour at Penn's Cave departs from the Visitor's Center, and the entire tour lasts approximately 90 minutes.
Tours are given on modified school busses, with the windows removed to allow easier viewing of the animals.
Your tour guide/driver will transport you from enclosure to enclosure, scattered around this sprawling 1,600 acre farm and forest.
All of the enclosures are fenced in, but MUCH larger than you would see at a typical zoo.
So while that's great for the animals, it does mean that sometimes the animals can be difficult to see, especially mid-afternoon when many of them tend to nap in secluded parts of their enclosures.
The guide will do their best to coax the animals (using treats) out so that you can view them, as was the case on my most recent visit when the wolves were initially all bedded down, out of sight.
Using treats and calling them by name, our guide got the wolf pack to come close to the fence so that we could get a great view of them.
The Bighorn Sheep also seemed very receptive to bribery via treats.
Whereas the bobcat, much like my own cat, was operating on his own timetable.
The tour eventually returns you to the Visitor's Center, passing the historic Penn's Cave House, formerly a 30-room hotel, built in 1885.
In 1976, both Penn's Cave and the Penn's Cave House were placed on the National Register of Historic Places.
---
The Visitor's Center at Penn's Cave
The Visitor's Center is where all tours starts from.
Naturally there is a well-stocked gift shop, with just about everything imaginable emblazoned with the Penn's Cave logo on it.
The Cave Café offers an array of foods, including bison burgers, where hopefully your kids don't put 2 and 2 together after taking the wildlife tour!
No trip to a show cave would be complete without gem-mining, and as we have done at countless caves across the United States, my daughter and I helped further stimulate the local economy.
You'll also find Prospector Pete's Miners Maze behind the Visitor's Center, if mazes are your thing.
This 4800 square foot labyrinth features plenty of twists and turns, an observation tower, and four checkpoint stations.
---
Penn's Cave Hours and Directions
Penns Cave is located at 222 Penn's Cave Road, Centre Hall, PA 16828.
Or if you've never heard of Centre Hall, 18 miles east of State College and Penn State University.
Penn's Cave is open daily from March 1 – November 30, and open on weekends in December and February (closed Thanksgiving Day, Christmas Day & January).
For the most current hours, prices, and any closures or restrictions, please check the Penn's Cave OFFICIAL WEBSITE BEFORE visiting!
---
Related Attractions
Woodward Cave in Centre County contains 5 large rooms, hundreds of yards of tunnels and passageways, and the largest stalagmite in Pennsylvania!
---
Lincoln Caverns gives visitors the opportunity to explore an incredibly beautiful world far below the surface of neighboring Huntingdon County!
---
Coral Caverns in Bedford County is home to a 420-million year old fossilized coral reef!
---
Laurel Caverns is billed as "Pennsylvania's Largest Cave", and is a great way to spend an hour or two BENEATH the Laurel Highlands!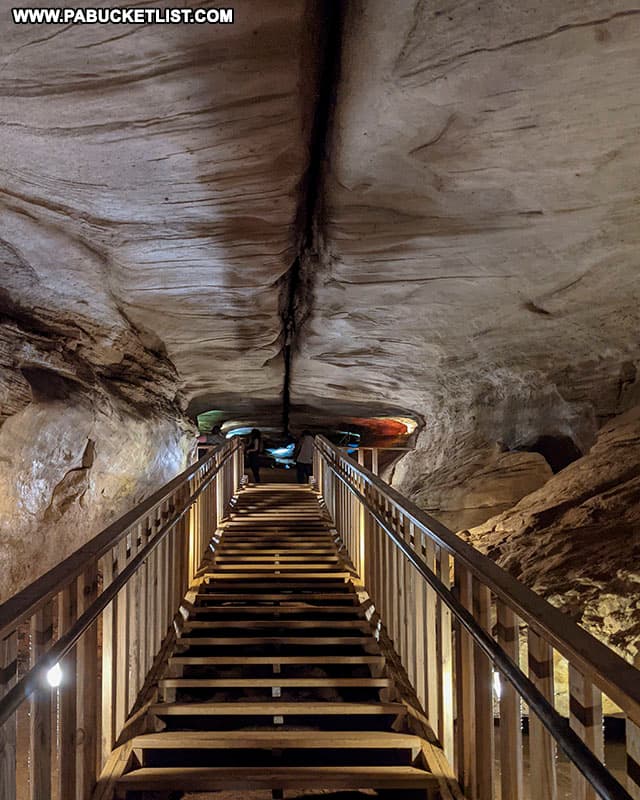 ---
Indian Echo Caverns is a beautiful "show cave" located 3 miles west of Hershey in Dauphin County.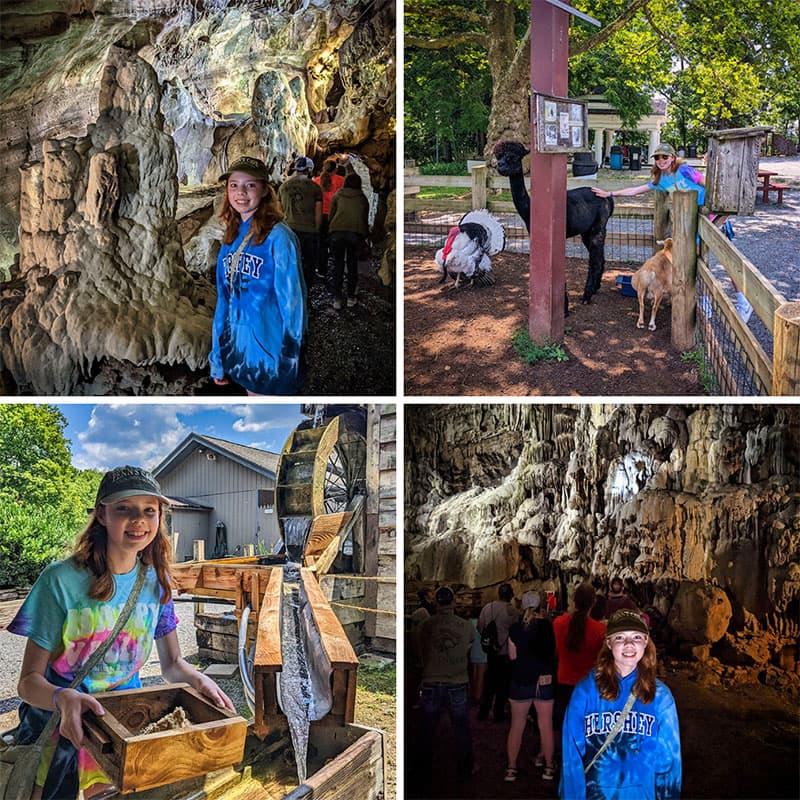 ---
Crystal Cave in Berks County was the first "show cave" to open in Pennsylvania, with official tours beginning shortly after it was discovered in 1871!
---
Lost River Caverns near Allentown gets its name from an entirely underground river system that passes through the cave.
---
Tytoona Cave in Blair County is owned by the National Speleological Society, and is maintained as a "natural cave".
---
The Nittany Antique Machinery Show is a celebration of America's agricultural history and heritage, and it takes place twice a year on the grounds of Penn's Cave Farms.
Vintage farm equipment collectors and enthusiasts from all over the eastern United States converge on the grounds here every year for this show, to enjoy events like tractor pulls, a flea market, a farm toys show, and equipment demonstrations.
---
Did you enjoy this article?
If so, be sure to like and follow PA Bucket List on Facebook, Instagram, and/or Pinterest to learn more about the best things to see and do in Pennsylvania!
Click on any of the icons below to get connected to PA Bucket List on social media.
---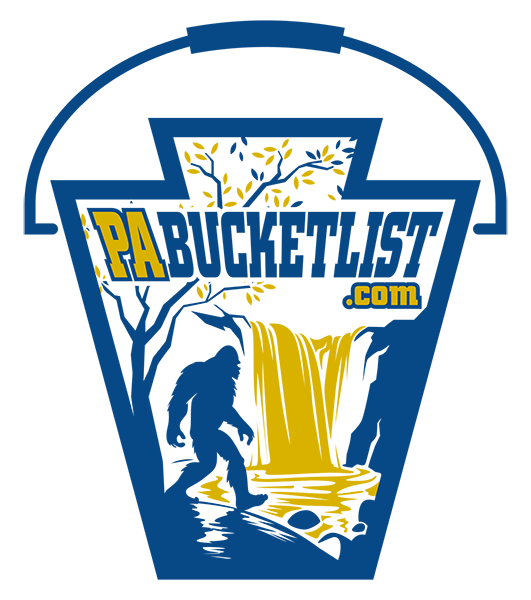 Pennsylvania's Best Travel Blog!