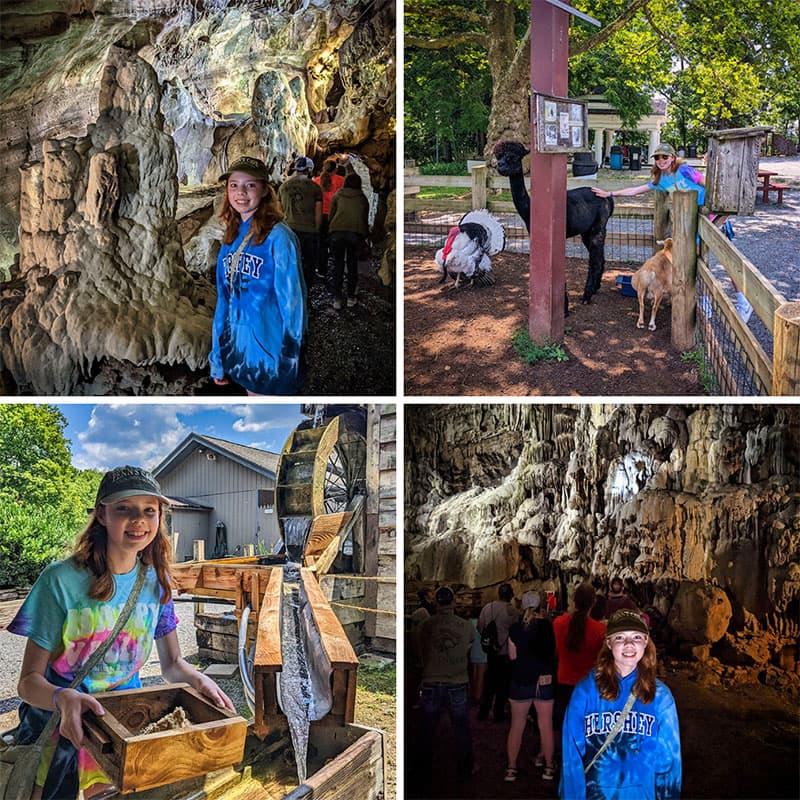 Indian Echo Caverns is a beautiful "show cave" located 3 miles west of Hershey in Dauphin County.
Because the temperature inside the caverns is a constant 52 degrees, this makes it a particularly attractive place to explore on a hot summer day when visiting the Hershey area.
---
History of Indian Echo Caverns
The caverns are named in honor of the Susquehannock Indians, who are believed to have been the first humans to explore the caverns.
For nineteen years (1802–1821) the caverns were the home of William Wilson, known as the "Pennsylvania Hermit".
Indian Echo Caverns first opened to the public in 1929, closed during the Great Depression, then reopened in 1942 under new ownership.
---
Touring Indian Echo Caverns
Tours start on a hillside near the visitor center, and descend 71 steps to the cave entrance.
Because of the stairs and the sometimes-narrow and uneven passageways in the caverns themselves, the tour is not wheelchair accessible.
Tours take 45-50 minutes and are led by a professional guide.
Along the way you'll learn about the history and geology of this subterranean world, making this a fun AND educational tour.
This large flowstone formation is known as the "Pipe Organ".
Perhaps my favorite feature inside the caverns was this crystal-clear pool of water, surrounded by beautiful stalactites and stalagmites.
---
The Petting Zoo at Indian Echo Caverns
The Discovery Barnyard is a free petting zoo located near the visitor center.
Goats, alpacas, chickens, peacocks, and a turkey can be found in the various enclosures in the petting zoo.
If you want to feed the animals, there are coin-op food dispensers located near the pens.
---
Gem Mill Junction
No show cave is complete without a "gem mine", and Indian Echo Caverns has Gem Mill Junction to indulge your desire to pan for gems (or arrowheads, or fossils, or even old coins).
The gem panning set-up at Indian Echo Caverns is one of the nicer sluices I've encountered, complete with a working water wheel, and believe me I've done this countless times at show caves all across the country!
---
The Gift Shop
Indian Echo Caverns has a well-stocked gift shop, complete with jewelry, clothing, toys, minerals, magnets, and handmade Native American artwork.
The prices seemed quite reasonable as well, certainly on par with all the other show caves in Pennsylvania.
---
Hours and Directions
Indian Echo Caverns is open daily from 10 am-4 pm, and Memorial Day – Labor Day from 9 am-5 pm; be sure to check their OFFICIAL WEBSITE before visiting to make sure there are no last minute closures.
The entrance to the caverns is located at 368 Middletown Road, Hummelstown, PA 17036.
If navigating by GPS, use coordinates 40.254055, -76.717105 to find the caverns.
Admission prices are $22 for Adults (ages 12 and over), $20 for Seniors (ages 65 and over), $13 for Children (ages 2-11), and Children under 2 are FREE.
---
Nearby Attractions
Hershey Gardens is 23 acres of themed gardens, statues, ponds, and botanical beauty.
Located on a hill directly across the road from the entrance to Hersheypark, Hershey Gardens is a wonderful respite from the hustle and bustle of the busy theme park.
---
Hersheypark is PA's largest and most-visited theme park, located in the town that bills itself as "the sweetest place on Earth"!
---
The AACA Museum in Hershey, PA is consistently ranked as one of the top automotive and transportation museums in the United States!
---
Related Attractions
Crystal Cave in Berks County was the first "show cave" to open in Pennsylvania, with official tours beginning shortly after it was discovered in 1871!
---
Lost River Caverns near Allentown gets its name from an entirely underground river system that passes through the cave.
---
Woodward Cave in Centre County contains 5 large rooms, hundreds of yards of tunnels and passageways, and the largest stalagmite in Pennsylvania!
---
Penn's Cave in Centre County offers the only cavern tour in the United States that is conducted completely by boat!
---
Lincoln Caverns gives visitors the opportunity to explore an incredibly beautiful world far below the surface of Huntingdon County!
---
Coral Caverns in Bedford County is home to a 420-million year old fossilized coral reef!
---
Laurel Caverns is billed as "Pennsylvania's Largest Cave", and is a great way to spend an hour or two beneath Fayette County.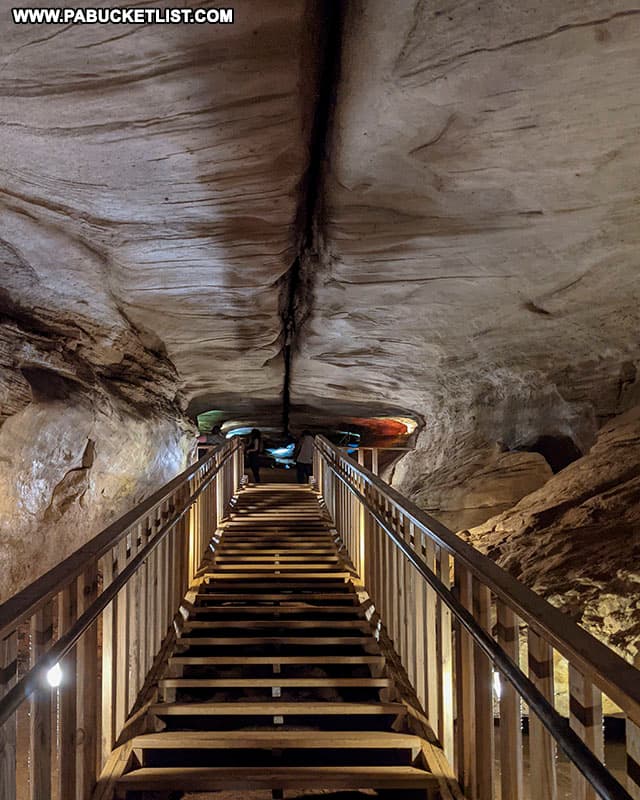 ---
Did you enjoy this article?
If so, be sure to like and follow PA Bucket List on Facebook, Instagram, and/or Pinterest to learn more about the best things to see and do in Pennsylvania!
Click on any of the icons below to get connected to PA Bucket List on social media.
---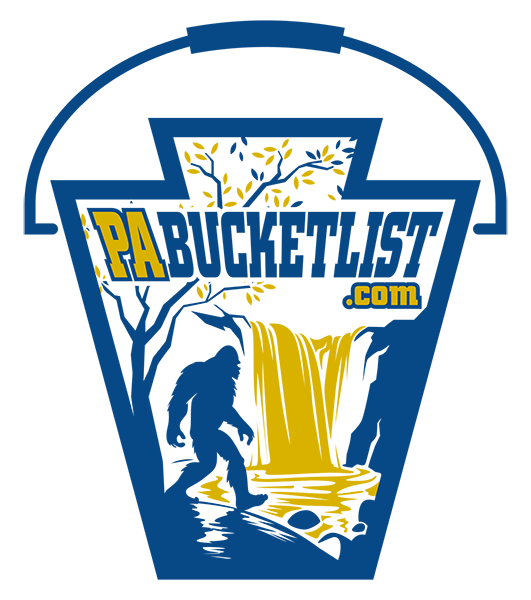 Pennsylvania's Best Travel Blog!