The first thing you should know about Jerry's Classic Cars and Collectibles Museum in Pottsville is that it is MUCH more than just another car museum!
Oh sure – there are PLENTY of rare and vintage automobiles on display, but that's just the tip of the iceberg.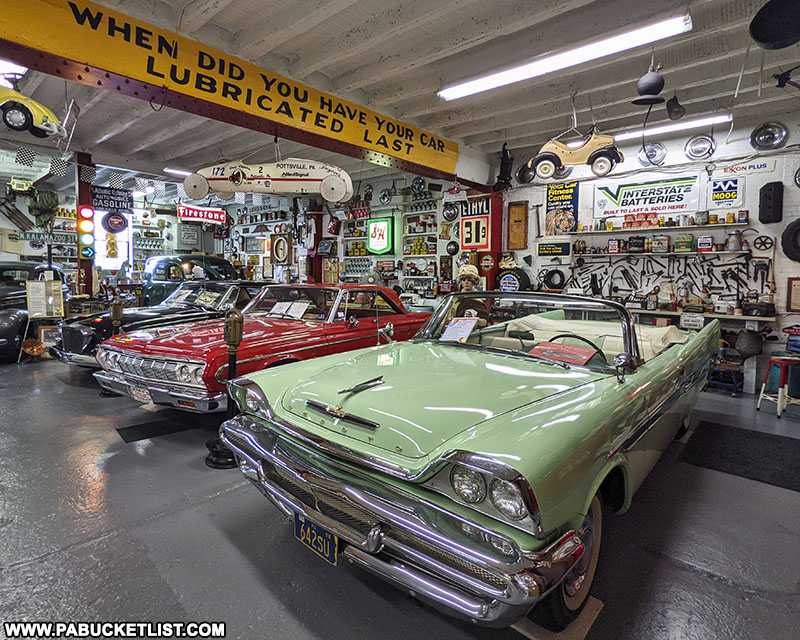 Scattered across two floors of this historic garage along South Center Street you'll find over 20,000 collectibles spanning the entire 20th century.
Meaning even if you're not into cars, it's almost impossible NOT to find something you'll connect with or that won't stir a memory as you wander around Jerry's Museum.
---
How to Find Jerry's Classic Cars and Collectibles Museum on Pottsville.
Jerry's Classic Cars and Collectibles Museum is located at 394 South Centre Street in Pottsville, with both a parking lot alongside the building and street parking available as well.
For the most up-to-date hours and admission prices, please check the museum's official website.
The building housing Jerry's Museum is itself historic in its own right, as you'll learn by reading a plaque on the front of the building.
---
Exploring the Ground Floor at Jerry's Museum
The ground floor of Jerry's Classic Cars and Collectibles is where the classic cars are displayed, and being that this was an old Studebaker dealership, they seem right at home here.
From muscle cars to roadsters and everything in between, you can find them all at Jerry's Museum.
My absolute favorite car on display was this 1974 Lincoln Continental, at 19 feet long and just oozing attitude!
The walls surrounding the cars are covered with all sorts of curios and advertising memorabilia, such as this vintage Yuengling Ice Cream sign from another of Pottsville's claims to fame – Yuengling Brewing Company (which you can also tour).
---
Exploring the Second Floor at Jerry's Museum
The second floor of Jerry's Classic Cars and Collectibles Museum is where the collectibles live, and what a collection of collectibles it is!
Various "theme rooms" make for an eclectic trip back through time, such as this soda shop display.
Some of the rooms are what you would expect at a museum with classic cars, such as this vintage auto parts display.
Individually these exhaust parts probably wouldn't look like much, but put them together and it's suddenly "outsider art"!
This display of vintage kitchen appliances was one of the most unusual, and also one of the most enjoyable as I recognized many things my own grandparents once had.
A vintage motorcycle and accessories – yea they've got that too!
Being a collector of music memorabilia myself, I enjoyed seeing the various eras of jukeboxes on display.
A signed photo from Muhammad Ali caught my eye, as I had just toured his famed Fighter's Heaven training camp in nearby Deer Lake.
Other celebrities who are cleverly represented include Superman…
And the King of Rock and Roll, moonlighting at the recreated drive-in theatre snack bar.
---
Final Thoughts on Visiting Jerry's Classic Cars and Collectibles Museum
I've been to many car museums over the years, but I can't think of any with more "stuff per square foot" that Jerry's Museum in Pottsville!
You could literally spend an entire day perusing this fantastic representation of 20th century automotive and pop culture, and still not fully absorb it all.
I'm grateful that the owner's (Jerry Enders and his wife Janet) of all of these vintage cars and historic memorabilia have chosen to make their collection available for the public to view, and for the unique and colorful environment they've created in which to view it all.
Jerry's Classic Cars and Collectibles Museum in Pottsville – put it on your PA Bucket List!
---
Nearby Attractions
Located just a few blocks from Jerry's Museum you'll find the Yuengling Brewery, America's oldest brewery!
Yuengling offers a free one-hour guided tour of their historic brewery, complete with free beer samples at the end of the tour!
---
Six miles south of Pottsville you'll find Fighter's Heaven, Muhammad Ali's legendary training camp where he prepared for some of the biggest fights of his career.
Ali's camp has been painstakingly restored to closely resemble what it looked like during the Champ's time there (1972-1981), and is once again open to tours by the general public.
---
Related Attractions
The AACA Museum in Hershey, PA is consistently ranked as one of the top automotive and transportation museums in the United States!
---
The Swigart Auto Museum in Huntingdon County is the oldest automobile museum in the United States!
---
The Grice Museum in Clearfield County features nearly 70 classic cars on display, along with hundreds of taxidermy mounts of wild game animals from around the globe.
---
The Simeone Automotive Museum in Philadelphia is home to one of the world's greatest collections of racing sports cars!
---
Did you enjoy this article?
If so, be sure to like and follow PA Bucket List on Facebook, Instagram, and/or Pinterest to stay up-to-date on my latest write-ups about the best things to see and do in Pennsylvania!
Click on any of the icons below to get connected to PA Bucket List on social media.
---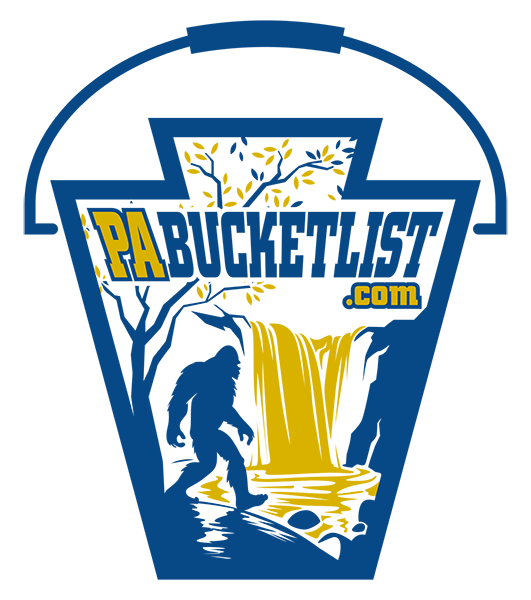 Pennsylvania's Best Travel Blog!