Spruce Flats Bog in the Forbes State Forest is the lesser-known neighbor of Beam Rocks Overlook to the east and Wolf Rocks Overlook to the west.
And while a bog might not sound as exciting as a scenic overlook, I'm going to try and change your mind!
---
Spruce Flats Bog FAQs
Where is Spruce Flats Bog?
Spruce Flats Bog is located a quarter-mile from a parking area at Laurel Summit State Park.

Can I navigate to Spruce Flats Bog using GPS?
Yes – use GPS coordinates 40.11842, -79.17625 to navigate to the large parking lot at Laurel Summit State Park.

How hard is the hike to Spruce Flats Bog?
It's very easy – roughly a quarter-mile along a flat, crushed stone path from the parking lot to the bog.


Can you hike through Spuce Flats Bog?
No you cannot, as it is deemed a sensitive ecosystem. There is a boardwalk and observation area from which you can observed the bog without disturbing it.

Is it true that Spruce Flats Bog was once a forest?
Yes – the area was home to large stands of hemlock trees that were clear-cut in the early 1900s.

What makes Spruce Flats Bog unique?
Bogs are typically found at much lower altitudes – Spruce Flats Bog sits on a mountaintop at 2,720 feet above sea level.


Why do the trees at Spruce Flats Bog all bend in one directions?
The strong westerly winds cause the trees to take on a bent shape known as Krummholz – German for "crooked wood".

Will Spruce Flats Bog remain a bog forever?
No – it will slowly fill in and transform into a meadow, and then eventually a forest once again (assuming no human intervention or significant envirnonmental changes take place).

---
Hiking to Spruce Flats Bog
As mentioned previously, the hike to Spruce Flats Bog is very simple.
The trail begins at Laurel Summit State Park.
It follows a mostly-straight and flat course for a quarter-mile mile before bringing you out at a boardwalk and observation area.
The boardwalk provides excellent 360 degree views of Spruce Flats Bog, and to preserve the ecosystem you are asked to NOT stray from the boardwalk into the bog itself.
A number of informational signs on the boardwalk describe the history of the area as well as the the unique plants and trees found there.
As you might expect, a bog environment means plenty of bugs in the summer months!
Which is one of the reasons I find winter to be a excellent time to visit Spruce Flats Bog!
Bogs also mean plenty of moisture in the atmosphere, so don't be surprised to find thick fog there if you visit early in the morning.
Spruce Flats Bog is a quick and easy hike, and the uniqueness of this 28-acre ecosystem makes it an interesting pit-stop while exploring other close-by and perhaps better-known attractions in and around the Forbes State Forest.
---
Nearby Attractions
Wolf Rocks Overlook is accessed via the Wolf Rocks Trail, which originates from the same parking lot as the Spruce Flats Bog Trail.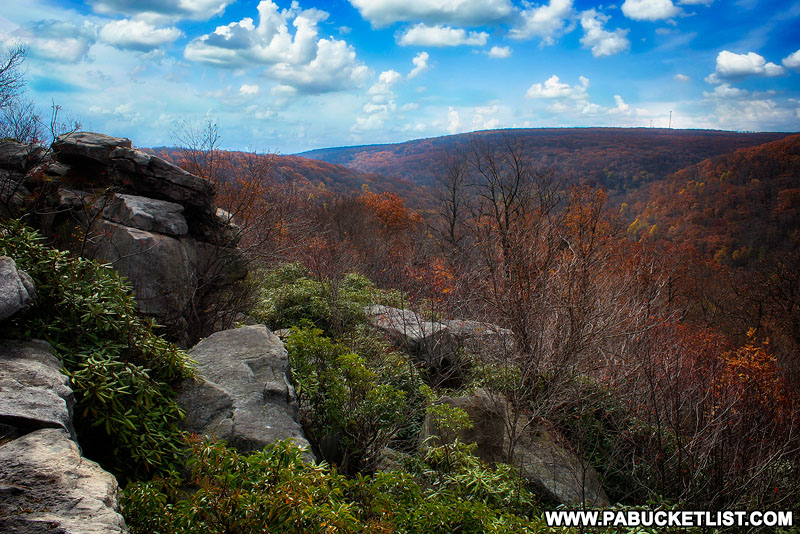 ---
Beam Rocks Overlook is accessed via a trail head along Laurel Summit Road, less than 2 miles from Spruce Flats Bog.
---
Adams Falls at Linnn Run State Park is roughly 4.5 miles from Spruce Flats Bog, just off of Linn Run Road.
---
Laurel Run Overlook is located 13 miles south of Spruce Flats Bog, along the Laurel Highlands Hiking Trail.
---
22 Must-See Waterfalls in the Laurel Highlands introduces you many of the best waterfalls in the region.
---
The 11 Best Scenic Overlooks in the Laurel Highlands will introduce you to some of the highest points in the region, including the highest point in all of Pennsylvania!
---
Did you enjoy this article?
If so, be sure to like and follow PA Bucket List on Facebook, Instagram, and/or Pinterest to stay up-to-date on my latest write-ups.
Click on any of the icons below to get connected to PA Bucket List on social media!
---
Pennsylvania's Best Travel Blog!