The Pack Saddle Covered Bridge (Fairhope Township, Somerset County) has been a part of my life for as long as I can remember. My great-grandparents and grandparents lived 5 minutes away from it, so fishing and swimming in the large pool below the bridge was just something that came natural to me.
It was only later in life, after I had a chance to live, work, and travel all over Pennsylvania that I was able to draw comparisons to the many other covered bridges I encountered.
And my conclusion: the Pack Saddle Covered Bridge was and is the most beautiful covered bridge in Pennsylvania.
On approach from either direction, it certainly is an idyllic setting, nestled down in the Brush Creek valley. But it's only when you view the Pack Saddle from downstream that you can truly appreciate what sets this covered bridge apart from all others in Pennsylvania.
Waterfalls. A double-tiered drop of 6 to 8 feet directly beneath the bridge. Sometimes flowing gently and gracefully as they are here.
And other times surging in a frothy torrent when Brush Creek is swollen by heavy rain.
In the wintertime the waters beneath the Pack Saddle Bridge can to slow to a crawl.
And other times they literally seem to grind to a halt, although the current is always moving beneath the ice and snow.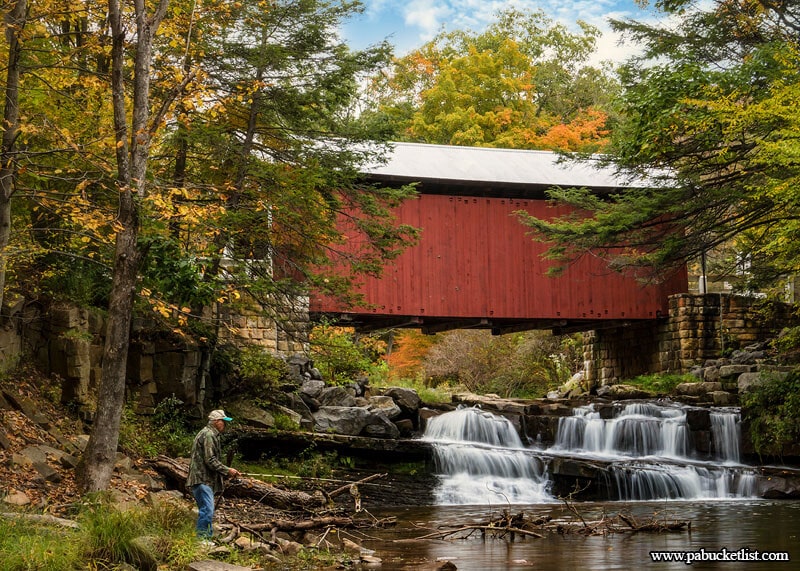 Fishing here at the Pack Saddle Bridge is a rite of passage for locals. Brush Creek is stocked with trout, and the opening day of trout season is a bustling scene, much more so than in this bucolic photo from autumn.
The Pack Saddle Bridge is also a tremendously popular setting for senior portraits and engagement photos. People travel from near and far to capture memories like this one.
Even the view from upstream is almost Currier and Ives perfect (Google it, kids).
There really is no bad angle to photograph the Pack Saddle Bridge from.
But it's the downstream view, with the bridge framed by sky, hemlocks, and waterfalls, that sets the Pack Saddle Bridge apart from every other covered bridge in Pennsylvania.
Finding the Pack Saddle Covered Bridge
Most visitors to the Pack Saddle Covered Bridge arrive by turning off of Route 31/Glades Pike, travelling 5.5 miles on Glen Savage Road, then turning right onto Pine Valley Road and descending the hill roughly 1/3 of a mile to the bridge (just follow the sign indicating a bridge ahead!).
If you prefer to navigate by GPS coordinates, the Pack Saddle Bridge is located at:

39.867592, -78.817354
There is a parking lot on one side of the bridge (depending on your approach) and roadside pull-offs on the other. Keep in mind this is an active bridge, so vehicles may be passing through it when you visit.
The Pack Saddle Bridge Mystique
For nearly 150 years (since 1870) the Pack Saddle Bridge has been both a necessity for travel in the area, as well as a luxury in terms of the scenic grandeur it has brought to the Laurel Highlands. Whether the unknown builder/builders intentionally laid this bridge out with aesthetics in mind (in addition to the practical necessity of getting across Brush Creek) we'll never know. But certainly all who have stopped to gaze upon the bridge, or cast a line beneath it, or snap a photo of it owe a debt of gratitude to the builders.
The Pack Saddle Covered Bridge – Pennsylvania's Most Beautiful Covered Bridge.
Put it on your PA Bucket List!
Pennsylvania's Best AD-FREE Adventure Guide!