Glessner Covered Bridge near Shanksville is one of ten remaining historic covered bridges in Somerset County, Pennsylvania.
---
Glessner Covered Bridge FAQs
When was Glessner Covered Bridge built?
It was buit in 1881 by Tobias Glessner, and extensively rebuilt in 1998.

How long is Glessner Covered Bridge?
90 feet long.

What body of water does Glessner Covered Bridge span?
The Stonycreek River.

Can I navigate to Glessner Covered Bridge by GPS?
Yes – use GPS coordinates 40.02616, -78.92091.

What type of trusses were used to build the Glessner Covered Bridge?
Burr arch trusses.

Can I drive through the Glessner Covered Bridge?
Yes – Covered Bridge Road passes through Glessner Covered Bridge and is open to vehicular traffic.

What are the inventory numbers for Glessner Covered Bridge?
NRHP 80003631 (National Register of Historic Places reference number)
WGCB 38-56-08 (World Guide to Covered Bridges number)

Do any historical photos exist showing how Glessner Covered Bridge looked before restoration?
Yes – here is how it looked in 1972.

---
Looking for more Somerset County Covered Bridges?
---
Barronvale Covered Bridge is the longest covered bridge in Somerset County (162 feet long).
---
Pack Saddle Covered Bridge is the most famous covered bridge in Somerset County.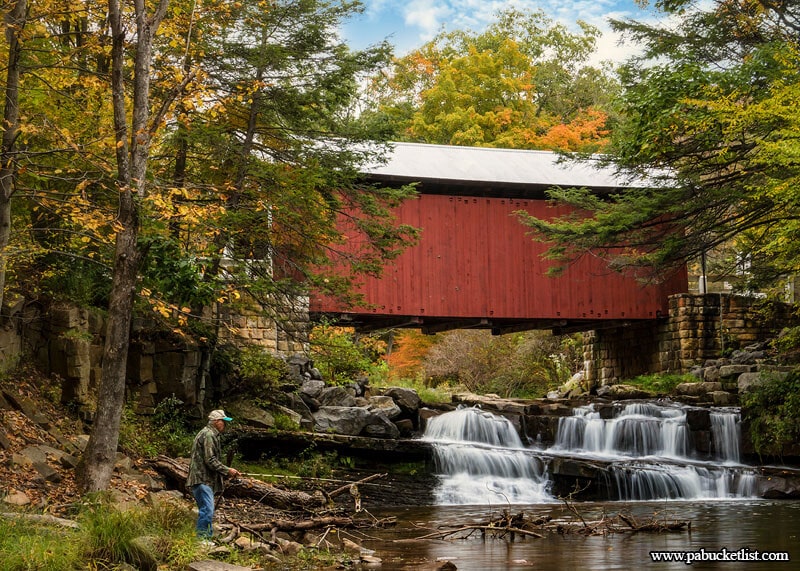 ---
Lower Humbert Covered Bridge is the southernmost covered bridge in Somerset County.
---
Kings Covered Bridge is a great spot for a creekside picnic, at a pavilion right next to the bridge.
---
New Baltimore Covered Bridge spans the Raystown Branch of the Juniata River in eastern Somerset County.
---
Or maybe you'd like to see a driving tour of ALL 10 Somerset County covered bridges?
---
Explore even more covered bridges on the Covered Bridges page here on PABucketlist.com.
---
And for a completely different kind of bridge, be sure to check out the Salisbury Viaduct in Somerset County, part of the Great Allegheny Passage rail trail.
This 1.908 foot long former railroad bridge soars 101 feet above the Casselman River and Route 219 near Meyersdale, PA.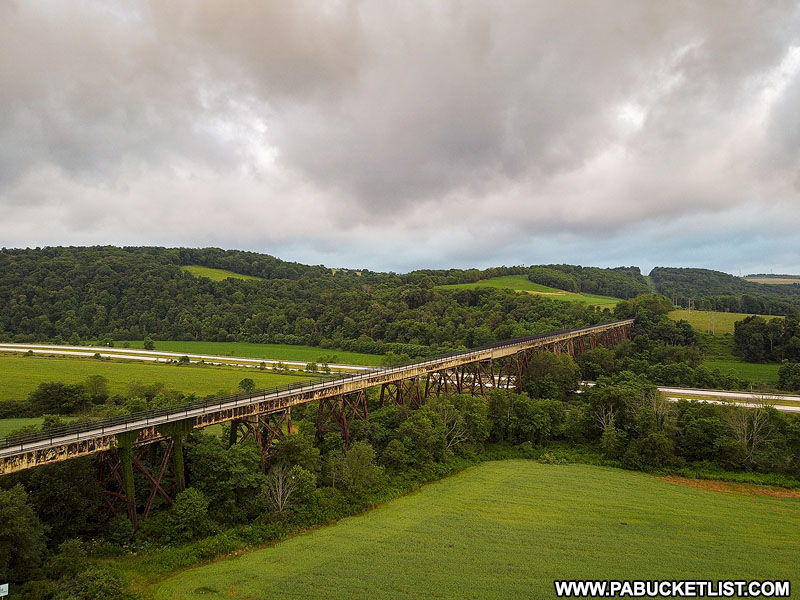 ---
Did you enjoy this article?
If so, be sure to like and follow PA Bucket List on Facebook, Instagram, and/or Pinterest to stay up-to-date on my latest write-ups.
Click on any of the icons below to get connected to PA Bucket List on social media!
---
Pennsylvania's Best AD-FREE Adventure Guide!