Kings Covered Bridge in Somerset County, PA is one of ten remaining covered bridges in "America's County".
Located one mile south of the Barronvale Covered Bridge (the longest covered bridge in Somerset County), Kings Covered Bridge is the heart of a small park-like setting just off of Route 653, 12 miles southwest of Somerset.
---
Kings Covered Bridge FAQs
How old is Kings Covered Bridge?
The covered bridge is believed to have been built in 1906, on the site of a previous bridge. It was again extensively refurbished in 2008.

Can I navigate to Kings Covered Bridge using GPS?
Yes – the GPS coordinates for Kings Covered Bridge are: 39.937731, -79.271369

What body of water does Kings Covered Bridge span?
Laurel Hill Creek.

How long is Kings Covered Bridge?
127 feet long.

How wide is Kings Covered Bridge?
12 feet wide.

What are the inventory numbers for Kings Covered Bridge?
WGCB 38-56-06 (World Guide to Covered Bridges number)
NRHP 80003632 (National Register of Historic Places reference number)
Who owns Kings Covered Bridge?
Middlecreek Township.

Can I drive through Kings Covered Bridge?
No – it was bypassed by the modern bridge next to it in the 1930s and is now open to pedestrian traffic only.

Where can I park to visit Kings Covered Bridge?
There is a large parking area on the west side of the bridge, and a smaller parking area on the east side.


Are there any amenities at Kings Covered Bridge?
There is a picnic pavillion next to the bridge and Laurel Hill Creek. There are no restrooms.


What attractions are near Kings Covered Bridge?
As previously mentioned, the Barronvale Covered Bridge is one mile away, easily accessible via Ream Road and then a quick right on Covered Bridge Road.

---
Exploring the Bridge
This is one of the easiest covered bridges to explore in Somerset County, owing to the fact that it sits right next to a main road and the modern bridge that bypassed it.
This close proximity to a maintained road means that it's an excellent spot for getting winter bridge photos without too much difficulty.
Of course if you show up DURING a snow squall be prepared to deal with the elements!
The fall foliage around Kings Covered Bridge is equally spectacular.
It's the kind of autumn scene the Laurel Highlands are famous for.
---
Final Thoughts
Stepping onto Kings Covered Bridge is literally like taking a step back in time.
The craftsmanship and ingenuity that went into building the early infrastructure of western Pennsylvania is abundantly apparent here.
And thanks to the efforts of various private and public benefactors and organizations, Kings Covered Bridge will hopefully be with us for many years to come.
---
Nearby Attractions
Covered bridge lovers will of course want to visit the Barronvale Covered Bridge, located just a mile away.
For those looking for something a little more "natural", Cole Run Falls is located just minutes from both bridges.
And if you're spending the weekend (or even a long day) in the Laurel Highlands, then the Pack Saddle Covered Bridge should find its way onto your itinerary.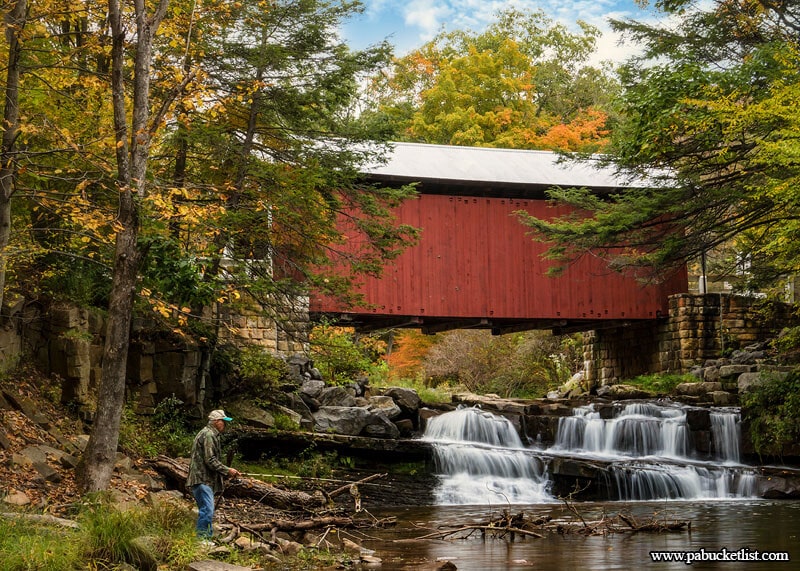 ---
Looking for more Somerset County Covered Bridges?
Lower Humbert Covered Bridge is the southernmost covered bridge in Somerset County.
Glessner Covered Bridge is on the outskirts of Shanksville, near the Flight 93 Memorial.
New Baltimore Covered Bridge spans the Raystown Branch of the Juniata River in eastern Somerset County.
For a completely different type of bridge, the Salisbury Viaduct along the Great Allegheny Passage rail trail is a 1,908 foot long engineering marvel, towering 101 feet above the Casselman River in Somerset County.
---
Did you enjoy this article?
If so, be sure to like and follow PA Bucket List on Facebook, Instagram, and/or Pinterest to stay up-to-date on my latest write-ups.
Click on any of the icons below to get connected to PA Bucket List on social media!
---
Pennsylvania's Best Travel Blog!