Blue Knob in Bedford County is the second highest mountain in Pennsylvania, only 67 feet shorter than Mount Davis in Somerset County.
Located at Blue Knob State Park, this was thought to be THE tallest mountain in Pennsylvania until 1921.
In the 1950s, the summit was the location of an Air Force radar station, until it was deactivated in 1961.
Now the summit is home to Blue Knob Ski Resort, billed as "the highest skiable mountain in Pennsylvania".
---
Visiting the Summit of Blue Knob
The ski resort and summit of Blue Knob is easily reached via Pavia Road; if navigating by GPS use coordinates 40.288052, -78.562344 to reach the parking area next to the ski lodge.
You'll see a high point marker above the snow tubing park, as well as some left over concrete bases from the Air Force radar station days.
The summit gets its name from its dome shape and bluish sandstone composition.
Since the summit was cleared decades ago, the views are generally wide-open, ski lifts aside.
The views from the ski lodge area are to the north and east.
If you're looking for more "natural" views, the nearby Pavia Overlook is a great spot, and the trailhead is literally a few hundred yards from the Blue Knob ski lodge.
If you visit the Blue Knob summit on a summer day, you'll most likely have the spot to yourself.
Of course you can visit the Blue Knob summit in any season, as the road up to the ski resort is maintained for skier access.
So whether you're a "peak-bagger" or just a casual day-tripper, visiting the second-highest spot in Pennsylvania is a fun and easy adventure, any time of year!
---
Related Attractions
Exploring Mount Davis – The Highest Point in Pennsylvania will show you how to reach THE tallest summit in the state!
---
Pavia Overlook, as mentioned previously, is just a short hike from the ski lodge at Blue Knob State Park.
---
The Lost Children of the Alleghenies Monument honors two young brothers who wandered away from their Bedford County home in April, 1856 and perished in the nearby mountains, despite a massive search effort to save them.
---
23 Must-See Attractions in Bedford County will introduce you to more great spots near Blue Knob State Park.
---
Exploring the Scenic Overlooks at Chimney Rocks Park in Blair County will introduce you to to 3 impressive scenic overlooks in a beautiful borough park setting.
---
Cabbage Creek Falls is a picturesque little waterfall tucked away in a small nature park in neighboring Blair County.
---
Did you enjoy this article?
If so, be sure to like and follow PA Bucket List on Facebook, Instagram, and/or Pinterest to learn more about the best things to see and do in Pennsylvania!
Click on any of the icons below to get connected to PA Bucket List on social media.
---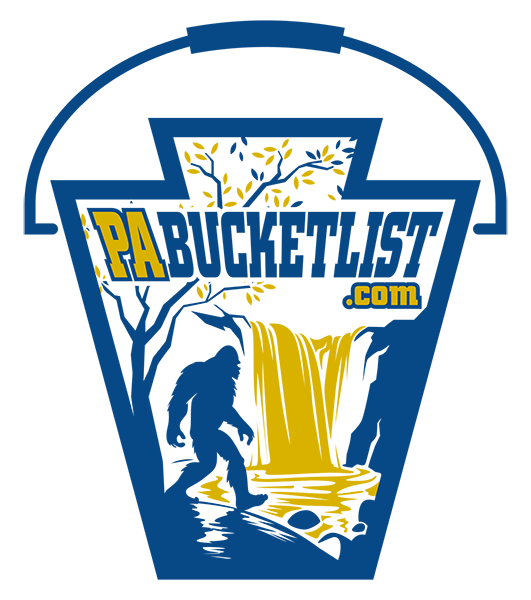 Pennsylvania's Best Travel Blog!