From museums to mountain vistas, from scenic backroads to an abandoned superhighway – there are a TON of must-see attractions in Bedford County, PA!
What follows is a list of 25 of the best things to see and do in Bedford County, complete with directions to and descriptions of all 25.
Simply click on the blue text links to view detailed directions and more in-depth articles about each Bedford County "must-see" destination listed below.
---
1. Fort Bedford Museum
The Fort Bedford Museum was built in 1958, 200 years after the original Fort Bedford was constructed during the French and Indian War.
The museum tells the story not only of that specific war and time period, but also the story of the people that inhabited Bedford County before and since.
---
2. Old Bedford Village
Old Bedford Village in Bedford County is a living history museum that gives you a glimpse into what life was like in western Pennsylvania from 1700 until 1899.
Rather than viewing old photos and dusty relics, visitors learn by seeing reenactors demonstrating activities that would have been common in Bedford County from colonial times up through the Civil War.
---
3. Shawnee State Park
Shawnee State Park in Bedford County opened to the public in 1951, and has been a magnet for tourists ever since!
At the heart of the park is 451-acre Shawnee Lake, used by fishermen, boaters, swimmers, and bird watchers alike.
---
4. Dunkle's Gulf Station
Dunkle's Gulf Station along the Lincoln Highway in Bedford is a throwback to the early days of American automobile transportation, and is still in operation to this day!
Designed to be Gulf's showpiece service station between Pittsburgh and Philadelphia, the art deco styling of the building has been attracting motorists since it first opened in 1933.
---
5. Grand View Vista
The Grand View Ship Hotel was one of the most famous attractions along the Lincoln Highway, the first transcontinental automobile route linking the east and west coasts of the United States.
Sadly, the hotel burned down in 2001, but the ruins of the hotel and the "grand view" remain.
---
6. The Bedford Coffee Pot
The Bedford Coffee Pot is a unique 18 foot-tall "novelty structure" built along the Lincoln Highway near downtown Bedford.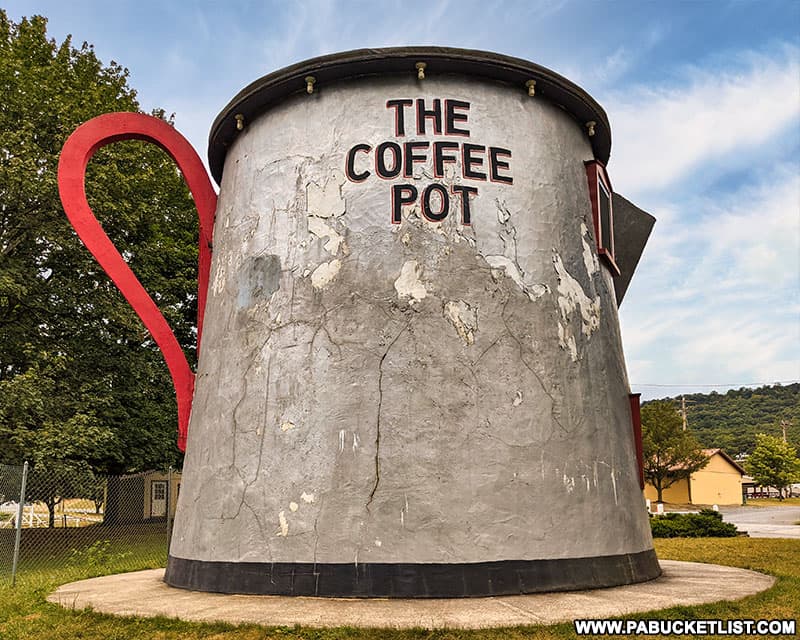 Constructed in 1927 by David Koontz as a gimmick to entice motorists to stop at his service station for food and fuel, the Bedford Coffee Pot was one of hundreds of "roadside giants" than once stood alongside the Lincoln Highway.
---
7. 1806 Old Log Church
The 1806 Old Log Church is the oldest standing church in Bedford County.
Located right along Route 30 (AKA the Lincoln Highway) near Shawnee State Park, it is visited by thousands of people from around the globe every year.
---
8. The Jean Bonnet Tavern
The Jean Bonnet Tavern in Bedford County not only serves up delicious food and beverages in a colonial American setting, but it is rumored to be the most haunted restaurant in Pennsylvania!
People come from near and far to dine here, many in hopes of having some sort of "paranormal" experience.
---
9. Warrior Ridge Vista
Warrior Ridge Vista is located along Blankley Road in the Buchanan State Forest, approximately 11 miles south of Bedford and just off of Route 326 near the village of Rainsburg.
Use GPS coordinates 39.87001, -78.51487 to navigate to this superb southeastern view of Bedford County.
---
10. Rainsburg Vista
Located 3/4 of a mile south of Warrior Ridge Vista (see map above) you'll encounter Rainsburg Vista, with wide-open views to the north and west.
Use GPS coordinates 39.86386, -78.52488 to navigate to Rainsburg Vista, and savor the sights of the fertile Bedford County farmland below.
---
11. The Abandoned PA Turnpike
The Abandoned PA Turnpike is a thirteen mile stretch of abandoned superhighway, bypassed by an alternate route in 1968.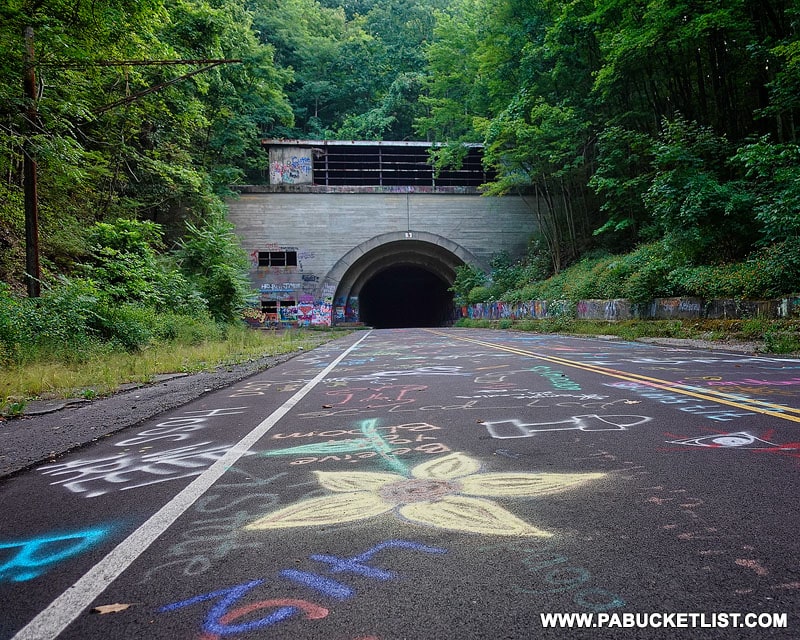 Today the Abandoned PA Turnpike is a popular hiking/biking trail, featuring two lengthy tunnels and a trailhead near Breezewood in Bedford County.
---
12. Blue Knob State Park
Blue Knob State Park is located in the northwestern tip of Bedford County, and is home to the highest skiable mountain in PA!
Blue Knob is also the second highest point in Pennsylvania, with only Mount Davis in Somerset County coming in taller.
---
13. Skyline Drive Vista
Skyline Drive Vista is a picturesque roadside overlook in the Gallitzin State Forest, on the western edge of the Bedford County.
Skyline Drive Vista is located right along Skyline Drive (a dirt state forest road) at GPS coordinates 40.23314, -78.66069, or 400 yards east of the intersection of Skyline Drive and Buffalo Road.
---
14. The Pied Piper of Bedford County
The 18 foot tall Pied Piper of Bedford County stands along the edge of the Lincoln Highway near Schellsburg, in front of a defunct children's park called Story Land that closed in the 1980s.
The Pied Piper is on private land, but you can still pull off to snap a few photos across the street from the statue, at the intersection of Cemetery Road and Route 30.
---
15. William Frazier's Gravesite
William Frazier was the first child of European descent born in Bedford County.
He was a Revolutionary War veteran whose gravesite is along what is now Route 31, just west of Manns Choice.
The ceremony dedicating this memorial is described in a newspaper clipping from 1950 reprinted below.
---
16. The Bedford County Fair Mural
The Bedford County Fair Mural is a piece of public art located on Business Route 30 at the I-99 underpass, next to the Bedford County Fairgrounds and very close to the Bedford Coffee Pot.
The mural was completed in 2018 by artist William Snyder III.
The mural depicts many of the personalities and attractions associated with the Bedford County Fair, which is nearly 150 years old.
---
17. The Lincoln Highway Barn
The Lincoln Highway Barn is a tribute to America's first coast-to-coast automobile route.
The Lincoln Highway Barn is part of the Bison Corral farm and gift shop, located at 2708 Lincoln Hwy, Schellsburg, PA 15559.
---
18. Glade Pike
Glade Pike isn't a singular destination – it's a beautiful 12 mile scenic drive in western Bedford County.
Glade Pike runs along a ridgetop between Manns Choice and West End, parallel to Route 31 below.
For my money, this is one of the most scenic back roads in all of western PA.
Old barns, historic churches, and views for miles – Glade Pike has everything you could ask for when looking for a scenic country drive.
---
19. The Covered Bridges of Bedford County
Bedford County has 14 covered bridges – so many that listing them all here would effectively double the length of this list!
So rather than do that, I'm providing THIS LINK to a separate article that lists all 14 bridges, along with directions to each one.
---
20. Founders Crossing
Founders Crossing is a 20,000 square foot antique mall and local artisan market located in the heart of downtown Bedford.
Housed in a building that dates back to 1890 and featuring more than 100 vendors, Founders Crossing is open 7 days a week and is one of my favorite places to spend an hour or two whenever I'm passing through Bedford County.
---
21. The Lost Children of the Alleghenies Monument
The Lost Children of the Alleghenies were two young brothers who wandered away from their Bedford County home in April, 1856 and perished in the nearby mountains, despite a massive search effort to save them.
On the 50th anniversary of their deaths, in 1906, a marble monument was erected on the spot their bodies were found, next to Ciana Run on present-day State Game Lands 26 in Bedford County.
---
22. Coral Caverns
Coral Caverns is home to the remains of a 420 million year old coral reef that formed off the coast of modern-day Virginia and migrated (via plate tectonics and continental drift) to Bedford County over the eons.
The Visitor Center at Coral Caverns is a single room, filled with an assortment of fossils, dioramas, and caving-related artifacts and memorabilia.
Formerly known as Wonderland Caverns, this Bedford County cave has been a tourist attraction for nearly 100 years!
---
23. Pavia Overlook
Pavia Overlook at Blue Knob State Park is located atop the second-highest mountain in Pennsylvania!
The view here is from the highest summit in Bedford County, and second highest in all of Pennsylvania!
---
24. Hoke-E-Geez Antique Store
Hoke-E-Geez is a large multi-vendor marketplace of antiques, collectibles, and curiosities located just east of downtown Bedford, along the Lincoln Highway (Route 30).
The store's motto is "An Adventure in Every Visit", and I can tell you from my countless visits, that is indeed the case!
---
25. Bits of Time
Bits of Time is an 18,000 square foot antique store in Bedford, PA featuring more than 50 vendors of antiques, collectibles, and primitive décor.
With more than 50 vendors, you'll find a little bit of everything here, from high dollar antiques to inexpensive kitsch.
---
So there you have it!
25 of the best things to see and do in Bedford County, Pennsylvania.
Whether you're looking for day trip ideas or staying in the area for a week or more, you're sure to find something to love about Bedford County on this list of "must-see" destinations.
And if I missed one of your favorites, shoot me an email.
There's always room for more ideas on this list of must-see destinations in Bedford County, PA!
---
Nearby Attractions
16 Must-See Attractions in Blair County is your guide to the best things to see and do in Bedford County's neighbor to the north.
---
17 Must-See Attractions in Cambria County is your guide to the best things to see and do in Bedford County's neighbor to the northwest.
---
19 Must-See Attractions in Huntingdon County is your guide to the best things to see and do in Bedford County's neighbor to the east.
---
9 Must-See Attractions in Fulton County is your guide to the best things to see and do in Bedford County's neighbor to the south.
---
Did you enjoy this article?
If so, be sure to like and follow PA Bucket List on Facebook, Instagram, and/or Pinterest to stay up-to-date on my latest write-ups about the best things to see and do in Pennsylvania!
Click on any of the icons below to get connected to PA Bucket List on social media.
---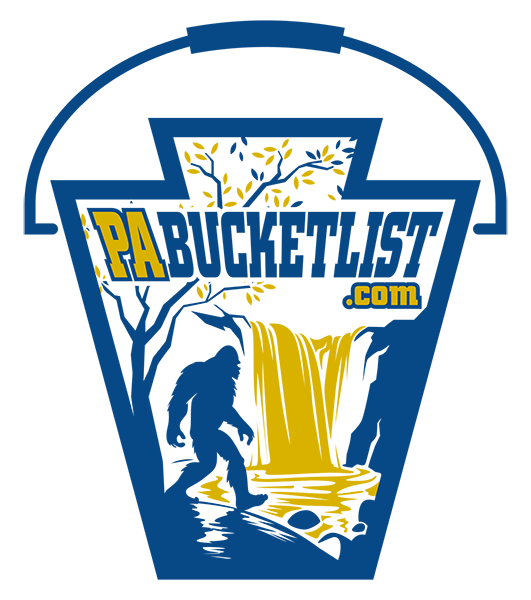 Pennsylvania's Best Travel Blog!