If you're looking for directions to Skyline Drive Vista in the Gallitzin State Forest, you're in the right place!
Skyline Drive Vista is a picturesque roadside overlook in the Gallitzin State Forest, on the eastern edge of the PA Laurel Highlands.
This overlook is located in close proximity to County Line Vista, making for a great 1-2 combo when you're visiting the area.
---
Directions to Skyline Drive Vista in the Gallitzin State Forest
Skyline Drive Vista is located right along Skyline Drive (a dirt state forest road) at GPS coordinates 40.23314, -78.66069, 400 yards east of the intersection of Skyline Drive and Buffalo Road (see map below).
Standing on the viewing platform, to your left you're looking in the direction of Blair County and Blue Knob State Park.
While to your right you're looking out over Bedford County in the direction of Shawnee State Park.
A beautiful roadside scenic overlook just minutes from Route 56 on the Somerset-Bedford county line – add Skyline Drive Vista to YOUR PA Bucket List!
---
Nearby Attractions
As mentioned previously, County Line Vista is another outstanding overlook located nearby, but it does require a short (1/2 mile each way) hike to reach it.
The views make the hike more that worth it!
---
The Clear Shade Creek Swinging Bridge is a suspension bridge along the John P. Saylor Trail in the Gallitzin State Forest.
---
Wolf Rocks is a beautiful geological formation located along the orange-blazed John P. Saylor Trail in the Somerset County portion of the Gallitzin State Forest.
---
Located 15 miles south of Skyline Drive Vista you'll find another amazing vista the site of the former SS Grand View Ship Hotel, once one of the most unique hotels in all the United States!
This iconic hotel and restaurant thrilled travelers along the Lincoln Highway (now Route 30) for nearly six decades, until it closed in the late 1980's and subsequently burned to the ground in 2001.
---
Also located nearby along the Lincoln Highway you'll find the 1806 Old Log Church, the oldest standing church in Bedford County.
This spartan house of worship features a "wine glass pulpit", called such as it resembles that type of drinking vessel.
---
Did you enjoy this article?
If so, be sure to like and follow PA Bucket List on Facebook, Instagram, and/or Pinterest to stay up-to-date on my latest write-ups about the best things to see and do in Pennsylvania!
Click on any of the icons below to get connected to PA Bucket List on social media.
---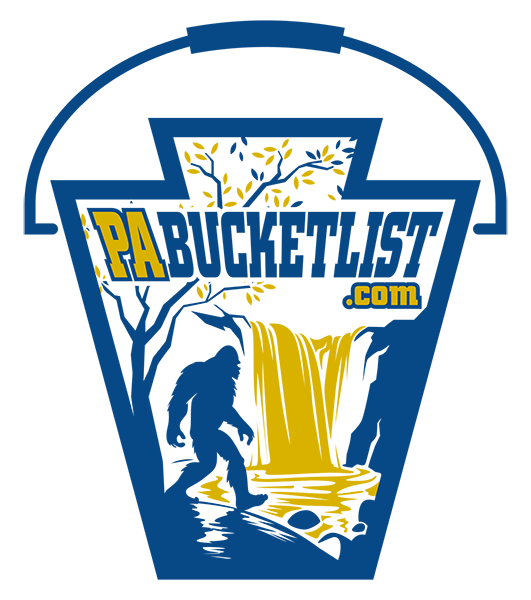 Pennsylvania's Best Travel Blog!