Fort Roberdeau in Blair County was built in 1778 by American colonists during the Revolutionary War, and was occupied until 1780.
The fort was originally erected by General Daniel Roberdeau to protect local lead mining activities from British loyalists and their Native Americans allies.
Fort Roberdeau fell into disrepair after the Revolutionary War, but was reconstructed as a Bicentennial project in 1975–76.
Today, the fort is open to the public as a historic site, administered and owned by Blair County.
---
Visiting Fort Roberdeau
As of 2022, Fort Roberdeau is open for tours 7 days a week between May 1 and October 31 – see their OFFICIAL WEBSITE for specific hours, admission prices ($6.00 or less per person, depending on age), and any last minute closures or restrictions.
Tickets can be purchased at the beautiful old barn directly across from the fort, the barn serving as the gift shop, visitor center, and museum.
The gift shop is well-stocked and reasonably priced.
The museum portion of the barn contains numerous display cases and dioramas that explain the purpose the fort served.
---
The Purpose of Fort Roberdeau
Fort Roberdeau was built to protect local lead miners from attack by British loyalists and/or Native Americans who sided with the British in the Revolutionary War.
When the Revolutionary War started, the British blockaded the East Coast, meaning that any lead necessary for musket ball production by the Americans had to be mined here in the colonies.
The mines near Fort Roberdeau were one such source for this lead, and until France entered the war on the side of the colonies in 1778, these mines were an important asset to the American independence effort.
---
The Construction of Fort Roberdeau
The modern-day reproduction of Fort Roberdeau is smaller that the original would have been, but impressive nevertheless.
The original fort contained 48 cabins, each 12 feet square.
An interesting feature of Fort Roberdeau is that it was constructed of horizontal timbers on a stone foundation.
Many forts of this time period (like Fort Ligonier pictured below) were constructed of vertical posts driven into the ground, but because the bedrock below Fort Roberdeau was so close to the surface, it made this type of construction impractical.
On each corner of the fort you'll see diamond-shaped bastions, designed to allow the defenders of the fort maximum visibility of all four walls.
---
Troops Stationed at Fort Roberdeau
Two types of troops occupied Fort Roberdeau at any given time, in numbers ranging from 60 to 200.
Militia members could be any able bodied man between 16 and 60 years of age, called up to serve a 1-2 month term of service as a civic duty.
Rangers were troops who moved between (or "ranged", thus the name) forts, scouting enemy troop movements and positions as they did so.
Several times per year Fort Roberdeau hosts special events where reenactors portray what life was like for the troops garrisoned there.
During these events the reenactors conduct drills and stage mock skirmishes, so that visitors can get a feel for the military technology and techniques of that time period.
You'll also get a feel for the more mundane parts of fort life, like where the troops slept and what they ate.
You can find out when these special reenactor events are happening by checking out the EVENTS PAGE on the fort's official website.
---
Hiking at Fort Roberdeau
There are also several miles of hiking trails on the grounds of Fort Roberdeau, which wind through forest and fields.
You can hike these trails any time of year (from 8 am until sunset), passing numerous other structures and interpretive signs along the way.
One of my favorite structures is the log house pictured above, where you'll learn, among other things, the difference between a log cabin and a log house.
---
Directions to Fort Roberdeau
Fort Roberdeau is located at 383 Fort Roberdeau Rd, Altoona, PA 16601.
If navigating by GPS coordinates, use 40.581915, -78.274165 to reach the parking area next to the fort.
---
Nearby Attractions
Tytoona Cave, owned by the National Speleological Society, is located less than 4 miles from Fort Roberdeau.
The cave and the surrounding 6.8 acres of property is managed as a Nature Preserve and open to visitors on an "explore at your own risk" basis, from 6AM to 9PM.
---
The Altoona Railroaders Memorial Museum in Blair County celebrates the lives of both railroad workers and railroading communities in central Pennsylvania.
---
DelGrosso's Amusement Park offers free parking, free admission, and over 30 rides, with something for everyone from little kids to adults.
---
Canoe Creek State Park is a 911 acre recreational area 12 miles east of Altoona in Blair County.
---
12 Must-See Attractions in Blair County is your guide to even more great things to see and do near Fort Roberdeau!
---
Did you enjoy this article?
If so, be sure to like and follow PA Bucket List on Facebook, Instagram, and/or Pinterest to learn more about the best things to see and do in Pennsylvania!
Click on any of the icons below to get connected to PA Bucket List on social media.
---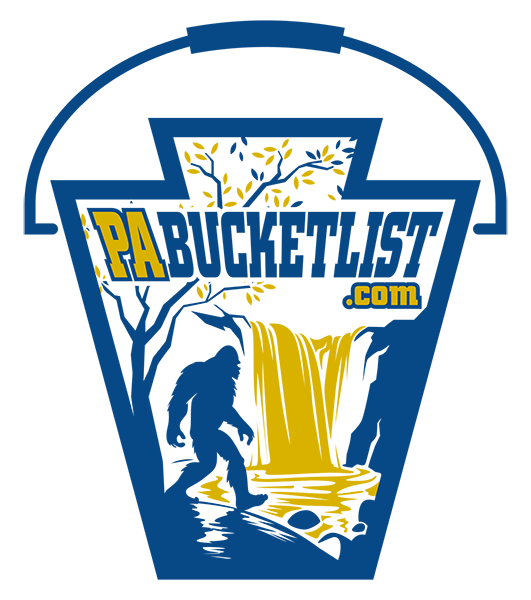 Pennsylvania's Best Travel Blog!