Hyner View State Park offers visitors one of the finest scenic overlooks in all of Pennsylvania!
This 6 acre mountaintop park is easy to access and a "must-see" when visiting the PA Wilds region of PA.
---
Hyner View State Park FAQs
Where is Hyner View State Park located?
The park is located in Clinton County, off of Route 120 between Renovo and Lock Haven.

Can I navigate to Hyner View State Park by GPS?
Yes – use GPS coordinates 41.32646, -77.62348 to navigate to the parking area near the scenic overlook.

When was the retaining wall at Hyner View State Park built?
The retaining wall at the observation area was built by the Civilian Conservation Corps in the 1930s.

When did Hyner View become an official PA State Park?
1965.

What river is visible from Hyner View State Park?
The West Branch of the Susquehanna River.

What is the elevation at Hyner View State Park?
Approximately 1,900 feet above sea level.

Do people hang glide at Hyner View State Park?
Yes – it is one of the most popular hang gliding spots in Pennsylvania.
A small ramp/hang gliding launch is located directly in front of the retaining wall.

---
The Best Things to See at Hyner View State Park
Watching the morning valley fog lift and burn off above the West Branch of the Susquehanna River is an amazing experience!
It is best viewed in the spring and fall when it's most likely to occur, between sunrise and mid-morning.
If you're really lucky, you may even get to see rainbows in the mist/fog, if the sun is at just the right angle.
Standing 1,300 feet above the river on the hang gliding launch also gives you an appreciation for the fortitude of those that pursue that hobby!
A nice statue / memorial to the Civilain Conservation Corps members that built the retaining wall at Hyner View is located near the parking area.
There is also a monolith / memorial to the Pennsylvania Forest Fire Wardens located near the overlook, dedicated the same year the park was created (1965).
Getting to the park is easy – a 5 mile drive up a winding paved road.
Word of caution though – that is a "no winter maintenance" road, so consider that if you plan on visiting when snow is in the forecast or on the ground.
---
Final Thoughts on Hyner View State Park
Without a doubt one of the best scenic overlooks in the PA Wilds, if not the entire state, Hyner View State Park is easy to get to and hard to leave!
If your travels take you anywhere near this part of the state, make time for exploring Hyner View State Park at this majestic scenic overlook in Clinton County, PA.
---
Nearby Attractions
Boggs Run Vista is an off-trail scenic overlook in the Sproul State Forest, and has been called one of the finest vistas in the PA Wilds.
---
Many people pass through this area on their way to PA Elk Country, and if you're one of those folks, you'll want to read "The 15 Best Elk Viewing Destinations in Pennsylvania".
---
Exploring the Elk Country Visitor Center in Benezette is your guide to the BEST place to learn all about the Pennsylvania elk herd.
---
Kettle Creek State Park is another outstanding Clinton County state park, 17 miles to the west of Hyner View.
---
Ole Bull State Park in Potter County is named in honor of Ole Bornemann Bull, a famous Norwegian violinist who purchased 11,144 acres in Potter County in 1852 and attempted to develop a Norwegian colony there that he dubbed "New Norway".
---
Pennsylvania Elk Country is home to TONS of incredible views, and you'll find directions to lots of ROADSIDE ones in my write-up "The 20 Best Scenic Overlooks in PA Elk Country".
---
The Piper Aviation Museum in Lock Haven honors the legacy of the Piper Aircraft Corporation, which designed and manufactured aircraft in Clinton County, PA between 1937 and 1984.
---
The ruins of Austin Dam in Potter County are remnants of the second-deadliest flood in Pennsylvania history.
---
Round Island Run Falls is located in western Clinton County, and offers hikers the chance to see a fantastic waterfall and elk along the trail!
---
Yost Run Falls is located south of Hyner View, off of Route 144, near the Clinton / Centre county line.
---
Did you enjoy this article?
If so, be sure to like and follow PA Bucket List on Facebook, Instagram, and/or Pinterest to stay up-to-date on my latest write-ups about the best things to see and do in Pennsylvania!
Click on any of the icons below to get connected to PA Bucket List on social media.
---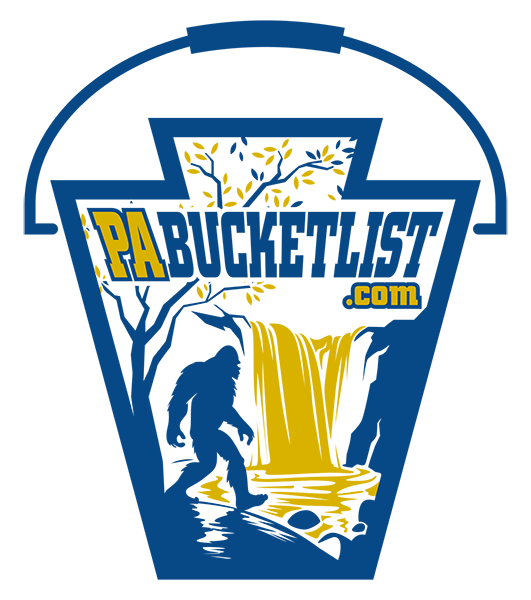 Pennsylvania's Best Travel Blog!