Knoebels Amusement Park near Elysburg, Pennsylvania is consistently ranked as one of the best amusement parks in the United States.
And a big part of why this park is so popular is that so much of it is FREE to experience!
Parking – it's free!
Admission to the park – it's free!
The various museums and shows in the park – free!
In fact, the only things you pay for at Knoebels are ride tickets, games, food and drinks (unless you chose to bring your own, which the park allows), and souvenirs.
---
History of Knoebels Amusement Park
Knoebels Amusement Park first opened on July 4, 1926 with a swimming pool, a steam-powered carousel, a few games, and a restaurant.
The park has expanded from those humble beginnings to now cover 45 acres, with more than 60 rides!
What I'm going to share with you here are just some of the highlights, but there really is something for everyone to enjoy at Knoebels Amusement Park.
---
The Best Rides at Knoebels
The rides are understandably the big draw for most people when visiting Knoebels, and the park breaks them down into three categories: kiddie, family, and thrill.
Kiddie Rides at Knoebels
The Red Baron allows kids to pilot their own biplane up and down as they fly in circles.
Knoebels' smaller, antique wooden carousel is over 100 years old and features several exterior scenery panels depicting local landmarks.
In all, Knoebels rates 23 of it's rides at the "kiddie" level.
---
Family Rides at Knoebels
Kozmo's Kurves is a mini steel "kiddie coaster" that's fun for the whole family.
The Antique Cars allows you to drive your own classic car through a scenic wooded area and underneath the Phoenix Roller Coaster.
In all, Knoebels rates 20 of it's rides at the "family" level.
---
Thrill Rides at Knoebels
When most people think of thrill rides, they think of rollercoasters!
Knoebels has six operating rollercoasters, including the Phoenix, a wooden coaster built in 1947 for an amusement park in Texas and relocated to Knoebels in 1985.
The Impulse is the newest rollercoaster at Knoebels, a steel coaster which opened in 2015.
The StratosFear is a 148 foot tower that slowly takes you to the very top before your carriage is released into a free fall reaching speeds of up to 47 mph!
The Giant Flume is a popular water ride on a hot day.
The Super Round-Up allows you to experience "centrifugal sensations" as this spinning wheel pins you against the wall.
In all, Knoebels rates 21 of it's rides as "thrill rides".
---
Non-Ride Attractions at Knoebels
There are plenty of outstanding non-ride attractions and displays at Knoebels as well.
The Anthracite Mining Museum is Knoebels' tribute to the local coal heritage, featuring genuine tools and artifacts from the mining days.
The Knoebels History Museum shows how the park evolved from 1926 until today.
The Knoebels Carousel Museum features over 50 carousel figures, scenery panels, chariot sides and other memorabilia from carousels dating back to 1870.
An interesting side note about the lion figure pictured above – it first appeared on a carousel at the Cascades Park in western PA in 1897, a now-abandoned amusement park that I previously wrote about HERE.
The Bald Eagle Habitat features a pair of bald eagles that cannot survive in the wild, but seem to be doing fine in their spacious enclosure at Knoebels.
And what tourist destination would be complete without gem mining!
---
Food at Knoebels
Pizza, potatoes, pierogis, burgers, fries – there are no less than 34 locations within the park to grab great food at reasonable prices.
---
Camping at Knoebels
If you like to "stay where you play", Knoebels operates two campgrounds and also has rental cottages available – check their OFFICIAL WEBSITE for rates and availability.
---
Hours and Ride Prices at Knoebels
The hours of operation and prices vary by season – the most up-to-date information can be found at THIS LINK on Knoebels' website.
Regardless of the season, I find the ride prices at Knobels to be VERY reasonable when compared to other amusement parks.
---
Directions to Knoebels
Knoebels is located at 391 Knoebels Blvd, Elysburg, PA 17824.
---
Final Thoughts
I can't think of anything not to like about Knoebels – it's a beautiful, well-run, reasonably-priced amusement park with many "freebies" that other parks charge a small fortune for.
If you've never visited Knoebels before, make this the year you do!
---
Related Attractions
Hersheypark is PA's largest and most-visited theme park!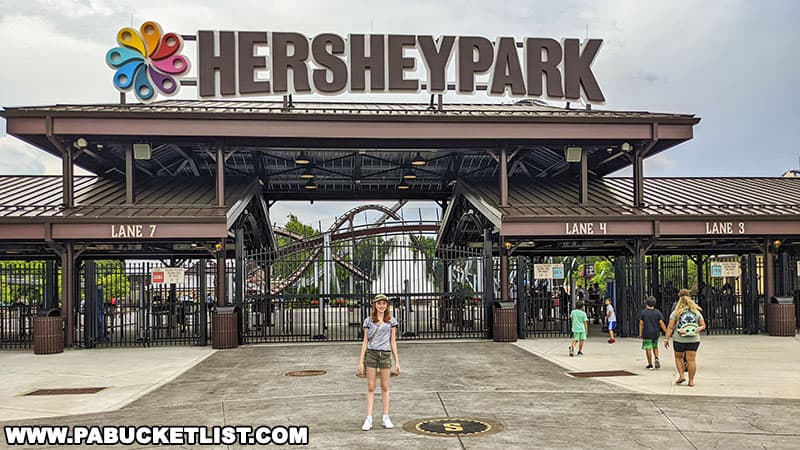 Spanning more than 120 acres and containing more than 70 rides (including 14 roller coasters), Hersheypark also includes a zoo, a waterpark, and a plethora of dining and shopping options.
---
DelGrosso's Amusement Park has been a central PA tradition for more than 100 years!
Like Knoebels, parking and park admission are FREE at DelGrosso's!
Laguna Splash is a fabulous water park attached to DelGrosso's Amusement Park as well, for even more summer fun!
---
Idlewild Park is Pennsylvania's longest-operating amusement park!
Idlewild Park as been named "Best Childrens' Park" by Amusement Today, and "Best Park for Families" by the National Amusement Park Historical Association.
---
Nearby Attractions
Located 7 miles north of Knoebels, (but about as different an experience as can be!), you'll find the Hooded Grave Cemetery, home to what may be the only two hooded graves that exist in the United States.
---
Did you enjoy this article?
If so, be sure to like and follow PA Bucket List on Facebook, Instagram, and/or Pinterest to learn more about the best things to see and do in Pennsylvania!
Click on any of the icons below to get connected to PA Bucket List on social media.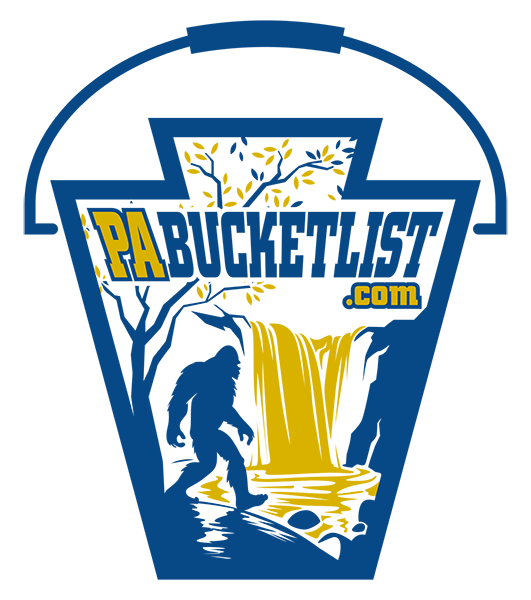 Pennsylvania's Best Travel Blog!