Pennsylvania is home to 121 State Parks, each with its own unique character, terrain, and highlights.
Here are 10 of the best Pennsylvania State Parks for exploring and enjoying waterfalls.
Simply click on the blue text / link in each park description to view maps, directions and additional photos of waterfalls in or near that particular Pennsylvania State Park.
---
Ricketts Glen State Park
Let's start with the undisputed KING of Pennsylvania State Parks when it comes to waterfall exploration – Ricketts Glen State Park.
This Falls Trail at Ricketts Glen State Park in Luzerne County is home to 21 named waterfalls, and is undoubtedly the most famous waterfall hike in Pennsylvania.
THOUSANDS upon thousands of people flock to Ricketts Glen every year to hike this "bucket list" trail.
Numerous other waterfalls exist within the Ricketts Glen State Park boundaries, including Adams Falls (pictured above) which is nearly-roadside along Route 118.
---
Ohiopyle State Park
Ohiopyle State Park is Fayette County is home to no less than 10 named waterfalls, as well as numerous small, unnamed ones.
Cucumber Falls at Ohiopyle State Park is one of the most photogenic (and most photographed) waterfalls in all of western Pennsylvania.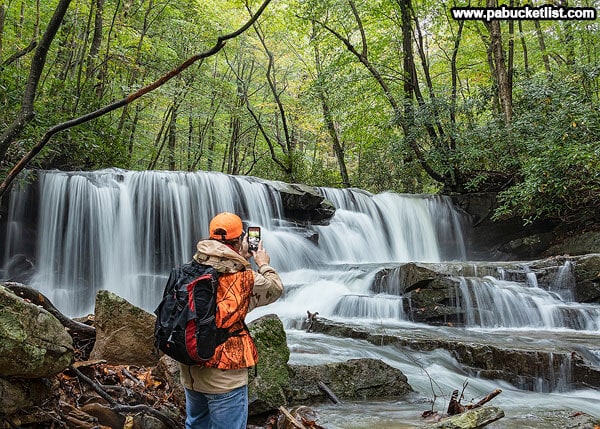 And the Jonathan Run Trail may be the best mile-for-mile waterfall hike on the western side of PA as well.
---
Salt Springs State Park
Salt Springs State Park in Susquehanna County is home to 3 beautiful waterfalls in the glacially-carved Fall Brook Gorge.
Created by glaciers more than 18,000 years ago, Fall Brook Gorge is is an immensely enjoyable hike through an old-growth hemlock forest.
---
Trough Creek State Park
Trough Creek State Park in Huntingdon County is home to Rainbow Falls, as well as numerous smaller waterfalls on Abbot Run.
---
Leonard Harrison State Park
The Turkey Path at Leonard Harrison State Park is another famous Pennsylvania waterfall hike everyone should do at least once.
This mile-long trail in Tioga County uses a series of switchbacks and stairways to get you from the top of the PA Grand Canyon to the bottom, passing several waterfalls on Little Fourmile Run along the way.
---
McConnells Mill State Park
McConnells Mill State Park in Lawrence County is home to several waterfalls scattered within its boundaries.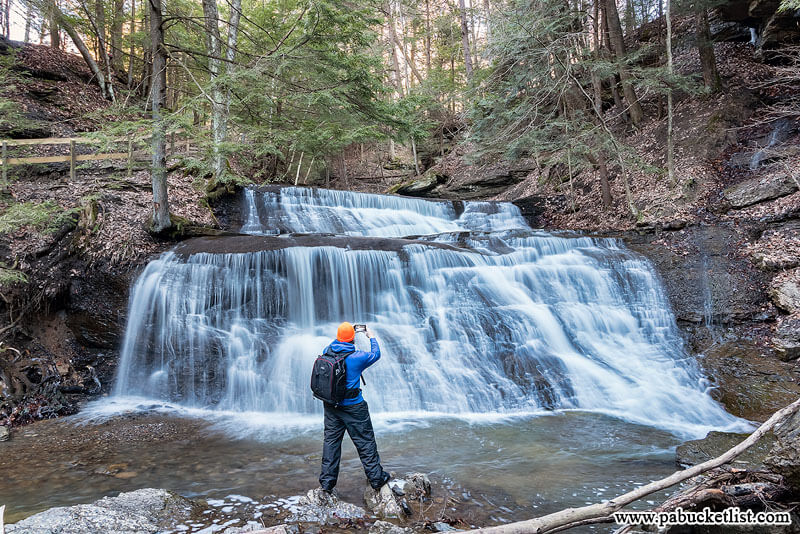 Hell's Hollow Falls is quite possibly the most photogenic.
Alpha Falls is one of the tallest waterfalls at McConnells Mill, and just a short hike from the parking area.
And Grindstone Falls, which doesn't appear on the official park map, is tucked away in the southeastern corner of McConnells Mill State Park, on Grindstone Run.
---
Hickory Run State Park
Hickory Run State Park in Carbon County is home to the 25-foot tall Hawk Falls, as well as several smaller and/or man-made waterfalls.
Stametz Dam is located along the ominous-sounding but super-popular Shades of Death Trail.
Chapel Falls at Hickory Run State Park is a man-made spillway on Hickory Run, across the street from the park office.
---
Worlds End State Park
Worlds End State Park in Sullivan County is home to only one waterfall (High Rock Falls), but it sits dead-center in the middle of no less that 10 waterfall destinations, all within a short distance of the park boundaries.
Many people camp at Worlds End State Park and use it as a home base to explore all these exceptional waterfalls.
Some of the 10 waterfalls involve hiking, others like Mineral Spring Falls are roadside.
---
Colton Point State Park
Colton Point State Park in Tioga County is another state park that serves as a great homebase for seeing TONS of nearby waterfalls.
Rexford Branch Falls is located just off the Turkey Path at Colton Point State Park.
Fourmile Run Falls can also be accessed via a short off-trail side excursion from the Turkey Path at Colton Point.
Bear Run Falls near the northeastern entrance to Colton Point State Park, just off of Colton Road, is a series of unnamed waterfalls that culminates with the colossal Lower Bear Run Falls spilling into Pine Creek near the bottom of the PA Grand Canyon.
---
Delaware Water Gap National Recreation Area
Ok I'm cheating on this last one, as it's under the control of the National Park Service, not a PA State Park.
But how can you NOT include the Delaware Water Gap National Recreation in Pike County on any top 10 list of waterfall parks, when the 2 tallest waterfalls in Pennsylvania can be found there?!
Raymondskill Falls is THE tallest waterfall in Pennsylvania, billed by the National Park Service as being 178 feet tall.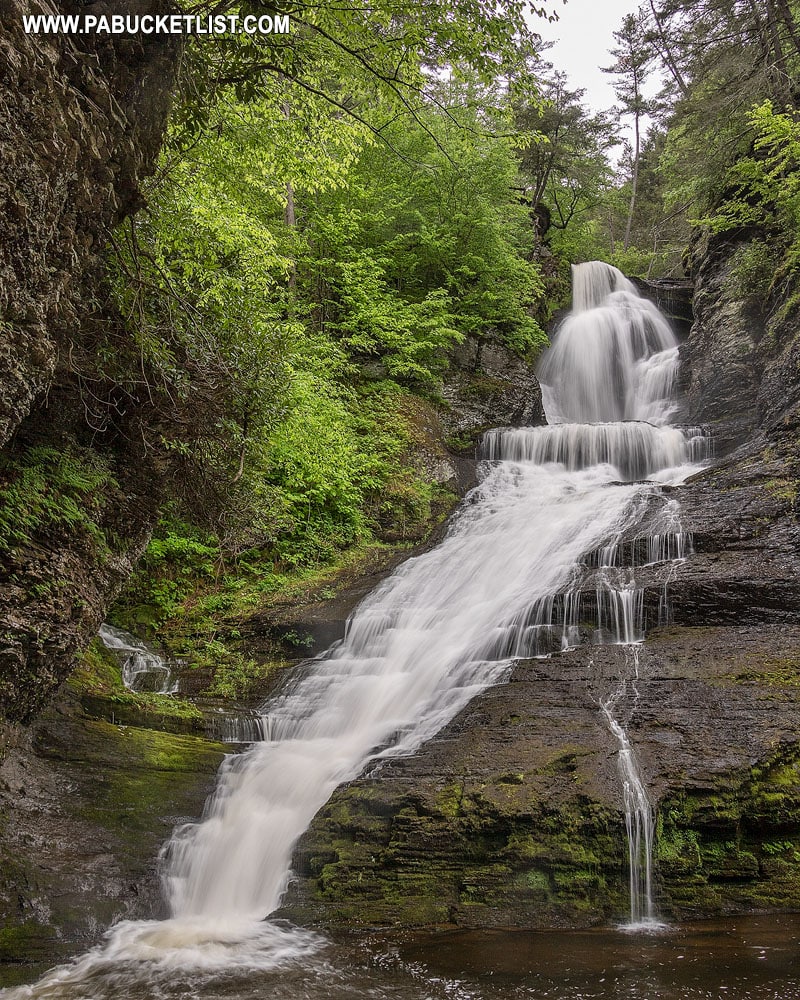 Dingmans Falls, just down the road from Raymondskill Falls, is the second tallest waterfall in Pennsylvania at 130 feet tall.
Hornbecks Creek is another magnificent waterfall stream within the Delaware Water Gap.
And when it reopens after storm damage repair (possibly as early as 2021), Childs Park in the Delaware Water Gap is home to three distinctly different waterfalls, including Factory Falls pictured above.
---
So there you have it!
Some of the finest (although by no means the only) Pennsylvania State Parks where you can explore and enjoy waterfalls to your heart's content!
---
Looking for even more waterfall action?
Then be sure to check out The Ultimate Pennsylvania Waterfalls Guide for directions to HUNDREDS of PA waterfalls!
---
Did you enjoy this article?
If so, be sure to like and follow PA Bucket List on Facebook, Instagram, and/or Pinterest to stay up-to-date on my latest write-ups about the best things to see and do in Pennsylvania!
Click on any of the icons below to get connected to PA Bucket List on social media.
---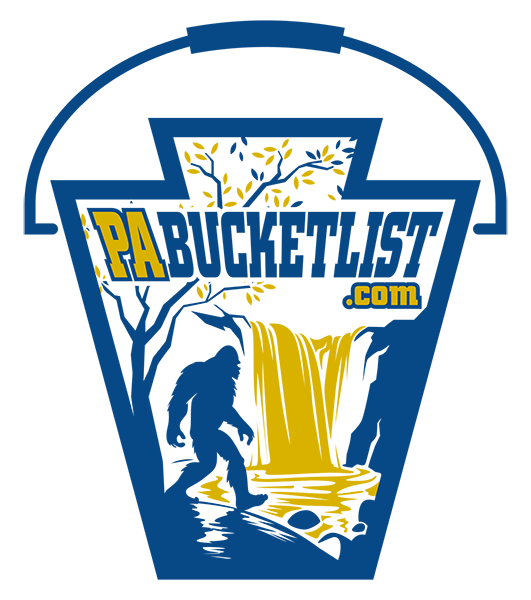 Pennsylvania's Best Travel Blog!