Carbon County, formed in 1843, was named for the extensive deposits of anthracite coal first discovered in the region in 1791.
From historic railroads to towering waterfalls to magnificent scenic overlooks, here are 11 of the best things to see and do in Carbon County, PA!
---
1. Hickory Run State Park
Hickory Run State Park is a magnificent 15,990-acre recreational area in the western foothills of the Pocono Mountains.
Featuring more than 40 miles of hiking trails, picturesque waterfalls, unique natural areas, and spectacular scenic overlooks, Hickory Run State Park has a LOT to offer!
---
2. Jim Thorpe Memorial
The Jim Thorpe Memorial in Carbon County is the final resting place of the man voted "The Greatest Athlete of the First Half of the 20th Century" by the Associated Press.
Jim Thorpe was the first Native American to win a gold medal for the United States in the Olympics.
Namesake of the county seat, Jim Thorpe eventually became a professional football, baseball, and basketball player.
---
3. Tank Hollow Overlook
Tank Hollow Overlook in Carbon County offers visitors a stunning river view in the western Poconos.
The views immediately in front of you at Tank Hollow Overlook are of the Lehigh River below and Lehigh Gorge State Park behind that.
---
4. Lehigh Gorge Scenic Railway
The Lehigh Gorge Scenic Railway in Jim Thorpe is consistently ranked as one of the best sightseeing trains in the northeastern United States.
Departing from the historic train station in downtown Jim Thorpe, the train winds its way north into Lehigh Gorge State Park, before returning on the same track.
---
5. Buttermilk Falls
Buttermilk Falls at Lehigh Gorge State Park is a cascading waterfall along the Lehigh Gorge Rail Trail in Carbon County.
It's difficult to say how tall Buttermilk Falls at Lehigh Gorge State Park really is, because it seems to extend all the way to the sky!
---
6. Mount Pisgah Trail
The Mount Pisgah Trail in Jim Thorpe is a steep but easy-to-follow trail leading up Mount Pisgah to a pair of fantastic Carbon County vistas.
To the north you have views of Lehigh Gorge State Park, while to the south the trail offers views of Jim Thorpe.
---
7. Luke's Falls
Luke's Falls at Lehigh Gorge State Park is an easy 1/4 mile hike/bike ride south of the Rockport Access along the Lehigh Gorge Rail Trail in Carbon County.
Located right along the rail trail, Luke's Falls cascades down the walls of the Lehigh Gorge, passes beneath a bridge on the rail trail, and eventually spills into the Lehigh River.
---
8. Turn Hole Tunnel
Turn Hole Tunnel is an abandoned railroad tunnel located near the Glen Onoko access to Lehigh Gorge State Park.
Turn Hole Tunnel was constructed in 1866 by the Lehigh and Susquehanna Railroad when they extended a rail line from White Haven to Mauch Chunk (now Jim Thorpe).
The tunnel is 496 feet long, carried two sets of tracks through it (two sets of railroad ties can still be seen inside the tunnel), and was used in one capacity or another for rail traffic until it was abandoned in 1956.
---
9. Moyer's Rock Overlook
Directly above Turn Hole Tunnel you'll find Moyer's Rock Overlook, offering a commanding view of the Lehigh Gorge.
An obvious but unofficial/unblazed trail extends from the parking area closest to the tunnel entrance up a rocky path to the overlook.
---
10. Hawk Falls
Hawk Falls is a super-popular destination in Carbon County, due to ease of access and sheer natural beauty.
The trail from Route 534 to the base of Hawk Falls is part of what was once a wagon trail.
---
11. Asa Packer Mansion
The Asa Packer Mansion was the home of philanthropist, railroad magnate, and founder of Lehigh University, Asa Packer.
Built in 1861 by Philadelphia architect Samuel Sloan, the home was constructed over a span of two years at a cost of $14,000 dollars, and sits on a hill overlooking downtown Jim Thorpe.
---
What About the Glen Onoko Falls Trail?
What was once THE most popular natural attraction in Carbon County, the Glen Onoko Falls Trail has been closed to the public since 2019.
Located on State Game Lands 141, adjacent to Lehigh Gorge State Park, this rocky waterfall trail has been attracting visitors for nearly 150 years.
Citing safety concerns, the Pennsylvania Game Commission decided to close the falls trail "to protect human life, reduce injuries, and protect first responders".
And while you are no longer permitted to hike up the Glen Onoko Falls Trail, there are still plenty of trails you CAN hike on State Game Lands 141, including some that bring you out at the top of Cave Falls, the uppermost waterfall along Glen Onoko Run.
---
Did you enjoy this article?
If so, be sure to like and follow PA Bucket List on Facebook, Instagram, and/or Pinterest to learn more about the best things to see and do in Pennsylvania!
Click on any of the icons below to get connected to PA Bucket List on social media.
---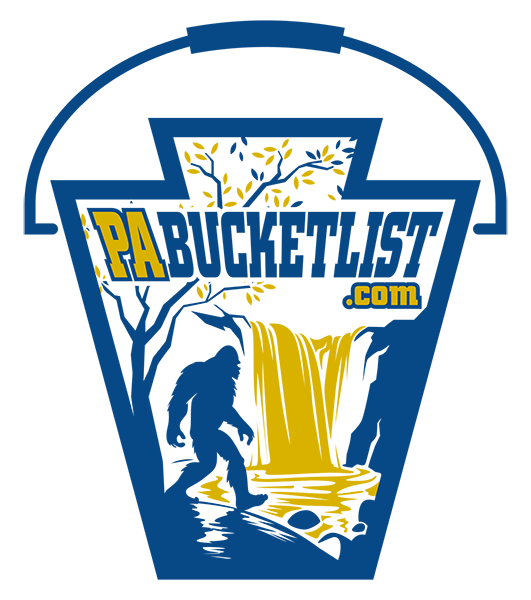 Pennsylvania's Best Travel Blog!