2021 was another banner year for PA fall foliage lovers!
Over the month of October I logged over 4,000 miles on my truck (and a few more on my kayak), criss-crossing the state in search of the best fall foliage colors Mother Nature had to offer.
So now that the fall foliage season is winding down, here's a recap of my 25 favorite PA fall foliage destinations I visited in 2021, listed in chronological order of when I visited them.
From Potter County in early October to Huntingdon County in the waning days of the month.
From the Poconos to the Laurel Highlands, and everywhere in between.
Scroll through this list of my 25 favorite PA fall foliage destinations of 2021, and see if you don't come up with some ideas for YOUR fall foliage bucket list for next year!
---
1. Denton Hill State Park
My first time at Denton Hill State Park was certainly a memorable visit.
This former ski resort in Potter County, now abandoned to the elements, was bathed in brilliant fall colors on this day.
---
2. Kinzua Bridge State Park
I've been to Kinzua Bridge State Park before, but never in the fall.
After this year, I just may want to visit EVERY fall, it was that spectacular!
---
3. Jake's Rocks
The fall foliage at Jakes Rocks Overlook was really starting to pop when I visited on the afternoon of October 6th, 2021!
This was my first visit to this popular overlook in the Allegheny National Forest, but it certainly won't be my last.
---
4. Rimrock Overlook
The fall foliage at Rimrock Overlook was outstanding when I visited on the afternoon of October 6th, 2021.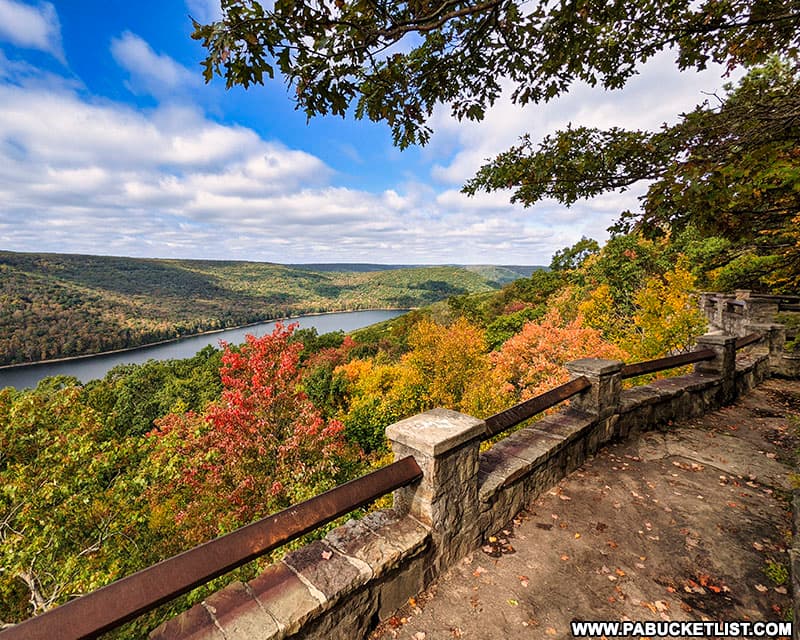 Another first for me, Rimrock Overlook is an easy-to-reach overlook and picnic area in the Allegheny National Forest in Warren County.
---
5. Marilla Bridges Trail
The Marilla Bridges Trail is a gorgeous 1-mile loop trail around the Marilla Reservoir near Bradford, just a few minutes south of the Pennsylvania/New York border.
My first visit to this trail was extremely enjoyable, and I highly recommend it if you're passing through the Bradford area.
---
6. Lyman Run State Park
I'd always wanted to see the famous "sawtooth dam" at Lyman Run State Park in Potter County, and finally got the chance in early October.
Not only was the dam impressive, but the scenic overlook downstream was outstanding as well.
---
7. Canoe Creek State Park
I've been to Canoe Creek State Park in Blair County many times, but the fall foliage around the abandoned lime kilns there was extra-vibrant in 2021.
These aging remnants of the massive limestone quarrying operation that once operated here were surrounded by beautiful reds and golds on the day I visited, and I was happy for it!
---
8. Laurel Hill State Park
It's no secret that Laurel Hill State Park in Somerset County is one of THE BEST PA state parks for fall foliage viewing, and this year was no exception.
Jones Mill Run Dam is a perennial favorite destination of mine in October, and this year was no different.
---
9. Black Moshannon State Park
The state park I visit most often, due to its proximity to my home, Black Moshannon State Park in Centre County put on another fantastic display of fall colors in 2021.
If you've never visited Black Moshannon in October, definitely put it on your fall foliage bucket list.
---
10. Quehanna Wild Area
The Quehanna Wild Area encompasses parts of Clearfield, Elk, and Cameron counties, and October is a great time to explore it.
Even if you don't get out of the car, the Quehanna Wild Area makes for a great road trip destination.
---
11. Sinnemahoning State Park
When I visited Sinnemahoning State Park on October 12th, the best colors were to be found around the 40 Maples Picnic area, on the banks of Sinnemahoning Creek.
Meanwhile, foliage was just starting to appear around Stevenson Dam there.
---
12. Kettle Creek State Park
Kettle Creek State Park in Clinton County is another favorite fall foliage spot of mine, and this year I got there probably a week before the peak of the best colors this year.
Nevertheless, there's no such thing as a BAD time to visit Kettle Creek State Park!
---
13. RB Winter State Park
I visited RB Winter State Park in Union County on October 18th, and found the fall foliage conditions at the overlook high above the park to be excellent.
Around the beach area, there were also some extra-colorful red maples.
---
14. Hickory Run State Park
I hit Hickory Run State Park in Carbon County at exactly the right time for the best fall foliage this year.
Just about everywhere I went in the park, I was greeting with stunning fall foliage colors.
---
15. Lehigh Gorge Scenic Railway
Riding the Lehigh Gorge Scenic Railway was one of the most memorable fall foliage-related activities I did in 2021.
Departing from the historic train station in downtown Jim Thorpe, the train winds its way north into Lehigh Gorge State Park on a remarkable fall foliage excursion.
---
16. Tank Hollow Overlook
Tank Hollow Overlook in Carbon County was a new-to-me vista, and what a great view it offers!
Standing high above a bend in the Lehigh River, Tank Hollow Overlook is indeed worthy of high praise it receives.
---
17. Buttermilk Falls at Lehigh Gorge State Park
Buttermilk Falls at Lehigh Gorge State Park exceeded my expectations when I visited on October 21st.
Pictures don't really do this cascading waterfall justice, but suffice to say this is a beautiful and easy-to-reach sight not to be missed if you're in the Jim-Thorpe area.
---
18. Luke's Falls at Lehigh Gorge State Park
Luke's Falls at Lehigh Gorge State Park was another new-to-me waterfall in 2021, and visiting in October made it ever sweeter.
Luke's Falls at Lehigh Gorge State Park is an easy 1/4 mile hike/bike ride south of the Rockport Access to the park along the Lehigh Gorge Rail Trail.
---
19. Mount Pisgah Trail
The Mount Pisgah Trail in Jim Thorpe leads to two fantastic views, even more so with the emergent fall foliage.
Both the north-facing Lehigh Gorge Overlook (pictured above) and the south-facing Jim Thorpe Overlook (pictured below) are magnificent, and located just a few hundred yards from each other atop Mount Pisgah.
---
20. Pack Saddle Bridge
For my money, the Pack Saddle Covered Bridge in Somerset County is the prettiest covered bridge in Pennsylvania.
The unique combination of a covered bridge, waterfalls, and fall foliage is a recipe for a memorable scene, and that's the scenario at the Pack Saddle Bridge every October.
---
21. Forbes State Forest
The Forbes State Forest in the Laurel Highlands is another perennial favorite fall foliage destination of mine.
Cole Run Falls looked great on the day I visited in October, even if the flow was a bit low.
Wolf Rocks Overlook was another great fall foliage hike I did in the Forbes State Forest, on a misty mountain morning in late October.
---
22. Mill Creek Falls in Westmoreland County
Mill Creek Falls is a picturesque, cascading waterfall on State Game Lands 42 in Westmoreland County.
---
23. Hawn's Overlook
Hawn's Overlook above Raystown Lake in Huntingdon County was a great late-season fall foliage destination I visited this year.
---
24. Rainbow Falls
Rainbow Falls resembled a staircase of water making its way downhill towards Great Trough Creek in Huntingdon County on the rainy October morning I visited.
---
25. Ohiopyle State Park
Ohiopyle State Park, my personal favorite western PA fall foliage destination, outdid itself this year.
The colors may have been a week later than normal in 2021, but what a show they put on when they arrived!
I don't know if I've ever seen the colors at Ohiopyle as vibrant as they were this year.
And ample rainfall meant the waterfalls at Ohiopyle State Park were in peak form.
---
So there you have it – 25 of my favorite PA fall foliage destinations that I visited in October of 2021!
I hope you enjoyed the photos, and possibly got some ideas for your own fall foliage road trips in 2022!
---
Did you enjoy this article?
If so, be sure to like and follow PA Bucket List on Facebook, Instagram, and/or Pinterest to learn more about the best things to see and do in Pennsylvania!
Click on any of the icons below to get connected to PA Bucket List on social media.
---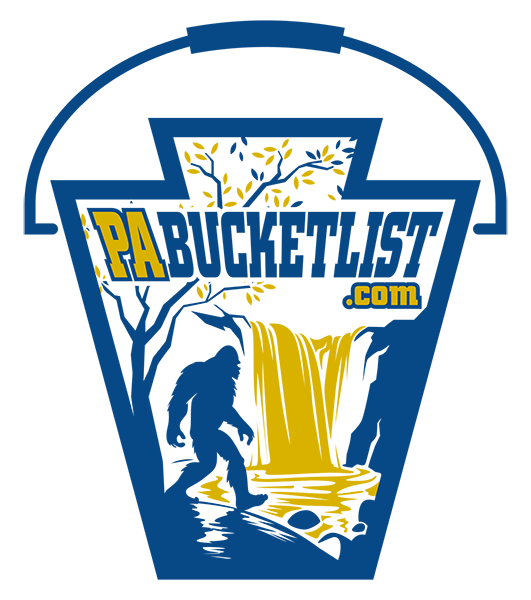 Pennsylvania's Best Travel Blog!